Finding good advanced Spanish textbooks can be a challenging task since there are many options available and most students don't know what to look for. For that reason, I've compiled the three best advanced Spanish textbooks that can help you with your learning process.
In order to help you make an informed decision, I've included an honest review of the contents and other elements of these textbooks. Additionally, I'll share with you some of the topics that you can learn with each one of these options as well as some advantages and disadvantages for each of them.
Even though these three books are all very good options for advanced students, they have different objectives and teaching approaches. Make sure to read the descriptions carefully so you choose the best option for you. And if you want to know more information about a particular book, I also prepared a more detailed review that you check.
1. El Ventilador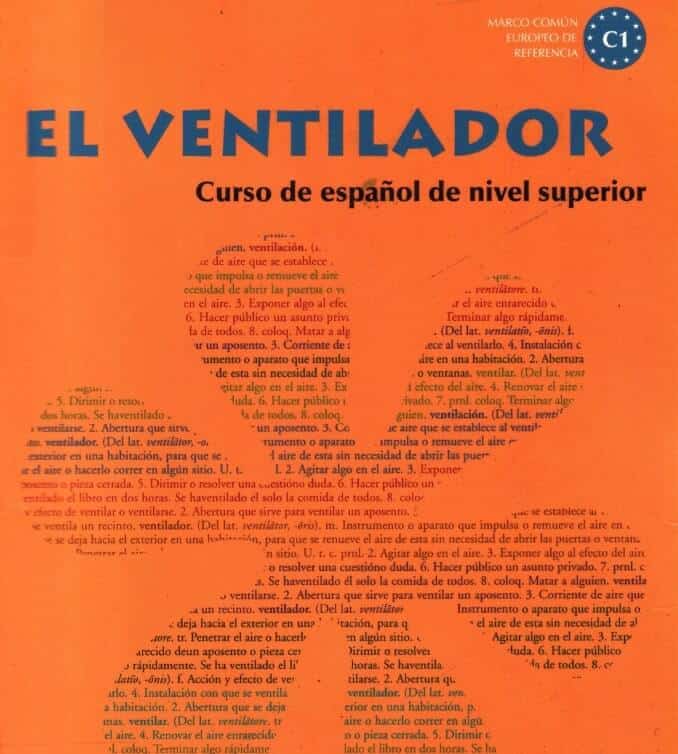 When it comes to advanced Spanish textbooks, El Ventilador is, by far, my favorite book of all. Unlike other textbooks, El Ventilador only contains advanced vocabulary and grammar structures that Spanish advanced students need.
El Ventilador is a very complete book. What I mean by that is that you'll find exercises to practice your grammar, listening, writing, reading, and speaking skills. Although there are other great books out there, most of them focus on grammar and writing and they forget about developing listening and speaking skills.
One thing that I like about this advanced Spanish textbook is that it provides the learner with linguistics resources to improve their conversational and writing skills.
What are these resources?
All types of connectors, common expressions, discourse markers and advanced grammar structures.
These same elements are hard to come by in other Spanish textbooks. El Ventilador is divided into 33 lessons and different sections that have the purpose to develop each one of your Spanish skills.
This textbook doesn't follow a traditional structure where in order to make progress you just need to go to the next page and so on. In fact, the contents are arranged to give the teacher or the learner the freedom to decide their Spanish learning program. For this reason, I strongly believe that El Ventilador would be better used in a classroom.
As is the case with many language textbooks, this book has a very appealing design with a lot of colors, images, tables, cartoons, and phrase structures to make your learning process easier. If you want a more detailed explanation about this book, I encourage you to read this review.
Contents, advantages and disadvantages
El Ventilador's goal is to provide students with different resources to develop their Spanish skills and become advanced and fluent speakers. Here is a short overview of topics included that will help you reach this point:
Connecting words
Different tenses and uses of subjunctive
When to use and not to use articles
Discourse markers
As I mentioned before, one of the main advantages of this book is the different resources that you'll encounter to improve and intensify your speech (both spoken and written). In addition to this, you'll only learn advanced grammar that can be applied on a daily basis.
The exercises included in this advanced Spanish textbook require the learner to analyze the context and decide how to apply the vocabulary or grammatical structures presented. Since that's what you'll do in real-life situations, I think these exercises are great.
On the downside, the listening exercises presented in this textbook will work with your comprehension of Spanish, but for some students, they feel unnecessary and with little real application. The same happens with a few sections in the book.
Since it has a lot of conversation exercises, you should have a Spanish partner to complete these activities and make the most of this textbook. Finally, El Ventilador has a big Castilian Spanish influence that is very noticeable in the listening exercises.
Despite this, El Ventilador is one of the best advanced Spanish textbooks that I've used to teach this level. It will definitely provide you with different words and expressions that will boost your Spanish skills.
If you're interested in it, you can check its current price here, but if you'd like to have more information, you can check a more detailed review that I wrote.
Get a Step-by-Step Map to Learning Spanish
Join the Tell Me In Spanish community and get a copy of my step-by-step Spanish Learner's Roadmaps and tricky synonyms & vocab cheat sheets.
2. Advanced Spanish Grammar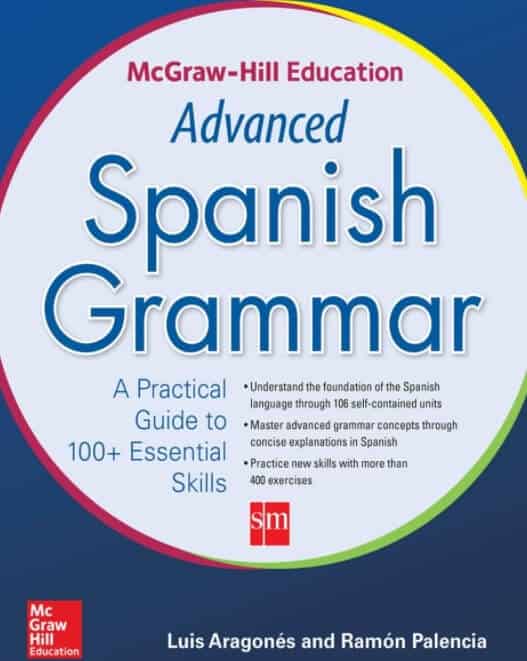 Advanced Spanish Grammar is another good book for advanced Spanish learners. As its name suggests, this book is grammar-oriented. This means that you'll be presented with grammar explanations and a lot of exercises to practice each concept.
One of my favorite things about this textbook is that it includes some nuances in meaning that can be caused by the presence or absence of a grammatical element. These types of topics can be very challenging for Spanish learners and they aren't included in all Spanish textbooks.
Unlike 'El Ventilador', Advanced Spanish Grammar takes up some basic topics and includes advanced uses that people may not know. Don't get me wrong, this is good for reviewing and reinforcing your grammar. But it also means that you may be re-learning something that you probably already know.
As a result, this advanced Spanish textbook will be more appropriate for those students that are concluding the intermediate level and want to start their advanced level. Although I like this book for its exercise and explanations, you won't find the same linguistic resources that El Ventilador provides.
Like many other language textbooks, Advanced Spanish Grammar follows a sequential order and, if applicable, they refer you to another lesson where you'll find more information about a grammar element.
Additionally, the book has a very simple organization: each lesson starts with grammar and then introduces different activities to practice what you just learned. Even though the exercises are great, there are no listening, reading or speaking activities.
Another cool thing about this book is its design and the different visual aids that you'll find. If you want to learn more about this, you can check a more detailed review that I wrote.
Contents, advantages and disadvantages
As I mentioned before, the Advance Spanish Grammar textbook provides you with different grammar topics and activities to practice. Here is a quick overview of the topics covered in this book:
Articles: uses and changes in meanings
Uses and placing of direct and indirect object pronouns
Spanish past tenses
Different conjugations and uses of the subjunctive mood
Concessive clauses
There's no doubt that many advanced Spanish students will be familiar with some of the topics included in this book. But keep in mind that you'll also learn more advanced ways to apply these concepts. For this reason, this textbook will be better suited for a learner that is about to start advanced level Spanish.
Something that I like very much about this book is their visual aids: the lessons include tables, examples and cartoons to provide a better context. Additionally, in more advanced topics, you'll find phrase structures that will help you organize your sentences correctly.
When it comes to the downsides, Advanced Spanish Grammar won't provide you with activities or vocabulary to improve your listening or conversation. As an advanced student, you should be improving these skills instead of mainly focusing on grammar.
Also, if you already have some other textbooks by the same author, you may notice some overlap in the topics. Despite this, Advanced Spanish Grammar is a good book to practice and acquire vocabulary and grammar structures. If you're interested in it, you can go to check its most current price here as well as the type of versions that you can get. 
3. Advanced Spanish Step-by-Step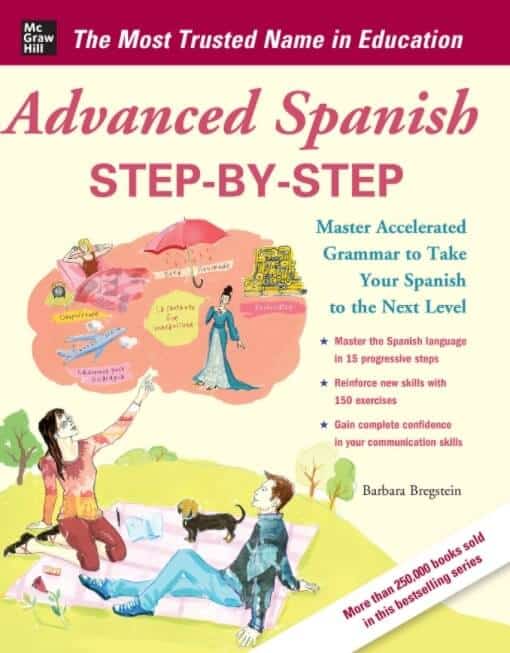 Just like 'Advanced Spanish Grammar', Advanced Spanish Step-by-Step is an appropriate book for those Spanish learners that are about to start with their advanced level. This textbook's goal is to improve your Spanish skills by teaching you grammar structures and provide you with different exercises to practice.
Compared to the other books from this list, Advanced Spanish Step-by-Step is quite small: it has 15 lessons and over 150 exercises. Just like other grammar-orientated books, you'll find short and simple grammar explanations followed by different activities.
Something that I really like about this book was its reading activities. In most Spanish textbooks, the reading sections include very advanced vocabulary and structures that have been presented.
In this case, the reading activities are small and contain vocabulary and grammar elements presented during the lesson. Additionally, you'll have some comprehension activities to make sure you understood the text.
Although the exercises provided in this book are very good, I think that they should have included some structures and vocabulary to improve your conversation and writing skills. Since these activities are not included in the book, it will be up to you or your teacher to find ways to develop and improve these skills.
When it comes to visual aids, Advanced Spanish Step-by-Step has a simple white-black design and they use some icons to mark the type of activity that you will be doing. In this sense, I think the book will have a better user experience if they used some colors, tables or even cartoons to highlight important information.
Content, advantages and disadvantages
As I mentioned before, Advanced Spanish Step-by-Step is for those upper intermediate students that are about to jump into the advanced level. This is because some of the topics covered in this book will have the purpose to reinforce your grammar knowledge.
Here is a very quick overview of the contents presented in this book. If you want further information about this, I encourage you to check the Advanced Spanish Step-by-Step review that I wrote:
Different tenses of 'ser' and 'estar'
Spanish past tenses
Subjunctive: uses and different conjugations
Affirmative and negative commands
If you get this book, you'll have the grammar explanations written in English and the examples and exercises in Spanish. For many people, this is a huge advantage because it makes their learning process easier.
Additionally, each lesson contains two or three exercises so you will get very thorough practice on each lesson's contents and you can check your answers in the answer key included at the end of the book.
As for the downsides, the book doesn't have any extra resources: it's just the book with the exercises. Also, this advanced Spanish textbook has the goal to improve your Spanish conversation skills by teaching you grammar. However, there are no exercises that allow learners to practice their speaking skills.
Overall, this book is a good tool for people that are about to start learning Spanish advanced level and that want to reinforce their grammar knowledge. Like other Spanish textbooks, it's up to you to put the concepts that you learn here into practice.
If you like this book and want to use it as a resource for your Spanish learning, you can go here to check its most current price. 
FAQs
Here are the answers to the most frequently asked questions that Spanish learners have.
How can I learn advanced Spanish?
Advanced Spanish is more conversational. This means that, in order to learn advanced Spanish, people need to have very solid grammar foundations, but they also need to learn slang terms and idiomatic expressions that allow them to sound more fluent and natural.
In order to do this, it is recommended to practice conversational Spanish with native speakers. Students can also read, watch tv and find resources that allow them to improve their conversational skills. Additionally, they will need to practice as much as possible.
How do I advance my Spanish?
In order to advance their Spanish, learners need to learn vocabulary and have solid grammar foundations. On top of this, it is necessary to speak Spanish as much as possible. People can also find online exercises, movies, and books in Spanish that allow them to acquire new vocabulary.
It's also recommended to take a course: that way the learner will have the appropriate elements for her or his level. No matter what option they choose, practice is essential to becoming fluent in Spanish.
How can I improve my Spanish listening skills?
Here are some activities that Spanish learners can do to improve their listening skills:
Find listening activities to practice your comprehension skills
Watch movies and tv shows in Spanish
Have conversations or listen to different Spanish accents
Listen to audio course and podcast
Wrapping Up
For many Spanish advanced students, it is difficult to find a good textbook that helps them with their Spanish learning process. For that reason, I've compiled a list of the 3 best advanced Spanish textbooks that you can use.
All of these options have different approaches but they have the same goals: to provide you with the grammar and vocabulary resources you need to master the advanced Spanish level. Before you make a decision, make sure to read the descriptions so you choose the best option for you.
No matter what textbook you choose, remember that as an advanced student you should put your vocabulary and grammar knowledge into practice as much as possible.
Hopefully, now you have a better understanding of what advanced Spanish textbooks are available in the market in which one can help you reach your goals 🙂