When learning Spanish, there are a lot of resources available to improve your command of the language. This is the case for intermediate Spanish textbooks. With so many options available, it's always difficult to know what book will provide you the best value.
For that reason, in this list, I've compiled the 3 best intermediate Spanish textbooks. The three of them are great tools to keep practicing your Spanish. So in order to help you choose the best option for you, I'll tell you their advantages and disadvantages as well as the contents that you can expect to learn.
What you're reading today, it's my selection of my best book list. So, yup, just the best of the best for you.
Hopefully, by the end of it, you'll have a better idea of what resources can get you through the Spanish intermediate level.
Note: If you want to learn more about these books, I also wrote a more detailed review for each one of them 😉 I link to each individual review below. ¡Buena suerte!
Learning Spanish?
Join the Tell Me In Spanish community and get a copy of my step-by-step Spanish Learner's Roadmaps and tricky synonyms & vocab cheat sheets.
1. Intermediate Spanish Grammar
Intermediate Spanish Grammar is by far the best Spanish intermediate textbook that I could find. Let me tell you why. For starters, it has 116 lessons and over 400 exercises. So a lot of concepts and a lot of practice!
This textbook was written by two Spanish-language learning experts which means that they have a pretty good idea about the topics and structures that you should learn as an intermediate student.
Each lesson starts with a short and simple grammar explanation. Despite the fact the explanation is not very long, you'll get all the information you need. And then, you'll have different exercises to practice these new concepts.
All the exercises are designed to make you reflect on the concepts that you just learned and apply them in the best possible way based on the situation presented. This is very cool since some exercises in other books seem to ask you to fill in some information without too much brainpower required.
As a language student, I love books with a lot of colors and images. As a Spanish teacher, I know students get distracted very easily with these types of books. For that reason, I really like the Intermediate Spanish Grammar's clean design. They use a few colors to highlight important things and some cartoons to help you with some extra context.
For many students, the fact the book is written in Spanish may be challenging. But to me, it's just an opportunity to immerse yourself in the language and push yourself! The Spanish used in this book is as standard as possible and they include conjugations for both Spain and Latin American countries.
Contents, advantages and disadvantages
The Spanish intermediate level consists of reviewing some previous concepts and learning more advanced topics to add complexity to your conversations. As a result, the contents of the Intermediate Spanish Grammar textbook will help you meet this goal.
Here is a very quick overview of the topics covered in this book:
Basic Spanish concepts: nouns, pronouns, adjectives, present tense conjugation
Subjunctive mode: different conjugations
If you want more details, I encourage you to read the review that I prepare for this particular textbook.
One of the best parts about this intermediate Spanish textbook is the fact that it covers some grammar nuances and exceptions that won't be taught in other books. Additionally, the grammar section includes tables and examples so you understand better.
If it worries you that the book is all in Spanish, you'll find some translation that will give you some context. Now, these translations are words or phrases: they're not translating a full paragraph.
As you may have guessed, the main focus of this Spanish textbook for intermediate learners is grammar. For that reason, it doesn't include listening or speaking activities. If it did, this textbook would be very complete.
Despite these drawbacks, Intermediate Spanish Grammar is an excellent book for intermediate learners. You can use it in your class or as a personal resource to improve your Spanish. Compared to other books, it's really affordable. You can check the current price on Amazon.
2. Aula Internacional 3 and Aula Internacional 4
When it comes to learning Spanish in a school, Aula Internacional 3 and Aula Internacional 4 are probably the most popular Spanish textbooks for intermediate students. In fact, I personally worked with them for years. That's why it's my second-best option.
As you may imagine, these books belong to a book series. What does this mean for you? That if you learn Spanish with Aula Internacional, you can be sure that your Spanish learning will be sequential and the concepts you learn in one book will be necessary in the next one. This will also be handy if one day you want to get a certificate.
Additionally, these books follow the Instituto Cervantes' syllabus. Quick note: Instituto Cervantes is the main institution that teaches and regulates Spanish around the world. In other words, Aula Internacional 3 and Aula Internacional 4 contain a program approved by a huge Spanish school.
Both books have a very pretty and colorful design with a lot of images. This means that you don't have as many exercises as you do with the previous option that I showed you. Aula Internacional 3 and 4 are textbook to the T. So that means that you'll have exercises to develop all your communications skills.
But to be honest with you, the writing exercises are not enough, the conversations follow an established topic which can be annoying for a lot of people and some of the readings are too advanced and they don't have useful content to use.
By getting these textbooks for intermediate students, you'll also have access to certain online resources that will help you keep practicing your skills. Before I forget: Aula Internacional 3 and Aula Internacional 4 are written in Spanish and they tend to work better in a classroom.
Content, advantages and disadvantages
As I mentioned before, all the Aula Internacional books follow a sequential order. So in this intermediate level, you'll do a quick review of some of the concepts that you learn with the first two books. Of course, there are plenty of new things to learn.
This is a quick overview of the contents you'll find in these books. If you want to learn more details about these books, I encourage you to read a more detailed review.
Spanish past tense
Future tense and conditional sentences
Impersonal structures
Imperative
Subjunctive: present and imperfect tenses
So why do I keep talking about Aula Internacional 3 and Aula Internacional 4 as intermediate textbooks? Because with this book series, you need two books to complete a level. Seeing that other books deliver the same result in one volume, I find this a huge disadvantage for these books. To be fair, in these books you'll find connectors and expressions that are not covered in other books. So that is the trade-off to consider.
Another downside is that since the book is taught for classes, only your teacher has the answer key to the exercises. So if you decide to study this book by yourself, you'll have some issues checking your answers unless you purchase the answer key or find it online. Also, the book has a Castilian Spanish influence which you'll see in some vocabulary and the pronunciation.
One of my favorite things about this book is that it comes with a CD with different listening comprehension exercises and a lot of activities to practice your speaking skills with your partners.
In my opinion, these are very good intermediate Spanish textbooks. However, they are better suited for the classroom or at least with a study buddy. You can find more details in my Aula Internacional 3 and Aula Internacional 4 review.
3. Practice Makes Perfect: Intermediate Spanish Grammar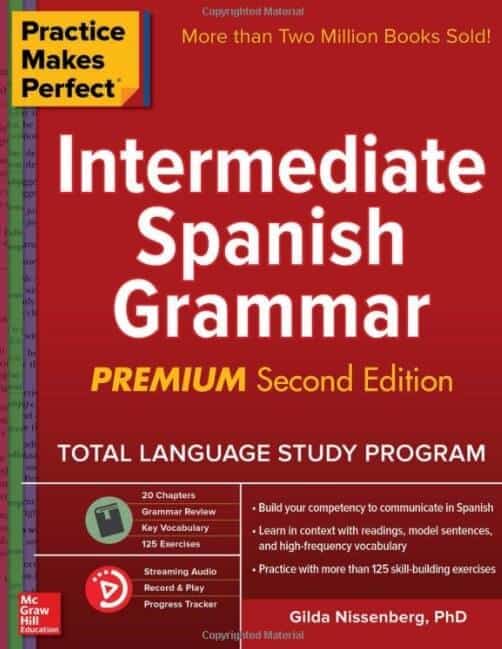 If you're looking for a third option for an intermediate Spanish textbook, Practice Makes Perfect: Intermediate Spanish Grammar may be what you're looking for. In this textbook, you'll find 20 lessons with different topics that an intermediate learner should know.
One of the reasons I chose this book is that they have a free online language lab with different interactive activities. So if you get tired of the book or you just want to try other exercises, you can go online and use the vocabulary flashcards, test your vocabulary knowledge with quizzes and train your pronunciation with recordings.
Personally, having this extra resource is very refreshing. As you may infer from the name, this book is very focused on grammar and vocabulary. This means that you'll find short grammar explanations and different exercises to put the new concept into practice.
You have different types of exercises and that's good because you can practice your Spanish in different contexts. But something that I don't like (and this is just my personal opinion) is the translation exercises.
Why? Because you don't need to be encouraged to translate as much as you can. As a teacher, I saw many students translating before speaking. In addition to being very slow, they weren't as fluent as other students that didn't try to translate.
If you feel overwhelmed with the textbooks that are written in Spanish, this option may be for you since all the explanations are in English. When it comes to the design this Spanish textbook is very simple. It doesn't contain images, has some tables, and only uses black and white.
Contents, advantages and disadvantages
The intermediate level of learning Spanish can be characterized by reviewing basic concepts and applying them in more advanced situations. In addition to this review, intermediate will also be introduced to other grammar elements that are necessary for their communication.
The contents of Practice Makes Perfect: Intermediate Spanish Grammar follows this idea: some lessons are assigned to check and reinforce previous topics and others to teach you new grammar rules.
So here is a quick overview of some of the topics covered in this book:
Present tense: regular, irregular and reflexive verbs
Subject pronouns
Ser and estar
Comparative structures
Future and conditional sentences
Subjunctive: present and imperfect
If you compare these topics with other intermediate Spanish textbooks' contents, you'll notice that they are very similar. However, I do want to point out that both Aula International and Intermediate Spanish Grammar (my other two options) present you with these same topics in more advanced situations and they show you some nuances and exceptions you need to know.
Another downside in this Practice Makes Perfect: Intermediate Spanish Grammar textbook is very grammar oriented. This means that you won't find activities to train your listening and conversation skills. Now, I love grammar. I really do. But I also know that you need to practice in more real-life situations.
Despite this, the book does contain a lot of written exercises that will reinforce your grammar. If you want to learn other advantages of this book, I recommend you to read a more detailed review of this Spanish textbook.
Although it's not my favorite of this list, Practice Makes Perfect: Intermediate Spanish Grammar is a good textbook for intermediate learners who want to work on their grammar. If you want, you can check its current price on Amazon. It's very affordable!
FAQs
Here are some answers to frequently asked questions that Spanish learners have.
What is the best Spanish textbook?
Finding the best Spanish textbooks depends on your level and goals. Speaking from a general point of view, these are some of the best Spanish textbooks:
Aula Internacional series
Madrigal's Magic Key to Spanish (beginner level)
Practice Makes Perfect series
Gramática de Uso del Español series
Spanish for Dummies (beginner level)
Ultimate Spanish Beginner-Intermediate
Easy Spanish Step-by-Step
As mentioned earlier, the best Spanish textbook depends on the level that the learner wants to develop. All levels have different goals and needs that need to be met. As a result, the best Spanish textbook for beginners won't be the same as the best Spanish textbooks for advanced learners.
How do I become fluent in Spanish?
Becoming fluent in Spanish is a process that can take some time. Here are some activities you can do:

Speak as much as you can.
Learn basic vocabulary and popular idiomatic expressions.
Join a conversation club or get a Spanish study buddy.
Learn grammar rules, prepositions, connectors, and expressions that people use on a daily basis.
Watch TV, read and listen to music in Spanish.
What is the best way to learn Spanish?
The best way to learn Spanish is:

Have a Spanish teacher or follow a good Spanish course.
Ideally, learners should try to immerse themselves in Spanish as much as possible.
Take the time to do different exercises to practice your grammar knowledge.
Commit to learning new vocabulary, idioms, and slang expressions.
Use music, recordings, podcasts, and TV to practice your listening and comprehension skills.
Read books in Spanish to learn more vocabulary and grammar structures.
Interact as much as possible with Spanish native speakers so you can learn current expressions.
Wrapping Up
Many Spanish intermediate learners want to continue improving their Spanish command, but sometimes they don't know what's the best textbook that will help them accomplish their goals. For that reason, in this list, I've compiled the best intermediate Spanish textbooks.
All three books cover the topics that you, as an intermediate Spanish learner, should know. As their name suggests, Intermediate Spanish Grammar and Practice Makes Perfect: Intermediate Spanish Grammar are very grammar-oriented and you'll find lots of exercises that will help you practice your Spanish knowledge.
On the other hand, Aula Internacional's approach is more general. In other words, they're still going to teach grammar but they will be focused on your four Spanish skills: listening, speaking, writing and reading.
These three books will give you the foundations that you need to complete the intermediate Spanish level. I hope that this information helps you make the right choice for your Spanish learning process ¡Suerte!
Related Resource: Best Courses to Learn Spanish