Many people that want to start learning Spanish wonder what's the best textbook for beginners that they can use. With so many products available, it's difficult to know what option will be the best for you.
For that reason, we've compiled a list of the 5 best Spanish textbooks for beginners. All of these books are great resources for starting to learn Spanish; however, you may find that one style fills your necessities better than others. So in order to help you, we'll provide you with an honest review and summary of these Spanish textbooks.
Before jumping into the list, I want you to know that I personally checked or used these books and in order to choose my winners, I did a lot of research and at least three elimination processes. So like they say, I'm just showing you what I consider to be the best of the best.
Hopefully, by the end of this post, you'll have a Spanish textbook for beginners that you can to start learning Spanish. ¡Buena suerte! 🙂
Get a Step-by-Step Map to Learning Spanish
Join the Tell Me In Spanish community and get a copy of my step-by-step Spanish Learner's Roadmaps and tricky synonyms & vocab cheat sheets.
1. Madrigal's Magic Key to Spanish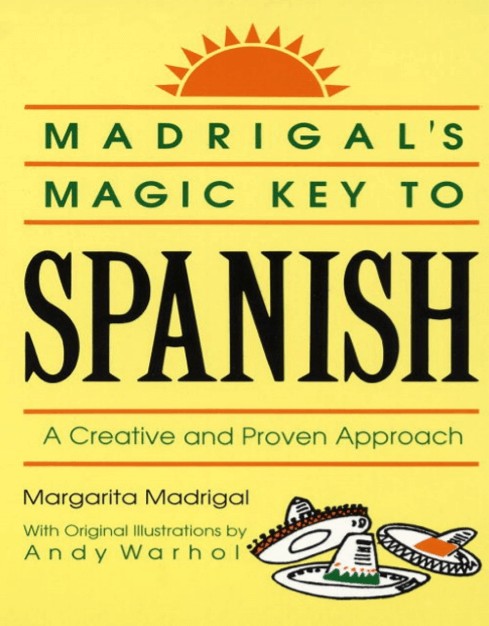 Madrigal's Magic Key to Spanish is a Spanish textbook for beginners written by a Spanish teacher with a lot of teaching experience. This textbook is unique because it contains a method that this Costa Rican teacher used for a long time and that proved to be successful with her students.
The goal of this book is clear: teach you Spanish in just a few weeks. In order to do this, you'll find different vocabulary strategies to form Spanish words based on your English vocabulary. Since you're learning patterns, it will be easier for you to acquire Spanish vocabulary without having to translate all the time.
If you already have some basic knowledge of Spanish or have learned another language, you'll find that this book doesn't seem to follow a 'logical order'. In other words, the grammar elements are organized according to this new method.
So for instance, you'll learn past and future tenses before the present because according to the author past tenses give you more conversation possibilities. As a former Spanish teacher that has worked with languages books for a long time, I found this a little bit shocking. But after thinking about it for a while, I have to admit that she raises a good point.
In addition to the vocabulary strategies and the grammar topics, you'll find different exercises to practice your grammar and comprehension skills. At this point, it's important that you know that the book doesn't offer listening or conversation activities.
To me, this doesn't make much sense since one of the goals is to help you speak faster. So either your teacher or you as the self-taught learner will have to find other resources to practice these skills. If you're willing to make the effort, this book will be a great help for your Spanish.
Content, advantages and disadvantages
As a Spanish teacher, I've seen many beginners get frustrated because they don't fully understand what's going on with their textbooks. In this case, you don't have to worry about this because the book is all written in English.
Madrigal's Magic Key to Spanish has 45 lessons. So as you may imagine, there are a lot of contents, some of them include:
Vocabulary strategies
Learning how to form sentences
Conjugating basic and useful tenses in Spanish
On top of not having listening and speaking activities, this book was written a while ago and hasn't been updated. For that reason, some vocabulary or situations will be a little bit outdated.
One of the advantages of this book is that you'll learn patterns that will allow you to improve your vocabulary faster. Additionally, you'll only learn the most common and useful verb tenses. In general this is a great book to start learning Spanish, if you want you can check its current price here.

I also wrote a more detailed review, if you want to know more about Madrigal's Magic Key to Spanish before buying it.
2. Aula Internacional 1 + Aula Internacional 2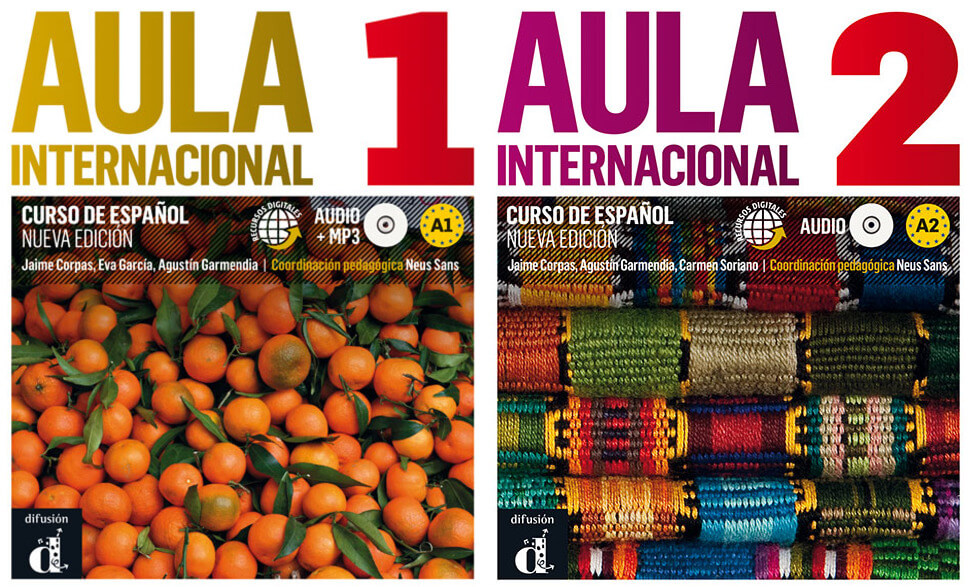 During my years as a Spanish teacher I worked with a lot of textbooks. But the one that I used the most was Aula Internacional 1 which is a super famous Spanish textbook for beginners.
Unlike Madrigal's Magic Key to Spanish, Aula Internacional 1 is a textbook to the T. This means that all the topics are following a syllabus approved by big institutions. It also means that you'll find all kinds of activities to train all your Spanish skills: writing, reading, speaking and listening.
But as with many textbooks, Aula Internacional is meant to be taught or guided by a teacher. In fact, all the text is in Spanish. So if you want to use it as a self-taught and don't know a little bit of Spanish (which you may not because you're a beginner), it may be hard for you to begin.
Since I worked with this book for years, I can give you a lot of details of the things that I loved and the things that I really don't like about it. For starters, the design is beautiful: you'll find a lot of images and cartoons that will help you identify concepts and sections easier.
Additionally, all the lessons contain different sections where you can learn and practice your grammar, vocabulary and new expressions. Like other many books, these topics will be applied to daily-life situations. A huge plus of Aula Internacional is that it has a CD with listening exercises to develop your comprehension.
What I don't like about this book is the huge reading and culture sections (they weren't that long, but they feel like it). A lot of students get frustrated because they don't see a real application of the vocabulary and topics they learn here. And they're right.
Contents, advantages and disadvantages
Aula Internacional 1 had a huge makeover: they have a better design and they include more interactive exercises and activities. But I find a problem with this: some lessons have some activities with suggested videos. To me it's not clear if these videos are free (I haven't found them) or you have to pay for them (I did find some prices for multimedia material).
Despite all of this, Aula Internacional 1 does a good job covering the topics that a beginner needs to learn. Just to give you a quick summary, some things you'll learn are:
Introduce yourself
Ask and provide personal information
Present tense conjugations
Reflexive and irregular verbs
Talk about likes and dislikes
If you want to learn more about the subjects and the goals of this book, I encourage you to read the Aula Internacional 1 review that I wrote. Even though I really like this book a lot, one huge disadvantage is that, in order to complete the beginner level, you will need to have the Aula Internacional 2 book.
In the second volume, you'll continue studying present tenses in more advanced situations and you'll learn past tenses conjugations as well as other grammar elements. Seeing that most books offer the whole beginner level in one volume, I find this division a big pitfall.
On the bright side, these books belong to the Aula Internacional book series. So if you want to be methodical about your Spanish learning and later down the road get a certification, this may be the way to go. Even though it's not a perfect book, this is still my favorite Spanish textbooks for beginners. If you're interested in it, you can check its current price here.
3. Gramática de Uso del Español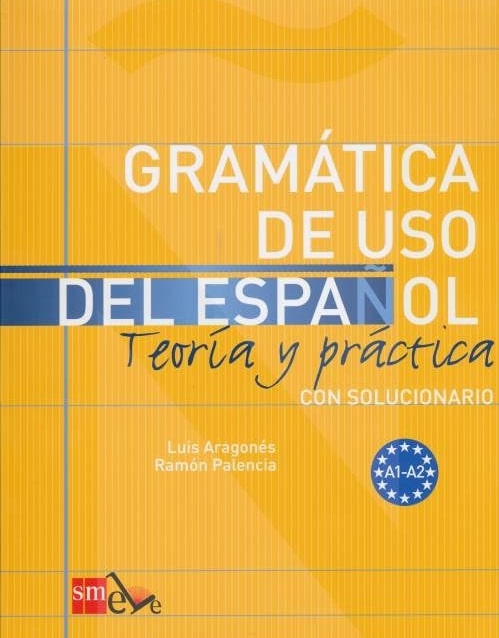 Another good Spanish textbook for beginners is Gramática de Uso del Español A1-A2. Just like other Spanish textbooks, Gramática de Uso del Español A1-A2 works better in a classroom environment.
This doesn't mean that you cannot use it for self-studying, but you will need to put some extra effort into researching further grammar information since some explanations may not be enough.
If you haven't guessed yet, this book is very grammatically oriented. As a result, in each lesson you'll find some theory and grammar elements and a bunch of exercises to practice what you just learned. If you're the type of student who wants to focus on learning how to speak as soon as possible, this book won't make you happy.
As a Spanish teacher and grammar geek, I really like the book because it contains a lot of visual aids to support the grammar explanation. But to be objective, I do need to say that it would be a more complete book if it had listening and speaking exercises. However, it doesn't include these types of activities.
One thing that really bothers me is the fact that you go through each lesson and you just know the grammar element that you'll be learning. You don't have a list of goals, skills or common situations where you can apply your new knowledge.
In my opinion, having these small things help Spanish learners to be aware of the things they're learning. Unlike other books from this list, Gramática de Uso del Español A1-A2 is all written in Spanish. So even though it's a good immersion technique, it may be challenging for some students.
Contents, advantages and disadvantages
If you're familiar with the Common European Framework of Reference for Languages, you may have guessed that the Gramática de Uso del Español A1-A2 textbook will allow you to complete the Spanish beginner level.
In order to complete this goal, this textbook follows a sequential order and its contents are based on the Instituto Cervantes syllabus. So if you want your Spanish learning to be organized and approved by a recognized institution, this book is an excellent choice for you.
Here is a quick overview of some of the topics that you'll learn in this textbook:
Nouns
Articles
Indefinite articles vs definite articles
Present and past tenses
Irregular, regular and reflexive verbs
If you want to have a better idea of the book, I wrote a more full in-depth review.
One of the biggest disadvantages of this book is that it doesn't include any recordings or activities that promote your listening and speaking skills. Since these abilities are extremely important in Spanish, I consider that they should be a must in all Spanish textbooks for beginners.
And just like I mentioned before, the book is written in Spanish and since some grammar explanations are not enough, it would be up to the teacher or self-taught learner to do some extra research.
To be fair, the book does contain a lot of exercises and evaluations so you can test your progress continuously. If you don't like grammar or any repetitive exercises, this may not be the book for you.
Buf if you want to reinforce or learn more grammar and structures, this book is perfect for you. Here you can check its availability and current price.
4. Easy Spanish Step-by-Step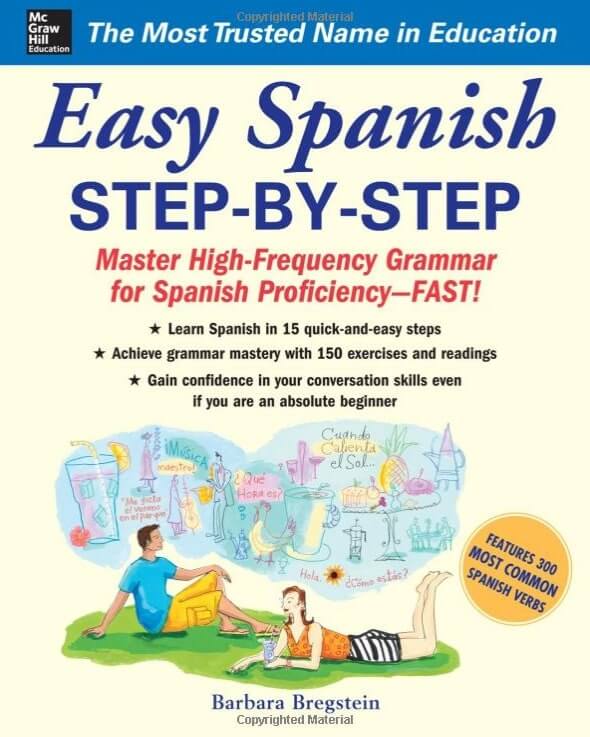 Easy Spanish Step-by-Step is another Spanish textbook for beginners written by a teacher with actual experience teaching the language. As a result, you'll find basic topics organized in a sequential order to make your learning process easier.
This textbook could be easily used in a classroom, but since it's written in English it can also work for people learning on their own. In order to complete the beginner level, you'll have to learn some grammar and complete different exercises.
As it starts, the author promises that the vocabulary used in the book is based on popular vocabulary used by native Spanish speakers. It's true that it contains basic words that can be easily applied on a daily basis. However, if you really want to sound like a native speaker, you'll still need to learn slang expressions and idioms on your own.
Something that I really like about this book is that it has over 150 exercises and some reading activities. Additionally, you'll also have access to the online language lab. If you like interactive activities, you'll find vocabulary and listening resources.
A little heads up: when I first learned about this book the title misled me. There are not actually steps for you to learn Spanish. It's just some sequential lessons that you need to follow to complete your beginner level.
Contents, advantages and disadvantages
Something unique about this book is that it includes some topics that are classified as 'advanced' or 'intermediate', but that are super common in daily situations.
By doing this, the author is not only providing grammatical structures that you actually need, but she's also trying to avoid that you learn and reinforce some incorrect structures in Spanish. As a teacher, I've struggled with this problem before and trust me, it's not easy to fix.
Another thing that I loved was the reading activities. In most books, the reading sections almost feel like filler activities with no clear purpose. But in this case, the readings are valuable because they apply the vocabulary and grammar elements that you're learning.
However, one big downside is that the book doesn't contain listening and conversation exercises. So you'll need to find different ways to develop these skills.
Since this is a beginner-level textbook, most of the content will be focused on basic grammar. Here is a quick overview of the things you'll learn. You can check this Easy Spanish Step-by-Step review for further information.
Body parts
Basic vocabulary
Present tense
Preterite and imperfect
Present subjunctive
Ser vs estar
Even though it lacks some exercises, Easy Spanish Step-by-Step can be an excellent tool for your Spanish journey. Compared to other books, this textbook is very affordable. You can check its current price on Amazon.
5. Spanish for Dummies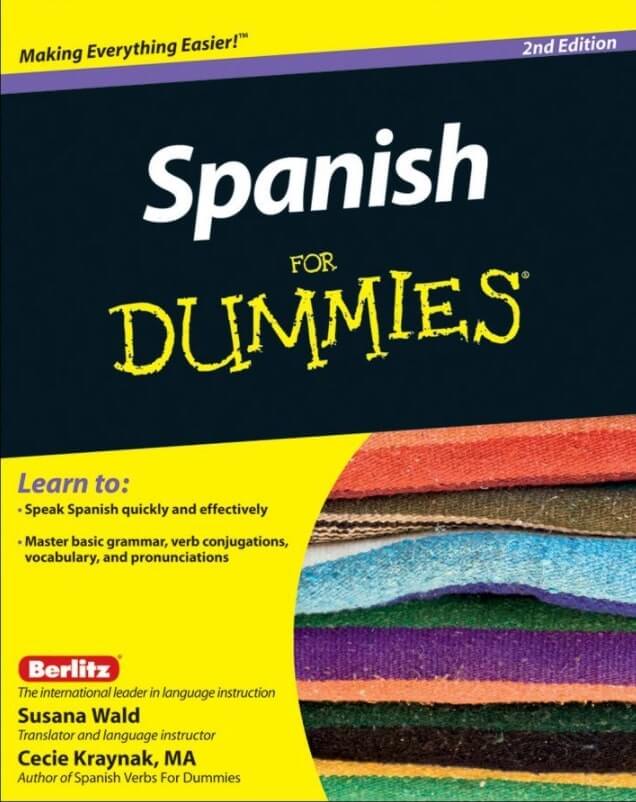 To be honest, I always had mixed feelings about the Dummies book series because I thought they would be super simple and probably not thorough enough. However, Spanish for Dummies proved to be an excellent book for beginners or tourists with very basic knowledge that want to learn to speak Spanish fast.
So since their main goal is to work on your conversational skills, Spanish for Dummies doesn't have a lot of grammar explanations or exercises. So if you're expecting this, you shouldn't get this book. Of course, you'll find some grammar explanations: but just what's necessary so you can start talking.
In addition to this, you'll find lots of vocabulary and expressions to be able to deal with different situations that a tourist might encounter. At this point, I need to mention that Spanish for Dummies is very focused on Latin American Spanish. As a result, the vocabulary and expressions you'll learn won't be very useful in Spain.
For many Spanish learners, keeping a conversation or dealing with simple daily-life situations is one of the most challenging things. For this reason, I find a lot of value on this Spanish textbook. If you want to improve your conversation, this book will be a great resource for you.
Just keep in mind that you may need to complement its grammar with other textbooks. Also, don't forget that it's very Latin American focused.
Contents, advantages and disadvantages
As mentioned before, Spanish for Dummies (at least this version) has the purpose to help tourists and beginners to develop their communication skills. So in order to do this, they include different contexts and grammar elements.
Here are some of the contents that you'll learn.
Asking directions
Handling health problems
Regular, reflexive and irregular verbs
Asking questions
Making a reservation
Going to the supermarket
In this review, you can find more detailed information about this textbook.
Many conversation clubs use topics that are not relevant to the student's daily life. For that reason, I found that the situations presented in Spanish for Dummies are very refreshing and useful. As you may imagine, you'll get different vocabulary and structures that will help you deal with these situations.
On the downside, the design is very simple and sometimes it can be overwhelming because it's a lot of text with no exercises for you to do. Additionally, you may miss some grammar structures that other beginners have learned.
From a conversational point of view, this book is amazing because it will actually give you the tools to have simple conversations on situations that you'll face as a tourist. Of course, you can actually get the book (see current price) as a way to improve your conversational skills. Just keep in mind that you'll need to practice your grammar with other resources.
FAQ's
Here are some common Frequently Asked Questions related to the Spanish language.
How do I start learning Spanish independently?
In order to learn Spanish on your own, it's recommended that you follow the next steps:
Set a time so everyday you practice your Spanish.
Identify your goals and purposes to learn Spanish.
Gather grammar, listening, writing and reading resources as well as exercises so you can practice.
Watch tv shows and listen to music in Spanish.
Practice as much as you can: if possible find a conversation partner to practice your conversation.
Where can I buy Spanish books?
For many students, it's difficult to find a local library with Spanish books. Depending on the type of book that you're looking for you have different online options. Due to its variety and delivery system, Amazon will probably be the best option to find different types of Spanish books.
How do beginners learn Spanish?
In order to make their Spanish learning easier, a beginner should start with pronunciation exercises, simple vocabulary and basic grammar that allows them to keep simple conversations.
A beginner will also need to do different exercises to practice their grammar knowledge as well as to train their listening skills. Even though they may feel embarrassed, it's also recommended that Spanish beginners join a conversation group so they get familiar with different accents and speeds. This will also help them to get more comfortable with their speaking skills.
Wrapping Up
If you're interested in learning Spanish, you may be looking for good Spanish textbooks for beginners. However, among so many options, it's possible that you don't know what's the best book for you.
In this article, I compiled a list of the 5 best Spanish textbooks for beginners. On top of listing my favorite books, I also included some professional opinions about their contents and the skills they will help you develop.
Keep in mind that even though these are all textbooks for beginners, they have different approaches and purposes. I hope you choose the best option for your learning style so you can start learning Spanish right away. Good luck!
Related Resource: Best Online Spanish Courses