The Great Courses Plus is a streaming video service that offers courses on a vast number of different topics. Since they're such a big company and I've been told that their courses are excellent, I went to their catalog and took both of their Spanish courses. So, here is a detailed review of what I found.
In short, these Spanish courses follow the traditional structure of a real Spanish class. In addition to the videos, the courses include a workbook to practice vocabulary and grammar.
This is a great course (no pun intended), but it's not for everyone and it has some quirks that I'll share with you in this review.
Learning Goals & Objectives
The Spanish courses offered by The Great Courses Plus have a simple and straightforward goal: to teach you Spanish and develop your language skills so you can communicate effectively. So on top of grammar and vocabulary, you'll also be provided with tips and techniques to improve your Spanish learning.
So how do these courses work? Since The Great Courses Plus is a streaming video service, the Spanish courses are presented to you through different videos. These videos or lectures provide you with all the content that you will learn in a real Spanish class.
And just like a regular class, you're expected to participate. For that reason, the video contains some interactive activities where you can repeat the vocabulary and reinforce the concepts that you learned during the lesson. So here is how the video works:
Explanation: the professor introduces the topic and presents you with vocabulary.
Audio glossary: a section where you need to listen and repeat the most important vocabulary and phrases presented in the lesson.
Speaking activities: different exercises to boost your speaking skills.
In addition to the video, both Spanish courses include a workbook that is designed to develop your writing and reading skills through different exercises. Something that I really liked is that this workbook uses the exact same vocabulary and grammar that you learned in the video.
To be honest with you, this is one of my favorite courses because it was created and taught by a Spanish Professor with a perfect accent and knowledge of Spanish. So, yes, he knows what he's talking about.
Levels and difficulty
As I mentioned before, The Great Courses Plus includes two Spanish courses: beginner and intermediate. Both courses are very easy to follow because the instructor combines both Spanish and English.
That way he immerses you in the language while he makes sure you understand what's going on. If you're worried about the Spanish part, you shouldn't: he speaks slow enough so you can understand the language. This is something that all Spanish teachers need to do.
If you're a beginner, Learning Spanish: How to Understand and Speak a New Language is the first course that you want to take. But if you already have some foundations, Learning Spanish II is the best option for you.
Based on their contents and the format, these courses are more suitable for college students and adults. In fact, Learning Spanish: How to Understand and Speak a New Language covers the curriculum of a first semester college course.
Design & Learning "User" Experience
Both of these Spanish courses contain 30 lectures, each 45 minutes long. When it comes to organization, the platform is very easy to use (notice that I used my computer to take this course and not the mobile app).


When it comes to the course, you also have a lot of organization. In fact, the professor, Bill, recommends that you complete the video first (being interactive) and then, go to the workbook to complete the exercises assigned to your lesson.
As I mentioned before, the videos have three big sections: the explanation, audio glossary, and speaking activities. During the explanation part, the video will include some visual aids to make your learning process easier.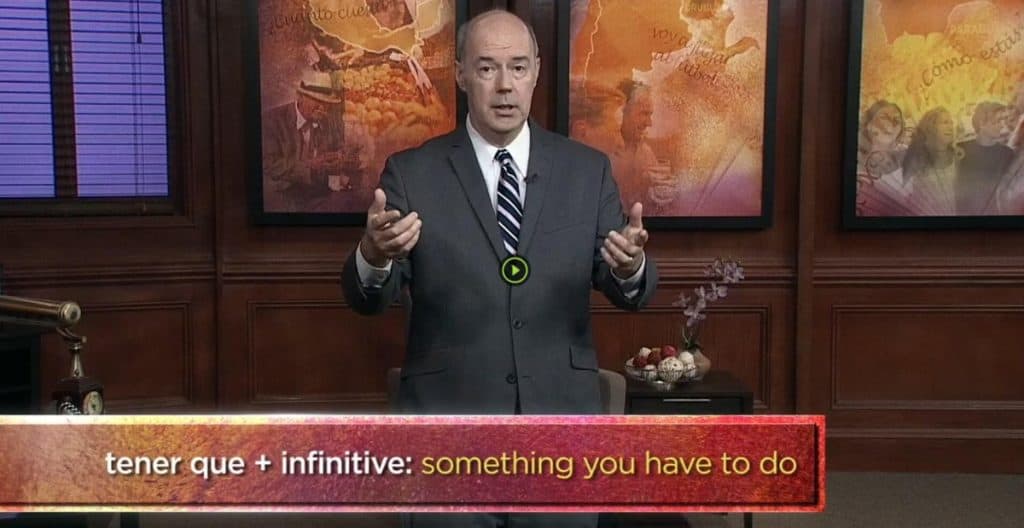 I do need to mention that the video player doesn't contain some simple features that other streaming video services have. So for instance, it doesn't have the function to skip forward and back: just like the old days, you have to click on the video's progress bar to try to get to the moment of the video that you want to watch.
The good news is that it includes captions and the ones in Spanish are really good! Both books have a simple design, but they definitely fulfill their purpose which is helping you reinforce and practice your skills.
Most Spanish courses have something in common: they focus on one or two skills and overlook the other ones. As a result, it was a very nice surprise to see that this course does everything to develop all your skills:
Video: listening, vocabulary and grammar
Audio glossary: listening and vocabulary
Speaking activities: listening and speaking
Workbook: reading, writing, and grammar comprehension
Contents
Although they use a very standard vocabulary, both courses focus on Latin American Spanish. As I mentioned before, these courses cover different levels of Spanish. Here is an overview of the topics covered in each one of them.
Topics in Learning Spanish: How to Understand and Speak a New Language: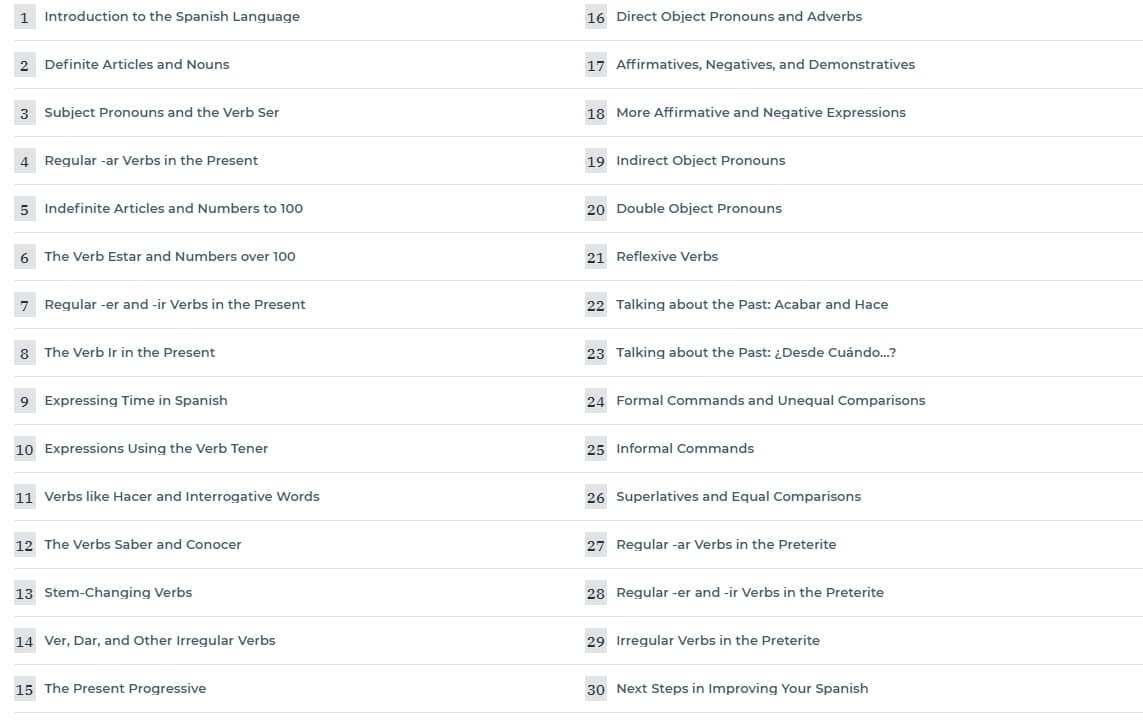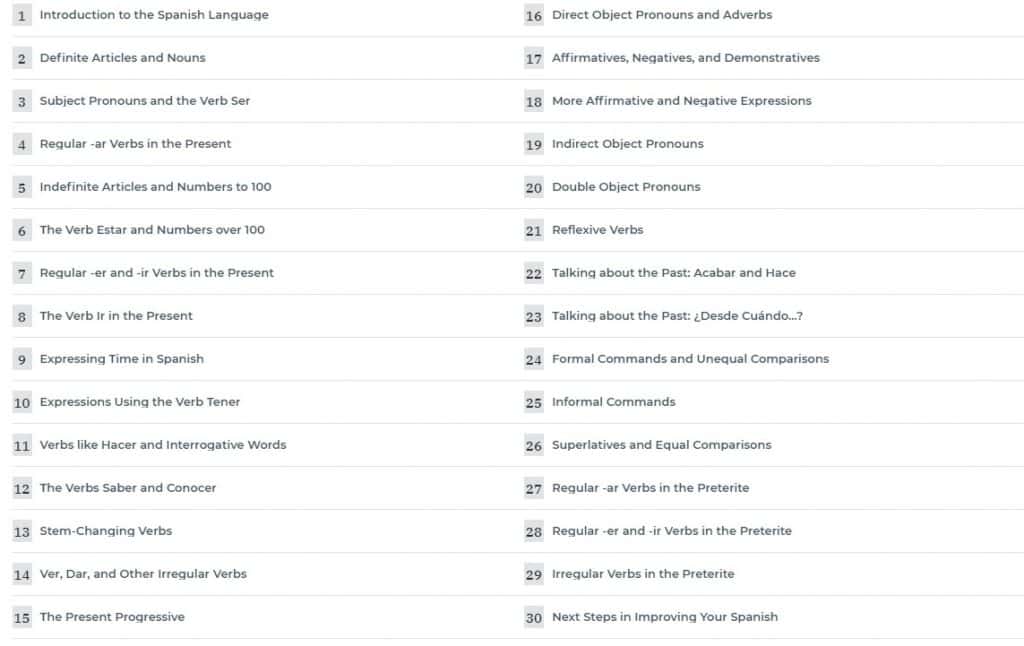 While with Learning Spanish II: How to Understand and Speak a New Language: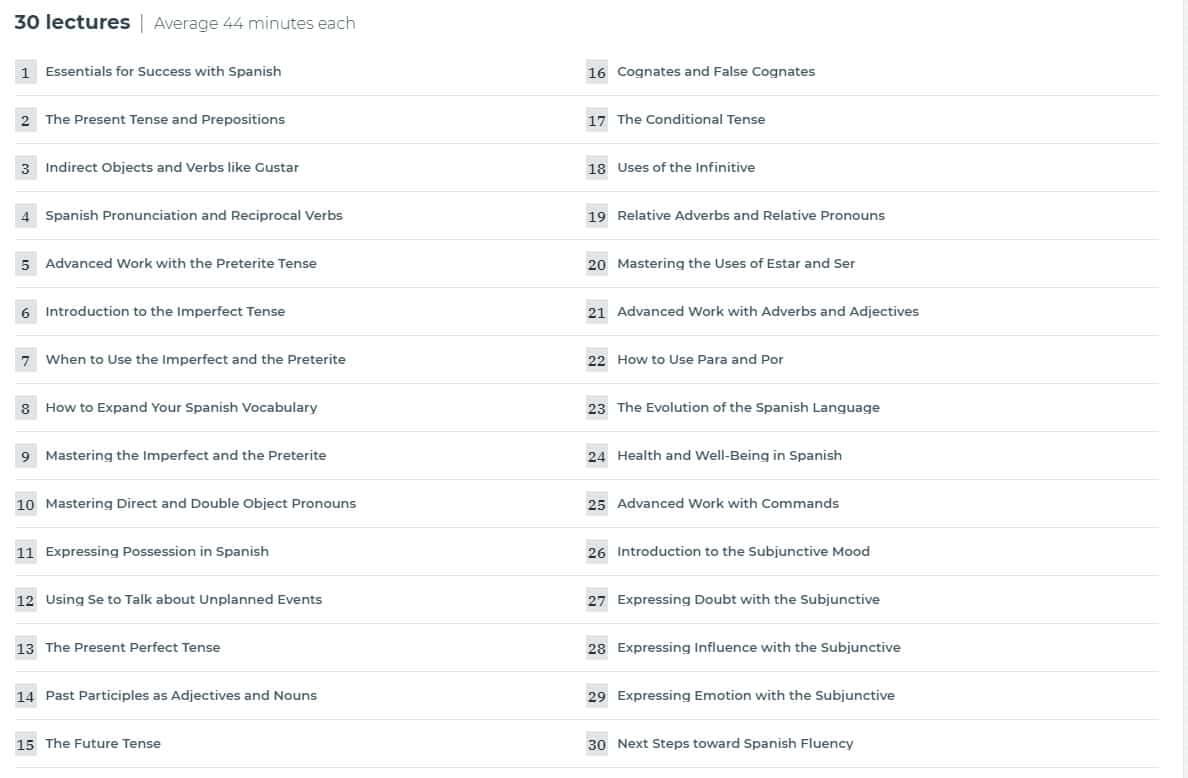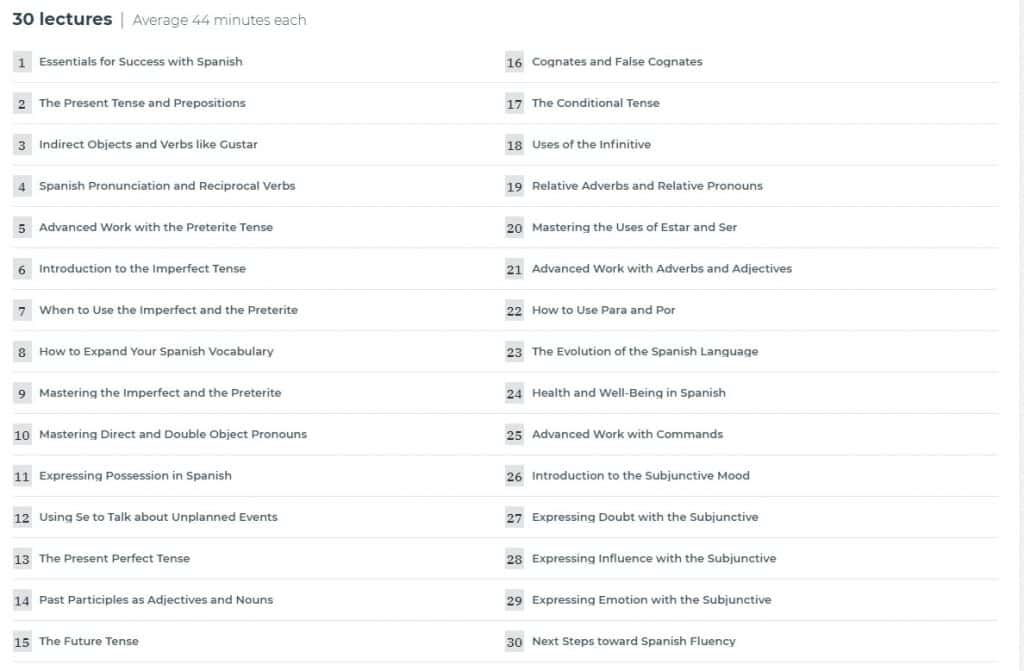 Since each video covers a different topic, the explanations provided by the host are very thorough and clear to understand. It actually helped me relearn some topics that I haven't taught for a while. Also, you'll find a short summary of the lesson in your workbook. 
I do have to mention that, even though he tries to have a balance between English and Spanish, the course will be more immersive if he just used more Spanish. But I understand that some learners may feel the need to use English.
When I started the course, I had some issues finding the 'audio glossary' because I expected to see it in the dashboard. But this content is inside the video: in fact, you can find it in the last 15 minutes of each video.
Overall, these Spanish courses are designed to develop your listening, speaking, reading, and writing skills. And even though they provide you with great foundations, if you want to be fluent, you need to take this knowledge and apply it in real-life situations,
Pros & Cons
Here are some pros and cons that I found when taking this class.
Pros include:
The course was created and taught by an actual Spanish professor with lots of experience.
In addition to the videos, the courses include a workbook with hundreds of exercises.
When needed, the videos include images, tables and other visual aids.
Unlike other options, these courses offer you activities and resources to develop all your four Spanish skills.
It actually feels like being in a Spanish class.
The online platform is very easy to use.
All the explanations are very thorough and include examples.
At the end of the presentation, the video contains an audio glossary section and speaking activities to train your listening, pronunciation and speaking skills.
Cons include:
The video player doesn't have some basic features such as buttons to skip forward and backward.
Although there's a balance between Spanish and English, the course would offer a more immersive experience if the professor used more Spanish.
Compared to other online courses, it's not very interactive.
The videos seem old and with a simple design.
Price & Where to Buy
Both of these Spanish courses are available on The Great Courses Plus website. In order to gain access to them, you'll need to get a membership: depending on your plan, the costs range from $12 to $20 monthly (it gives you access to their full catalog). You can check what's the best option for you, here.
You can also buy them individually on DVD. However, I found that using the online platform is more convenient and easy to use. In fact, some users have complained that the DVD didn't come with the workbook or that they couldn't find the audio glossary. 
So in order to avoid these problems, I would highly recommend you to get the online subscription: it's cheaper and it offers you access to other topics that you may be interested in learning.
To be honest with you, the Spanish courses by The Great Courses Plus has been my favorite Spanish course so far: it's very complete and offers you a classroom environment guided by a Spanish teacher with a lot of experience.
In addition to this, the content and the resources included are a great value for the price that you're paying. Now, this course will not be as interactive as other products that take full advantage of technology, but it still provides you with great Spanish foundations.
Before making a final purchase decision, I encourage you to read my best Spanish courses review. If these options are not the best for you, perhaps you can find other products that will help you through your process. 
Conclusion
The Great Courses Plus has two Spanish courses that are meant to help you speak Spanish and develop your skills so you become proficient in this language. On top of learning different techniques, these courses will provide you with vocabulary and grammar topics such as:
Different tenses
Regular, irregular, and reflexive verbs
Telling the time 
Object pronouns
Por vs para
Ser vs estar
Using subjunctive 
Although the bulk of the course is based on videos, they also include a workbook with different exercises so you can practice and reinforce the concepts presented in the lesson. Additionally, the videos try to be as interactive as possible: they include sections where you can listen and repeat important vocabulary.
Overall, these courses are perfect for learners who want to learn Spanish in a more structured and guided way. As a Spanish teacher, I really enjoyed the course and I believe that it will be a great tool for your learning experience.