If you use the internet to learn Spanish, it's very likely that at some point you've come across Gritty Spanish: an immersion course that will help you learn and understand real-life Spanish faster. Since I've seen this course myself multiple times, I wanted to take time to use it myself and share my personal review of the course with you.
What is Gritty Spanish?
Gritty Spanish is an immersion audio program with conversations recorded by Spanish native speakers. It's primarily focused on improving speaking and listening comprehension. This helps learners understand and interact with different accents and popular expressions used in daily-life situations.
Although the approach of this course is really good, it has some limitations that I'll share with you in this review.
Learning Goals & Objectives
Gritty Spanish is an immersion audio program whose goal is to help learners understand real-life Spanish-speaking conversations and develop their listening and reading skills. In order to help you understand fast-talking, Gritty Spanish has courses for both beginners and intermediate-advanced learners. 
So how does it work? As I mentioned before, this is a Spanish audio program. In other words, each course has different conversations that you'll listen to and a Spanish-English transcription so you follow along with the recording.
In this sense, it doesn't seem very different from other online resources that you could find for free. But here is the real value: as they promise, all the conversations are based on daily-life situations. And, since they're recorded by Spanish native speakers, the language and vocabulary are very natural and include many common expressions that we actually use in Spanish.
Gritty Spanish's goal is very straightforward: to help learners to be able to understand real-life conversations in Spanish. And to be honest, they do an amazing job delivering on this promise. In addition to listening, you can also read the transcript to work on both your listening and comprehension skills.
Due to its characteristics, Gritty Spanish is very focused on your listening and reading skills. Unlike other audio courses, this program doesn't work with the listen and repeat premise. As a result, you'll need to find other ways to practice your conversation.
Levels and difficulty
As I said earlier, Gritty Spanish has different courses to cover the upper-beginner and intermediate-advanced levels. The courses are organized in packages, but you can also buy them individually.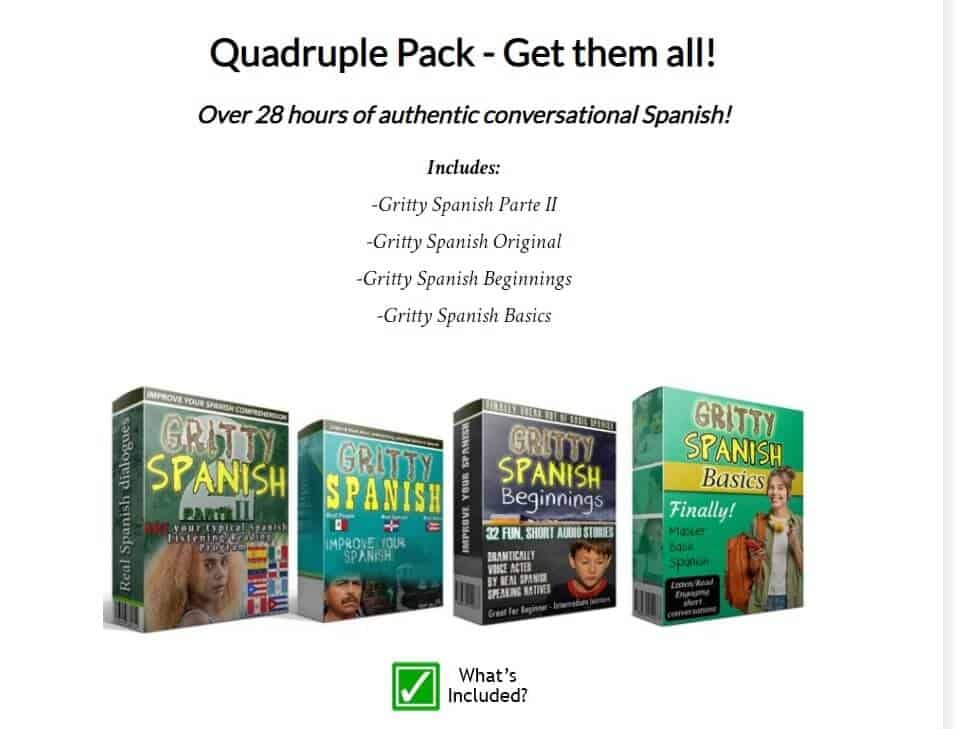 Even though these courses are divided into beginner and intermediate-advanced levels, in my opinion, it's better if you have previous knowledge of Spanish. Don't get me wrong, the program is really cool. But since it's very focused on slang and listening, you need to have some foundations so you can make the most out of it. Think of it as an extra resource.
Due to the contents and expressions presented in this program, Gritty Spanish is meant for adults. Since cursing is very common when speaking any language, you'll find common bad words throughout the lessons. But if you're not a cursing type of person or don't like profanity, you can get a censored version.
When it comes to the difficulty of the course, you need to keep in mind that, in order to create an immersive experience all the Gritty Spanish conversations are in Spanish. For many students, this can be overwhelming, but it's not difficult at all since you can conveniently control the speed of the video and you also have a Spanish-English transcript.
Design & Learning "User" Experience
The Gritty Spanish courses are divided into different stories or conversations presented in short videos. The number of conversations varies depending on each course. But on average a course has around 25 to 35 stories which is equivalent to 4 to 10 hours of audio.
Once you get your course, the conversations will be enumerated. Despite this, I couldn't see a pattern or a logical learning process or structure where you start with easy topics and progress to more advanced content. It's just a list of conversations that will come in useful.
Additionally, each video will contain the transcription as well as the English translation so you can follow the lesson. Due to its contents and structure, Spanish learners will develop amazing listening and reading skills. But there are no writing exercises or "listen and repeat" activities that can improve your pronunciation.
Learning Aids
One of the things that I like the most about Gritty Spanish was their super helpful transcripts. In addition to presenting you with the conversation, these files contain the people (characters) involved as well as their nationality.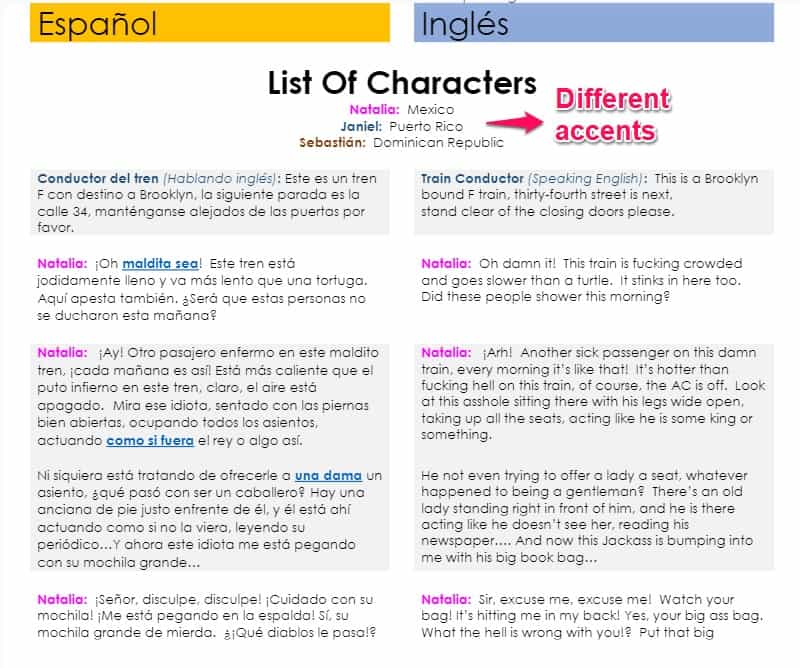 Since you're going to be introduced to different accents and slang vocabulary, knowing the country that you're listening to it's very helpful. Another thing that I loved about the transcript is that you can click on some words or expressions to get further information about its meaning or structure. Given that you're likely to rely on slang in daily conversations, this feature is very useful.
In addition to this, the videos come in normal speed and a lower version so you can hear everything that is being said. After buying your Gritty Spanish courses, you can access your content through your computer or with a mobile app. This will allow you to study Spanish in a more comfortable way.
Contents
As I mentioned before, one of the coolest things about Gritty Spanish is that the conversations are not only based on real-life situations, but they are also recorded by Spanish native speakers. Since they contain a lot of slang expressions, these courses have a very strong influence of Latin American Spanish.
They do include some Spanish people, but most of the content and the vocabulary are very focused on Latin American-speaking countries. So if you're interested in learning Castilian Spanish, these courses may not be the best option for you.
Since all the courses from Gritty Spanish are based on conversations, you won't have a list of contents to be covered. However, in all the programs you'll find:
Side-by-side Spanish/English transcript
Common expressions and slang vocabulary
Grammar and vocabulary explanations
Learn how to conjugate verbs
Questions to test your proficiency
Different Latin American accents and vocabulary
Although these courses contain some vocabulary and grammar explanations, you need to keep in mind that their purpose is to give you simple information that you can apply as soon as possible.
In my opinion, the explanations fulfill their purpose: letting you know how a word or structure is being applied. When it comes to vocabulary this is not a big deal, but in some grammar structures, you'll need to do some extra research to find a more in-depth explanation.
As an extra bonus, some of the basic courses include multiple-choice questions that will help you test your knowledge and proficiency.
Pros & Cons
Here are some pros and cons that I found after reviewing and checking the Gritty Spanish courses.
Pros include:
The conversations are based on daily-life situations and recorded by Spanish native speakers.
Spanish learners will gain exposure to and learn different Latin American accents. In fact, the transcription file will point out what accents are being used.
It's a great resource for improving your listening and reading comprehension skills.
All videos come with a side-by-side Spanish/English transcription. In addition to including the conversation, these files have links to vocabulary and grammar explanations.
The conversations include slang and common expressions from different Spanish-speaking countries.
Depending on your listening skills, you can control the speed of the videos.
It has an Android and iOS app.
It includes small quizzes to measure how well you understood the lesson.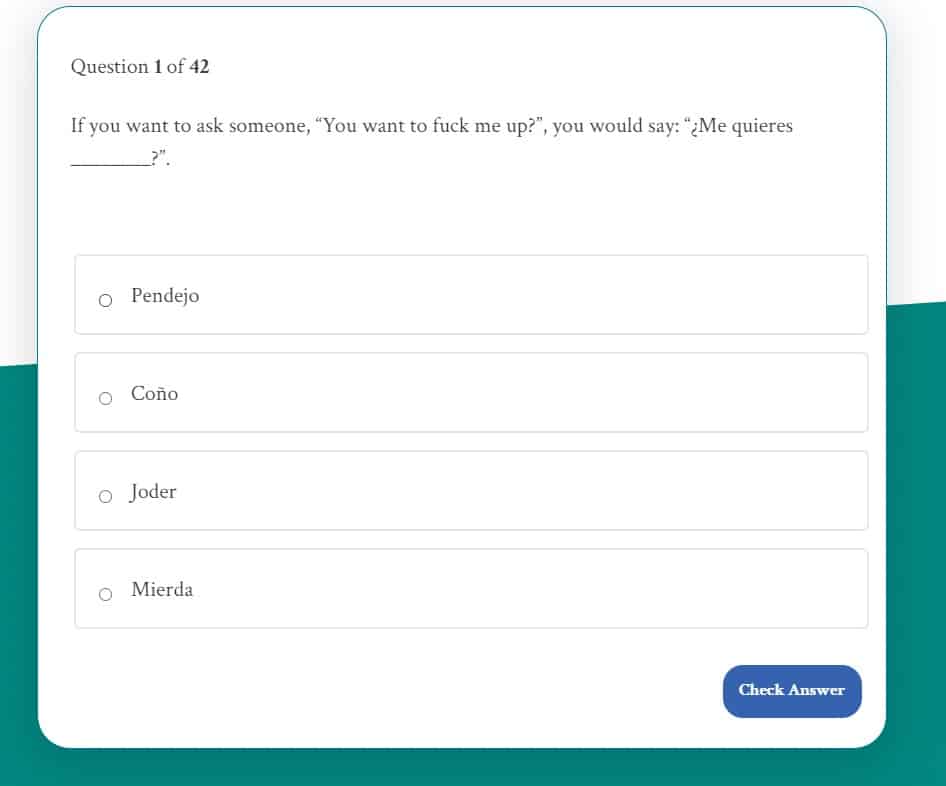 Cons include:
Due to its contents and structures, you won't learn a lot of grammar.
For some users, the grammar explanations included are very limited.
The course is about listening, but unlike other audio courses, you cannot repeat right after the sentence to practice your pronunciation.
All the videos are enumerated, but they don't seem to follow a special structure or program.
Since it doesn't contain basic grammar, these courses are not for absolute beginners.
Price & Where to Buy
As I mentioned before, Gritty Spanish has different courses and packages. So, as you can imagine, the price of these programs will vary depending on the level and content that you're purchasing. For individual courses, the prices range from $29.99 to $49.99 USD. The good news is that all their prices are a flat, one-time fee.
Although you can buy Gritty courses individually, you can also get a better price if you buy a pack. In this case, you also have different options: you can get a pack with all levels or a bundle appropriate for your level. Depending on your choice, these packs vary from $54.99 to $129.99 USD. I recommend you to go visit Gritty Spanish to check the current prices. 
There's no doubt that these courses offer you exactly what they promise: conversations to improve your listening and reading skills. Even though this is a great resource, there are some other Spanish online courses with a more reasonable price and that may offer you other features.
One of the main advantages of this course is that you have a 30-day guarantee. So if it doesn't fulfill your expectations, you always have the option to get your money back.
In my opinion, the Gritty Spanish audio programs are a good course for those Spanish learners who need to improve their listening skills or that want to get in touch with real-life speaking Spanish.
Wrapping Up
Gritty Spanish is an immersion audio program that will help Spanish learners to understand casual and normal conversation. Since all the conversations included in this program are in Spanish, these courses will be better for upper-beginners that have some basic grammar knowledge.
One of the things that I like the most about these courses is that they actually deliver what they promote: short and real Spanish conversations that we have on a daily basis. And since they're using real Spanish native speakers the learner will be exposed to different accents and slang expressions.
In order to help you understand the conversations, these courses come with transcripts. Unlike regular transcriptions, the Gritty Spanish files include the Spanish text as well as the English translation. On top of that, they include some links to provide you with further information regarding a word or a popular structure that you need to know.
Who is Gritty Spanish Best For?
I personally believe that this program is an excellent tool to improve and work on your listening and reading skills. It's also great for those learners that want to learn how to talk and understand regular conversations.
So in short, this program is not for you if you're expecting to learn a lot of grammar or follow a very structured course. Additionally, Gritty Spanish content won't make much sense if you're an absolute beginner with no Spanish foundations. If you're this type of learner, there are other great Spanish online courses that you can try.
If you decide to get Gritty Spanish and you start applying the slang vocabulary that you learned, you'll see a huge improvement in your conversational skills 🙂