Without a doubt, Pimsleur is one of the most popular learning language courses. As a result, I wanted to review their Spanish course to see how effective it is and provide you with a full rundown of their program.
Pimsleur is one of the best Spanish audio courses on the market. Unlike other programs, their interactive recordings allow the learners to practice their pronunciation and take part in the conversation. The course is fundamentally based on learning Spanish through listening and speaking exercises.
Like any other language learning product, Pimsleur is not perfect. So, in this review, I'll share some of the quirks and limitations that I found in addition to the benefits and advantages.
Learning Goals & Objectives
If you're not familiar with it, Pimsleur is an audio-based course with the goal of helping Spanish learners to speak, understand and read in Spanish in a fast and easy way. Unlike other courses that focus on grammar, with Pimsleur you'll learn Spanish that is used on a daily basis.
So, in order to do this, each lesson consists of a 30-minute conversation. This is not like other passive recordings where you just sit and listen. In this case, the narrator will guide your lesson and pause to teach you pronunciation, and give you time to repeat a word or an expression.
The recording requires you to be very active and take part in the conversation. By repeating what they asked you, you'll be practicing your listening and pronunciation skills.
One thing that I liked about their recordings is that the conversations are based on real-life situations and they actually take the time to teach how to say the phrases that they're using. As a teacher, I find these types of recordings more valuable than passive conversations where your only job is to listen.
In addition to the audio lessons, Pimsleur Spanish also has a set of flashcards, quizzes, games, and reading activities to help you reinforce the vocabulary that you just learned. These activities can be refreshing after completing your 30 minutes of audio.
Something that I found interesting is that Pimsleur has some recommendations that you need to follow in order to make the most of your course and to avoid slowing or hindering your learning progress. One of them is that you should only do one lesson per day.
Levels and difficulty
When it comes to Spanish courses, Pimsleur has 5 different levels. As you may imagine, their objective is to take you from a beginner to an intermediate level. The good news is that you have plenty of options to choose from.
But unlike other courses, they don't have an onboarding process or placement test. So unless you're an absolute beginner starting from scratch, it will be difficult to know which course is the best for you.
Following all the recordings is very easy since they have some interjections in English to explain concepts, to introduce a word or to ask you to repeat a sentence. Once you know the context, then, you'll hear the conversation or phrase in Spanish.
Due to its content and structure, Pimsleur is a great course for adults.
Design & Learning "User" Experience
When it comes to organization, I found Pimsleur very easy to understand: each level has 30 lessons which is the equivalent of 15 hours of audio (plus the reinforcement activities for each lesson). Here is a screenshot of a lesson's structure: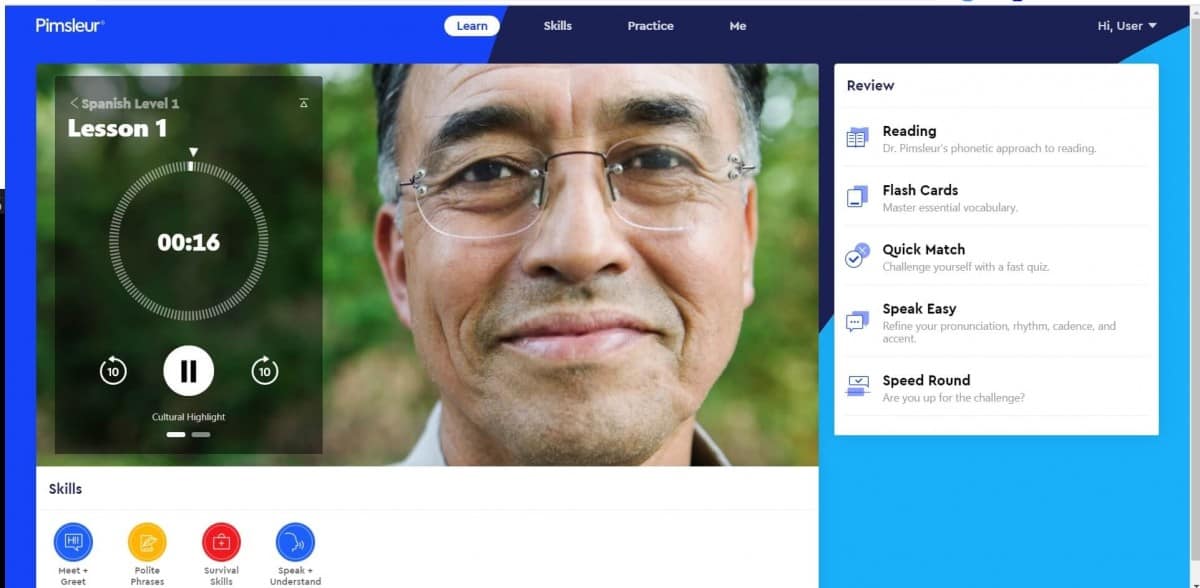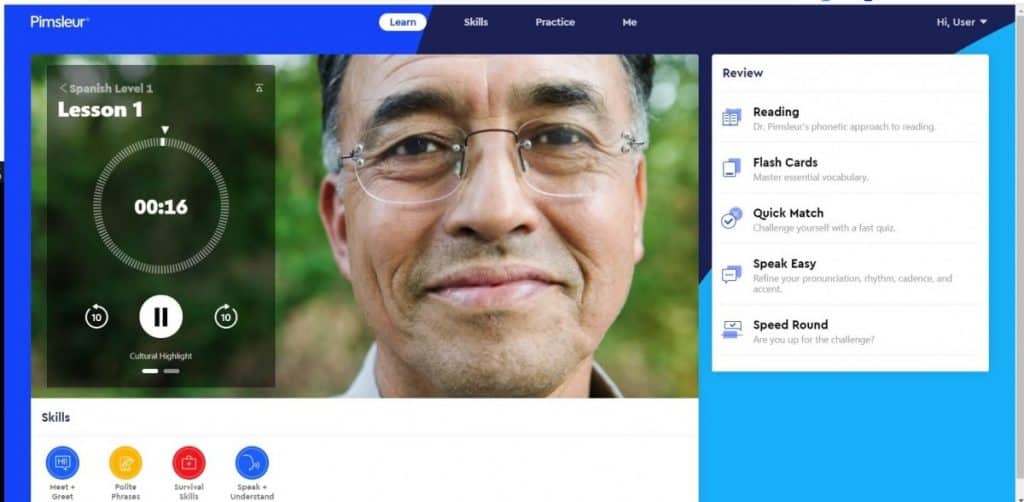 As mentioned above, the main core of each Spanish lesson is an audio, but you'll also have other interactive activities that will allow you to review and reinforce the vocabulary that you were repeating during the conversation.
I first heard about Pimsleur through my Canadian friend: he told me that he was learning Spanish with some interactive audio. To be honest, I was very skeptical. But Pimsleur does an amazing job with this and helped him pick up the fundamentals of Spanish quickly
So for instance, when you're asked to repeat or take part in a conversation, the audio has a moment of silence so you can repeat and work on your pronunciation. Another example: the narrator introduces a new word with the basic question 'what does x mean in Spanish?' and, then, you'll get the answer by a native Spanish speaker.
Unlike other audio courses, Pimsleur doesn't include any transcription or extra grammar information. This is because according to their method you don't need these types of resources to learn a language.
In short: the audios are very interactive and require you to take constant action throughout each lesson. Due to its structure, Pimsleur is great to develop your listening and comprehension skills. You will also be able to have simple conversations, but you can't expect to become fully fluent.
Don't get me wrong, you'll know basic vocabulary and expressions, but you will also need to practice with a real-life Spanish partner.
Contents
Just like other big companies, Pimsleur has a course for Latin American and Castilian Spanish. Aside from the difference in pronunciation, the vocabulary is very standard. At this point, I should mention that all the conversations are kind of formal and don't include any slang expressions.
As I mentioned before, Pimsleur has different Spanish levels. Therefore, each course will have different contents, here is a quick overview of the topics that you'll learn:
Shopping
Business and social activities
Exchanging money
Ask for directions
Improving your pronunciation
Reserving a room
Small talk
Work and travel
Reserving a table
Homelife
Political and conversational topics
Personal daily life
Like I said, this is just a brief summary of the topics that you'll learn with the Pimsleur courses, but if you want to check for more information, you can check their website.
Even though there's no grammar to review, this Spanish course is very thorough: you have different activities to practice the lesson and during the listening activities you'll be repeating the same phrase over and over.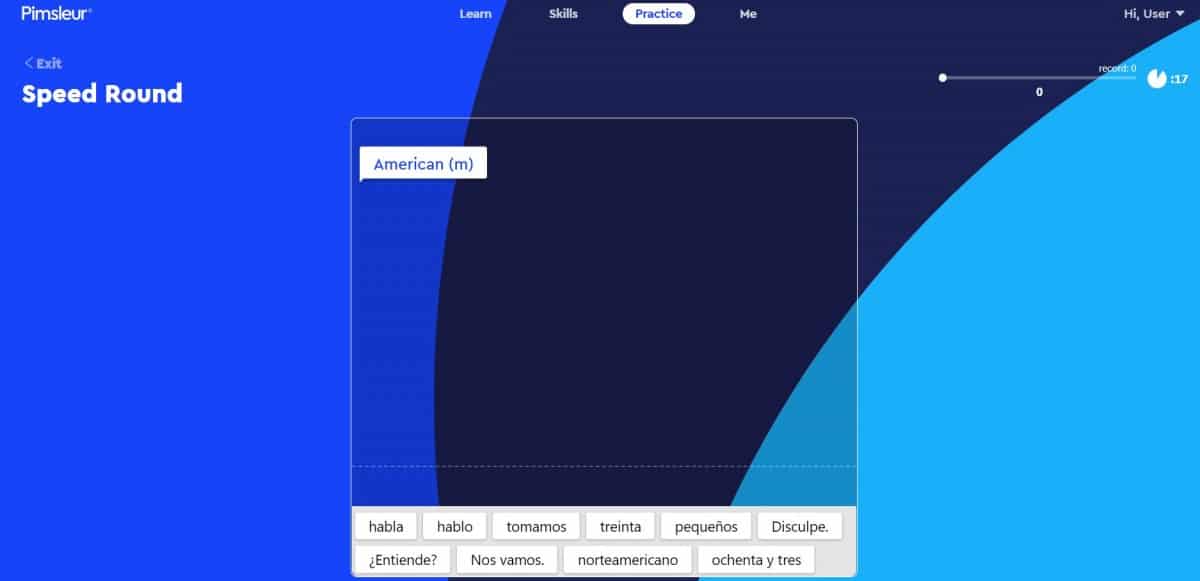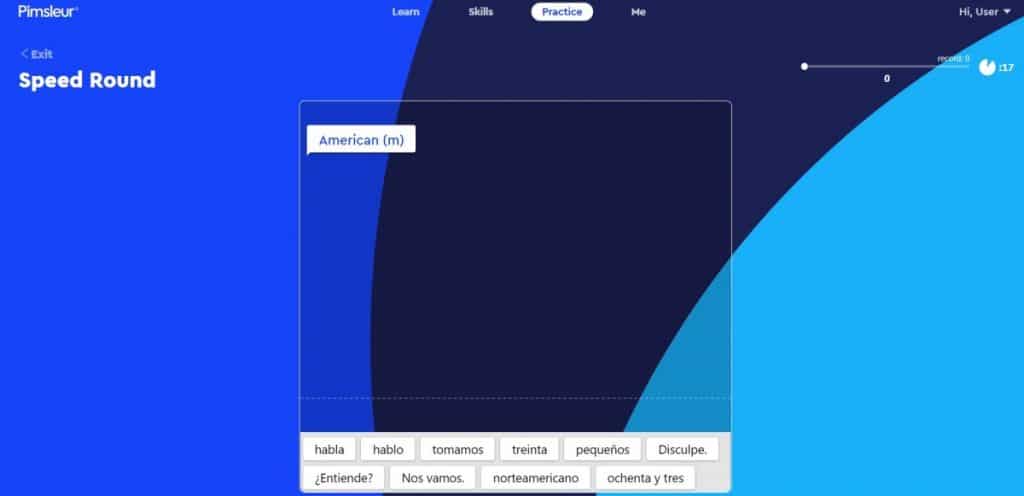 As part of their recommendations, Pimsleur suggests their Spanish learners not use any other resources because they could complicate your learning process. According to them, with this approach, you don't need grammar and you'll have all the vocabulary you need.
I agree with them at certain points: you don't need to know hundreds of words, because we actually use just a few on a daily basis.
When it comes to grammar, I agree that you don't need that much. After all, most Spanish native speakers don't know anything about Spanish grammar, but I do believe that, as a learner, you need some basic foundations.
Pros & Cons
After reviewing this course, I wanted to share with you some of the pros and cons that I found.
Pros include:
Since you only need to do one lesson per day, you only need to invest 30 minutes daily.
The audios are actually interactive and allow the person to take part in the conversation.
Their method is based on research: it will help you retain Spanish information for longer.
The vocabulary that you'll learn is limited: they don't want to overwhelm you with words that you won't use in your conversations.
It will actually help you improve your listening, pronunciation, and comprehension skills. Additionally, it will give you the confidence to keep simple conversations.
Their web app has different activities and resources to help you reinforce your knowledge.
All the recordings use English to explain important information and to give you further instructions.
If you want to learn Spanish while walking, doing chores or some other activity, their audio course is great for keeping you hands-free while still requiring the active involvement of listening and speaking.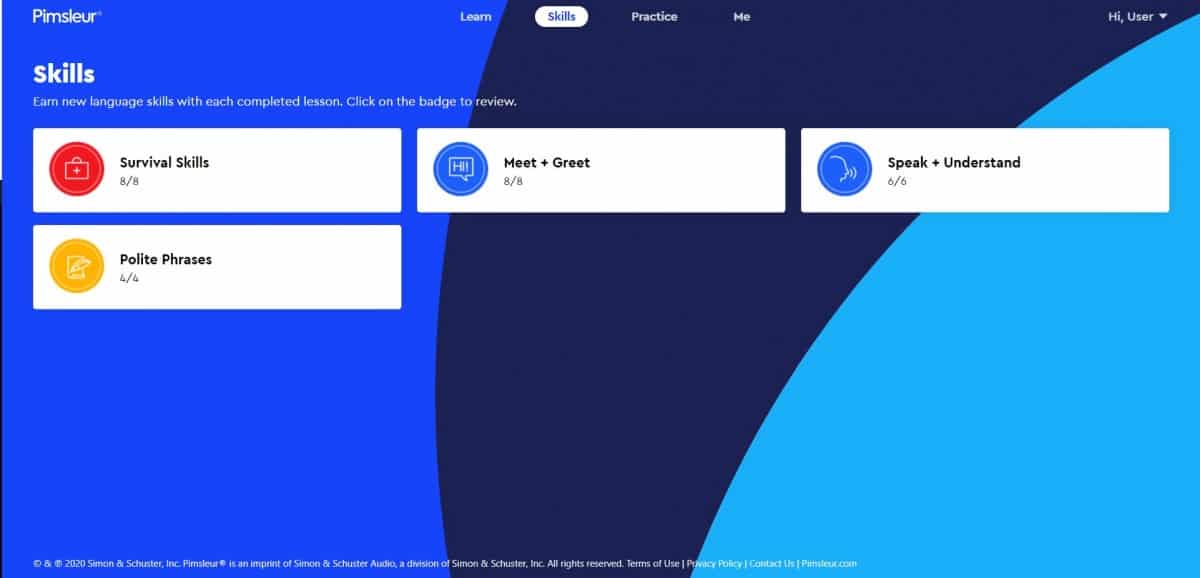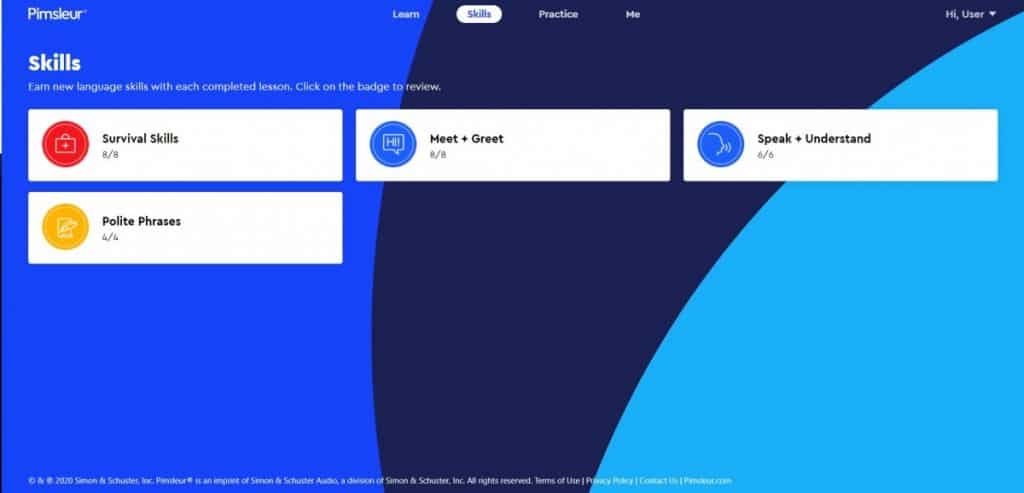 Cons include:
If like me you like grammar or are a visual learner, this course will be difficult to follow.
They offer 5 different levels, but there's no onboarding process to help you identify what's the best course for you.
Compared to other Spanish courses, the price of Pimsleur is slightly higher.
There's no grammar information. In fact, they recommend you avoid other external resources.
They teach formal and standardized Spanish, so you won't find slang expressions.
Price & Where to Buy
As I mentioned before, Pimsleur has 5 different courses. In this case, you have the option to get the courses individually or, to save money, you can get a package. At the time of this review, the prices start at $150 USD and go to $575 USD. I recommend you to check the most current prices on the Pimsleur website.
To be upfront with you, I haven't used Pimsleur to learn a language because I'm more grammar-orientated: I like to see rules, structures, examples, and exercises. But my Canadian friend used this course for his Spanish and I actually saw a lot of improvement.
He's able to communicate in daily-life situations and in social gatherings. Of course, he still needs a little more vocabulary and avoiding some grammar mistakes. But to be fair, everybody understands him and he hasn't been very disciplined with the program.
So if you're the type of person that wants to start speaking Spanish fast and likes to work with audio, this course is perfect for you. Like any other course, it's going to provide some foundations that you need to put into practice on your own.
So don't be shy and start having conversations as much as possible. If like me you feel that this course is not going to provide you with all the things you need, there are other Spanish courses that you can try and that offer a more global approach.
Wrapping Up
Pimsleur Spanish audio course is designed to provide learners with interactive recordings that allow them to understand, speak and read Spanish quickly and efficiently.
In order to do this, each level covers common situations that a speaker will face and they provide you with vocabulary and expressions so you can communicate in these contexts.
An interesting part about this course is that they not only provide you a list of vocabulary: they actually teach you these expressions in the contexts of the conversation and they make you repeat them so you start memorizing them.
In addition to this, the course includes some extra resources such as quizzes, reading activities, games, and vocabulary flashcards to reinforce your knowledge. As a personal recommendation, I believe this course is better for beginners.
If you're the type of person that likes to listen to podcasts and recordings, Pimsleur is the best way to go for you. With discipline and effort, you'll be able to improve your listening and speaking skills. Good luck!