Rocket Languages is a very popular company that offers different language courses. So, I wanted to check out their online Spanish courses to provide you with an honest review about this product just in case you're looking for a course to learn Spanish.
What is Rocket Spanish?
Rocket Spanish is an online course that covers Spanish Levels 1, 2, and 3. With the course, students can develop their listening, writing, reading, grammar, and pronunciation skills. Because it covers all requisite language skills, it is a comprehensive program for anyone seeking to learn Spanish.
Although this course is one of the best in the market, no course is perfect and it has some quirks that I'll share with you in this review.
As a short disclaimer, I'd like you to know that I personally reviewed this course. But in order to get to this point, I did a lot of research about other Spanish programs, I curated a shortlist of the best online Spanish courses available on the market. In order to help you make a decision, in this detailed review, I'll provide you with all the nuts and bolts of the Rocket Spanish courses.
Learning Goals & Objectives
Rocket Spanish is designed to help Spanish learners to become proficient in this language. In order to achieve this goal, you'll find three different levels so you can find the most appropriate program for your current Spanish knowledge.
One thing that caught my attention and really liked, it's that Rocket Spanish promises to teach you Spanish following a full approach. What does this mean? That they'll provide activities to develop your listening, reading, writing, and speaking skills.
Unlike other online courses, they include grammar: the premise is that you need to understand how a language works in order to master it. As a Spanish teacher, I totally believe in this. You don't have to love grammar as much as I do, but you need to know some rules if you want to become fluent. And this is what Rocket Spanish offers you.
Despite the fact that Rocket Spanish tries to work on all your skills, the courses are very audio-focused. In other words, each lesson is centered around a 15-40 minute audio conversation between two hosts. From there, you'll have a list of extra vocabulary and a conversational activity where you can take the place of one character and start repeating her/his lines.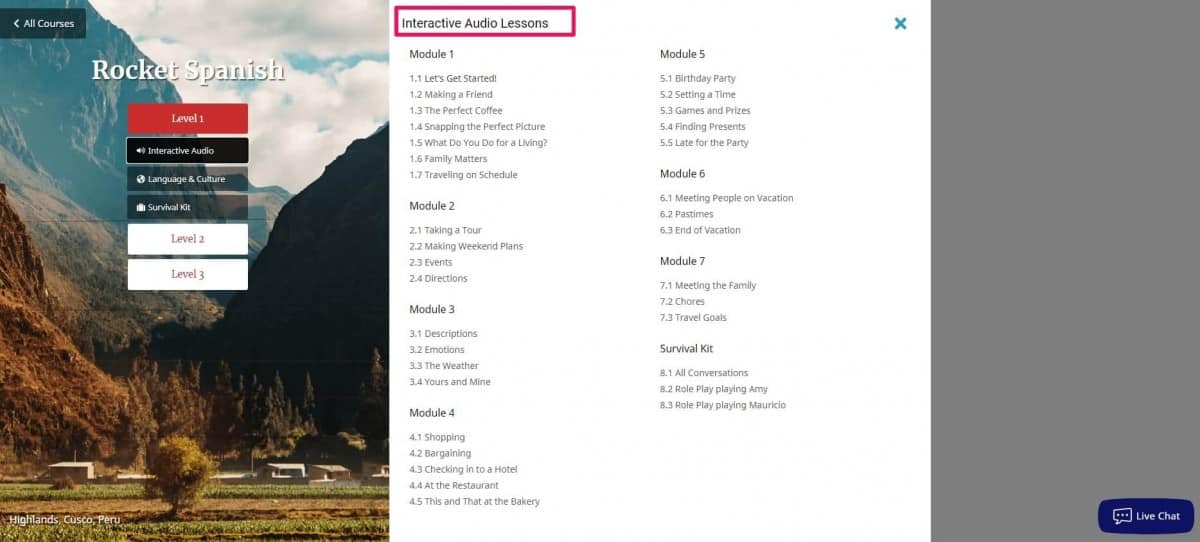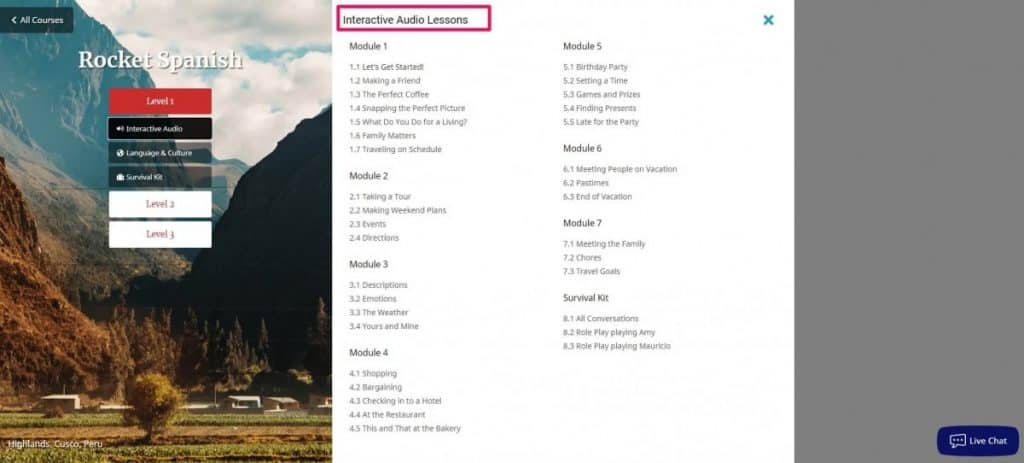 In addition to this, you'll have some reinforcement activities such as:
Vocabulary flashcards
Listen and repeat (for pronunciation)
Quizzes
Writing activities
Extra activities
Levels and difficulty
As I mentioned before, the Rocket Spanish course is broken down into three levels. Although they don't label it that way, based on their contents these levels are:
Beginner: Rocket Spanish Level 1
Intermediate: Rocket Spanish Level 2
Advanced: Rocket Spanish Level 3
As you can imagine the difficulty of these levels will increase as you progress. But overall, they do a very good job adapting the courses for the appropriate level. So for instance, the beginner course uses a lot of English during the conversation as a way to give you background and explain different concepts.
Levels 2 and 3 use less English, replacing it with Spanish for a more immersive learning experience. That way you can start training your hearing and get comfortable with Spanish. Additionally, the difficulty of the conversation increases as you move forward.
So in short, this Spanish course shouldn't be difficult to understand or use since it's very user-friendly. However, due to its content and complexity, I think these Spanish online courses are more appropriate for teenagers and adults.
Design & Learning "User" Experience
One of the things that I like most about Rocket Spanish is how well organized the contents are. Each level is divided into 7 modules and within each of them, you'll find around 7-12 lessons. This provides you with a Spanish course that follows a sequential order.
Unlike other online platforms, Rocket Language has a very simple and user-friendly interface. It tracks your progress so you always know what section you're in and what contents you still need to complete in order to jump to the next lesson. I personally like the desktop platform a lot, but some learners point out that the mobile app is even easier to use.
Here is a quick overview of the sections that you'll find in a Rocket Spanish lesson:
Interactive lesson – the conversation on which the lesson will be based.
Play it – a section to practice your pronunciation by repeating parts of the conversation.
Extra vocabulary – important vocabulary from the lesson.
Reinforcement activities – flashcards, quizzes, writing, and listening exercises to reinforce your knowledge.
As I mentioned before, Rocket Spanish is basically an audio course that allows students to practice their grammar, pronunciation, reading, writing, and listening skills. So, depending on the section you're in, you'll find different activities to do as well as a list with vocabulary or grammar explanations.
Even though they use a lot of technology, these courses don't include videos or a lot of images. To me, this is not a big problem, but I'm aware that more visual learners will miss these resources.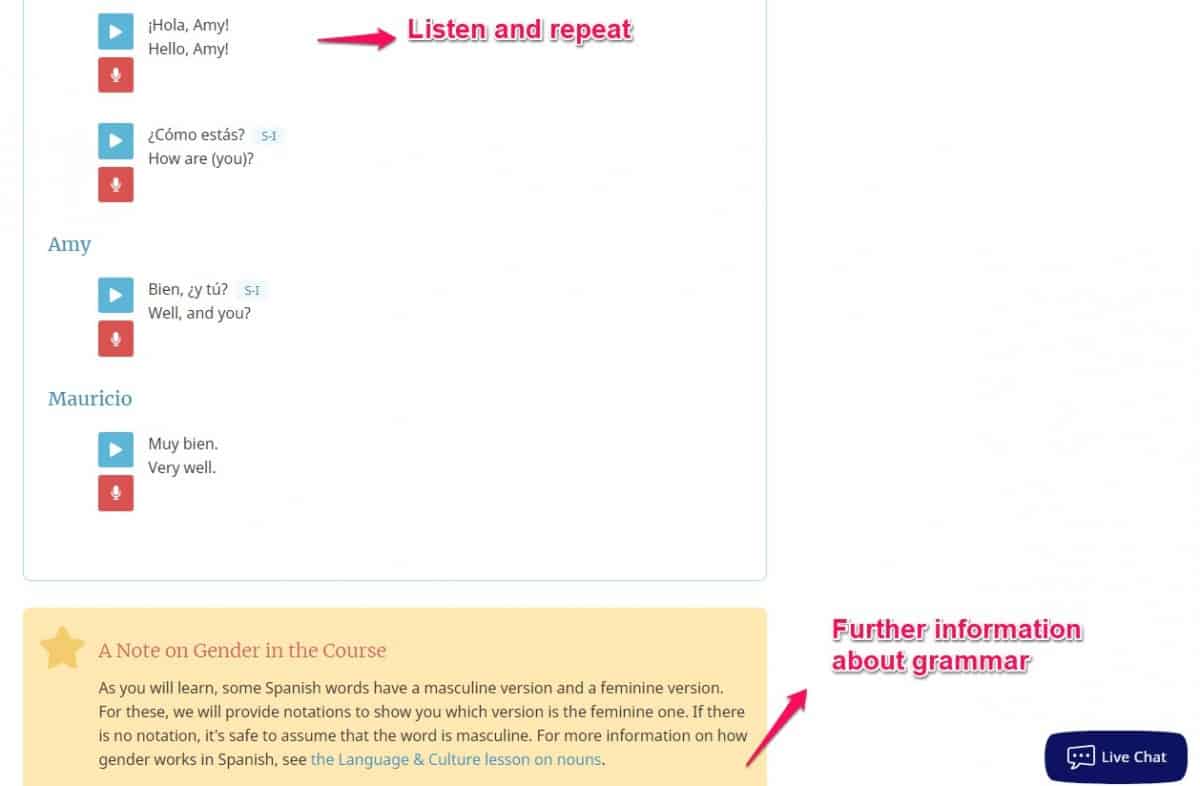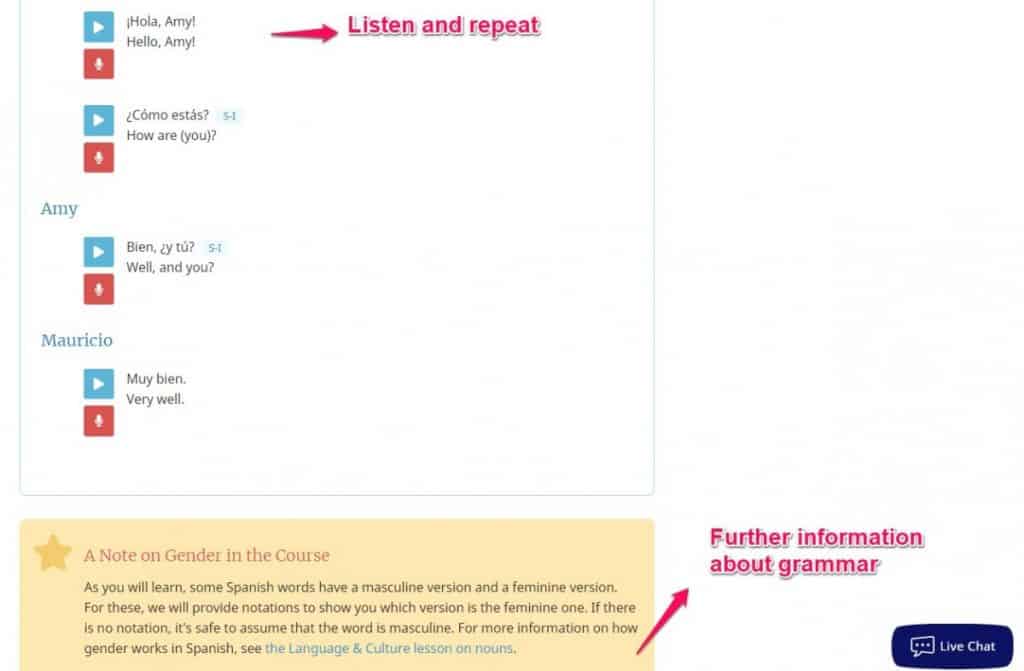 Learning Aids
In order to make your learning process more enjoyable, Rocket Spanish has a Q&A forum where you and other Rocket Spanish learners can ask and answer questions. Something that I really like is that inside of each lesson you can take notes about important information that you want to remember or check again.
To help you improve your pronunciation, Rocket Spanish allows you to record yourself and the app will score the quality of your pronunciation.
At this point, I have to mention this feature worked perfectly on my Windows computer (perfect score, yay!), but it didn't work on my Mac (in fairness, this could have been an issue with the browser). Hopefully, you're more tech-savvy than me and you can fix your microphone.
Like other online courses or apps, Rocket Spanish also works with points and badges. For many people, this is a fun way to keep track of their progress.
Additionally, each Rocket Spanish level includes a 'Survival Kit' where you can find vocabulary and expressions that will help you in your daily-life conversations.
Of course, the different reinforcement activities will help you practice your knowledge in different ways. Since all the lessons are structured the same way, for some learners, these reinforcements can get a little bit repetitive and boring.
Contents
Something to keep in mind is that the Rocket Spanish courses are based on Latin American Spanish. So if you're learning Castilian Spanish, this may not be the course for you: you still learn some standard expressions, but you won't get conjugations or vocabulary for Castilian Spanish.
Rocket Spanish's lessons are based on audio; however, they do provide lesson content to teach some grammar topics. Here is a quick overview of some of the topics covered.
All the grammar explanations provided in this course are very thorough and helpful. So unless you're dealing with a very difficult topic, you don't need to turn to other resources. When it comes to the exercises, you'll find a lot of vocabulary flashcards and some listening and writing exercises.
In my opinion, these grammar explanations would be better reinforced if Rocket Spanish included some traditional exercises where you have to conjugate or complete a sentence by yourself. So if you want to have this type of practice, it will be up to you to find extra exercises. Other than that, this course is so comprehensive that it has virtually everything you need to learn Spanish.
Pros & Cons
Here are some pros and cons that I found after reviewing Rocket Spanish.
Pros include:
The content and topics are well organized and divided into appropriate levels.
Unlike other online courses, the topics follow a program and sequential order.
There are a lot of activities to improve your pronunciation and vocabulary.
Unlike other online courses, the Rocket Spanish interface is very simple and easy to use. They also have great interactive activities.
Each lesson has a learning or communication goal.
When appropriate, some of the words or expressions include a short explanation.
Rocket Spanish will give you access to an app and a forum with other Spanish speakers.
If you want, you can download the lessons so you can play them offline.
A cool feature that other courses don't have is that you'll be able to scrub/skip ahead and backward 10-seconds in the audio recordings.
Cons include:
Although the courses work a lot with pronunciation and dialogue repetition, the course doesn't offer resources to develop your speaking skills.
For some learners, the conversations are long and kind of boring.
Even though the culture sections provide some vocabulary, they still feel unnecessary and, like most textbooks, like fluff.
Since all the lessons follow the same structure, the course can get repetitive.
It doesn't include pictures or visual aids for more visual learners.
The grammar explanations could have better reinforcement activities.
Price & Where to Buy
Like many other online courses, Rocket Spanish offers their programs in different packages. As a result, you'll find different prices: starting at $99 for Level 1, $149 for Levels 2 and 3 (each) all the way up to $259 to purchase all 3 Levels as a bundle.
These are not the "regular" prices, but they always advertise their products as "on sale", so those are the prices I am quoting here.
You can always go to their website to check the most current price and promotions. One of the advantages of this program is that it's a one-time payment with a 60-day guarantee. 
Although these prices may seem a little high, the truth is that you're getting an average of 130 hours per course. On top of this, you'll find a lot of different resources and activities. So you're actually getting a very good deal with these courses.
I personally like Rocket Spanish a lot! Of course, it's not a perfect course and it will require you to do some extra effort with your conversational and grammar skills.
For many people, this may be a disadvantage, but to be honest with you, if you want to be fluent, you'll always need to put some extra effort into practice on your own.
Despite its disadvantages and compared to other courses, Rocket Spanish offers you a very complete program and a lot of resources to practice your Spanish.
If you feel that you need to do some research before making a decision, I also wrote an article about the best Spanish online courses. Hopefully, you'll find all the information you need here.
Conclusion
Rocket Spanish has three different Spanish courses that cover the beginner, intermediate and advanced levels. The objective of this program is to help students to become proficient in the Spanish language.
For that reason, they cover a lot of vocabulary and essential grammar topics that will help you build your Spanish foundations. Rocket Spanish has an amazing and very user-friendly platform with a lot of activities to reinforce your knowledge.
Each lesson will be based on a different conversation that will allow you to learn new vocabulary and grammar structures. In addition to this, Rocket Spanish has a lot of activities that you can use to improve your Spanish pronunciation.
Overall, the Rocket Language is a great option for learning Spanish: you'll find courses organized by level and different activities to practice the topics covered during the lessons. Considering all the tools and resources you'll get, Rocket Spanish is one of the best Spanish online courses out there.
Disclaimer – I want to be honest with you: some of the products that I recommend, I might receive a small commission from purchases (it doesn't affect or change the original price). This helps me continue to run the site, but it doesn't mean that I'm going to recommend you hundreds of products. I do not and will never write reviews of books, courses, or other Spanish learning resources that I wouldn't personally recommend to my friends, family, or Spanish students. I'm just choosing the best Spanish resources that I actually used and believe that can help you, so if you see a review on TellMeInSpanish, then it is one of my personal recommendations 🙂