Rosetta Stone is one of the most popular and widely recognized language programs available today. Since this program has been around for a while and many people feel tempted to use it, I wanted to share with you an honest review of their Spanish program.
Learning Goals & Objectives
A lot of students have asked me if they will become fluent in Spanish by using Rosetta Stone.
Does rosetta stone make you fluent? Rosetta Stone is not designed to make you fluent or an expert in conversations. It does provide tools and reinforcement activities to build your listening, pronunciation, vocabulary, and some simple grammatical structures. However, it does not develop your conversational skills.
Just like other programs, Rosetta Spanish is very visual. All the activities have a lot of images and your job is to match the image with the correct word or phrase structure. In addition to these traditional activities, each lesson has a pronunciation activity where you need to listen and repeat a sentence.
A while ago I used Rosetta Stone and I have to say that I'm really impressed with the improvements and the new pronunciation system. So if you're a person that worries too much about having a perfect Spanish accent, Rosetta Spanish can help you perfect this through repetition.
On top of these activities, some lessons include simple reading activities to check your comprehension. These readings can also help you see how the vocabulary and phrases you learned are applied in a more complex context.
Another cool thing is that, if you get the Lifetime Plus bundle (a one-time payment) , you'll have access to 12 months of live tutoring. This way you'll be able to review with a teacher the things that you've learned so far. Just a heads up: this is not a private class where you can choose the topics you want to learn, the teacher follows a program based on Rosetta Stone's content.
Levels and difficulty
Rosetta Spanish is divided into three levels: beginner, intermediate and advanced. But to be honest with you, I tried the three of them and I didn't see much difference in the vocabulary or the phrases.
They also allow you to customize and change your learning goals. At first, I thought this choice will only teach you the specific vocabulary that you need for each situation.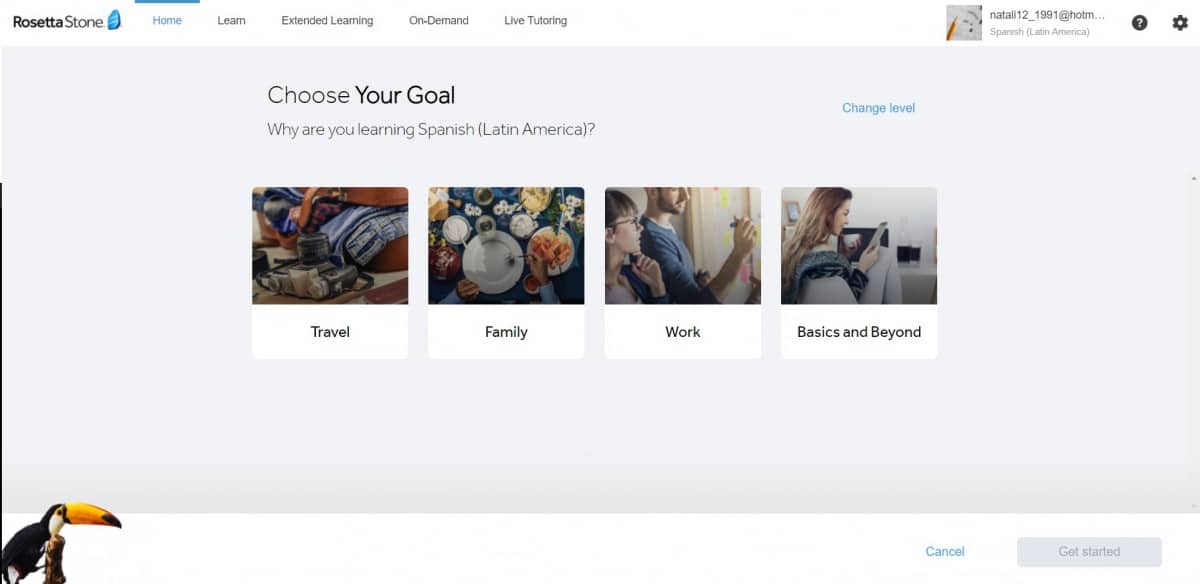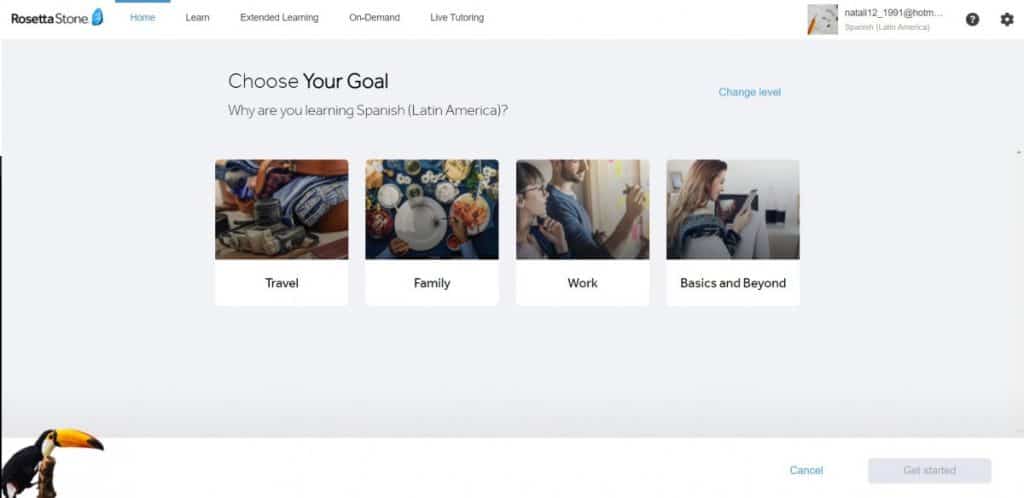 So for instance, I chose to learn Spanish for my family and there is some vocabulary included. Not very family-related. To be fair, some other topics did have the vocabulary that I could use for that particular situation.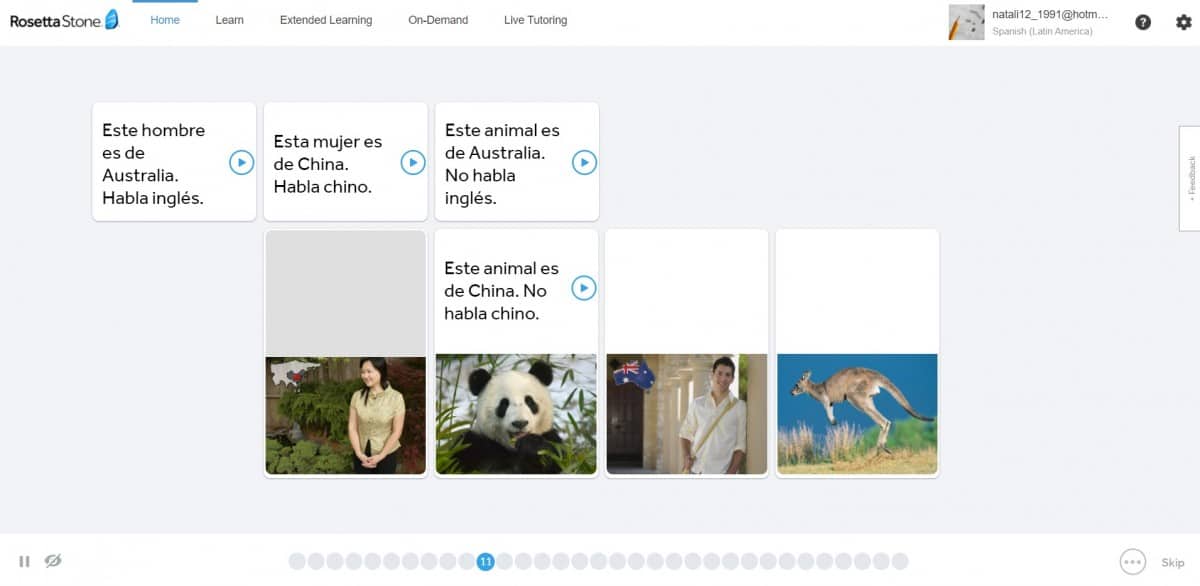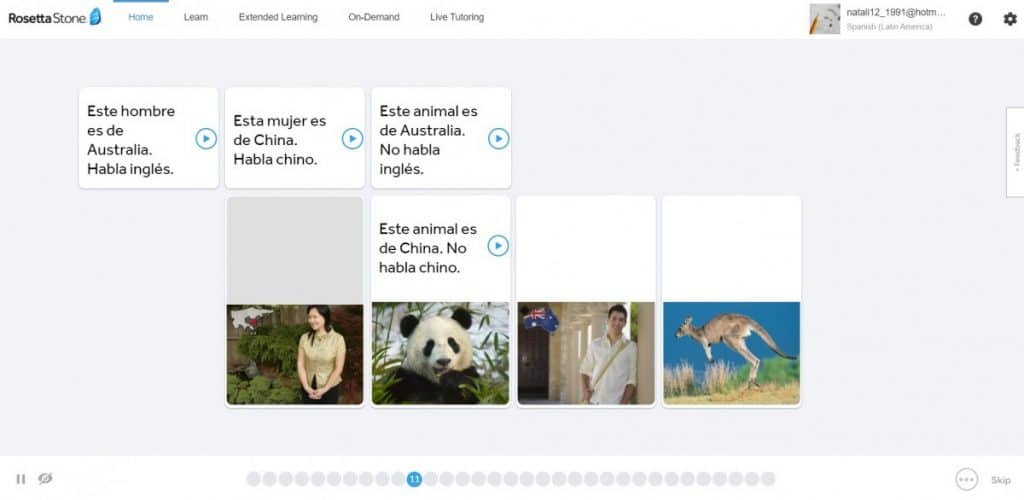 Something that I love about Rosetta Spanish is that it is very immersive: so forget about having some English translations. You'll just learn vocabulary and simple phrases by listening and relating them to the image presented.
Based on their content and the topics covered, Rosetta Spanish could be better used for absolute beginners that want to learn vocabulary and some simple expressions. Since this program is easy to use and interactive, I think it's great for children and adults (I actually used it long ago as a child and I loved it!).
Design & Learning "User" Experience
When you start your Rosetta Spanish you have the opportunity to choose your level and the reason why you want to learn Spanish. By doing this, the program will put together a course that will help you reach your goals. Here is how the lessons are organized.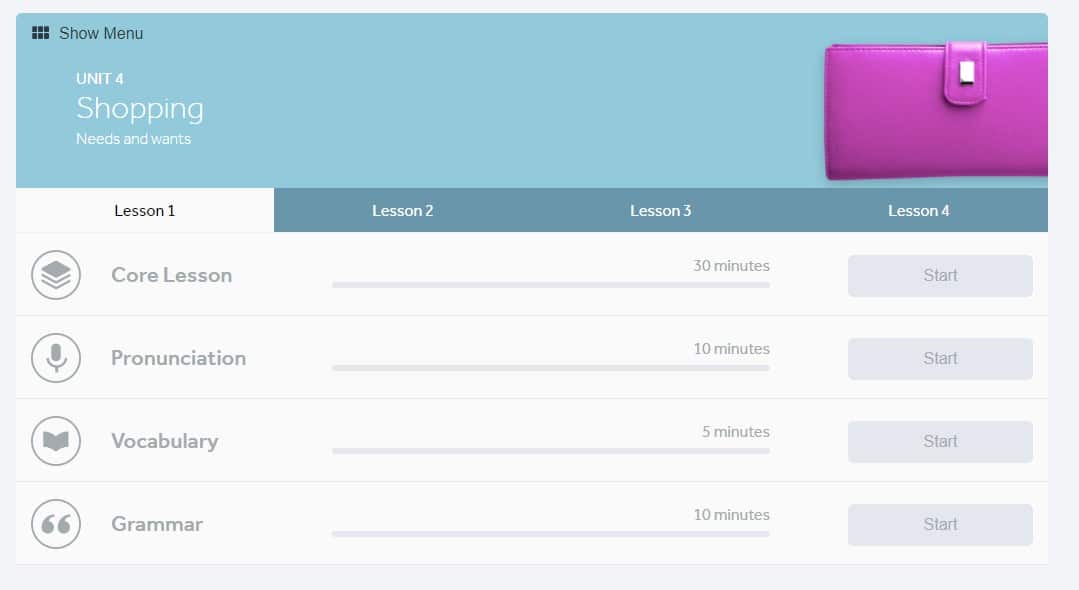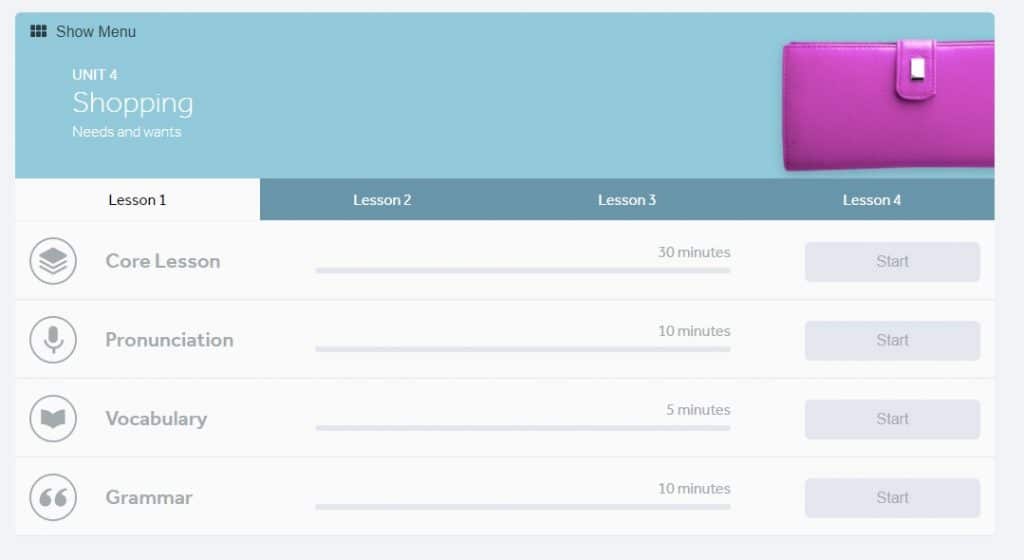 Each lesson includes different sections such as:
Core lesson
Pronunciation
Speaking
Review
Grammar
Milestone
Vocabulary
Writing
Reading
When it comes to learning aids, the grammar section uses different colors to highlight important elements in a sentence. Additionally, their On Demand section contains a few videos explaining some of the most important grammatical topics.
Something that I really loved about Rosetta Spanish was their voice recognition system for the pronunciation activities. So, I, as a Mexican Spanish speaker, got all the exercises with a perfect score (yay!) while my Canadian friend with a typical American accent got a few corrections and had to try a few times before getting the pronunciation correctly.
Although this is very cool, I do have to say that if you have the platform open for a while the voice recognition system gets a little bit glitchy and doesn't fully catch what you just said. The best way to fix it is by refreshing the page.
Many people make the mistake to assume that Rosetta Spanish will make them fluent with their immersion approach and their grammar-free lessons. Although this is the way that native speakers acquire their languages, it may not be very successful with adults.
So, keep in mind that Rosetta Spanish will only help you develop your vocabulary, listening, reading, and pronunciation skills.
Contents
When it comes to the type of Spanish, Rosetta Stone gives you the opportunity to choose if you want to learn Latin American or Castilian Spanish. I personally reviewed the Latin American Spanish version and I can tell you that the vocabulary and the grammar are very standard and common.
As I mentioned before, when starting the course you can set your own plan based on your level and the reason why you're learning Spanish. So the learning path and contents of your program may vary based on your answers when you first sign up.
Just for the sake of having a general understanding of this program, I didn't set a plan for myself. Here is the content it suggested (keep in mind that each unit has 4 lessons):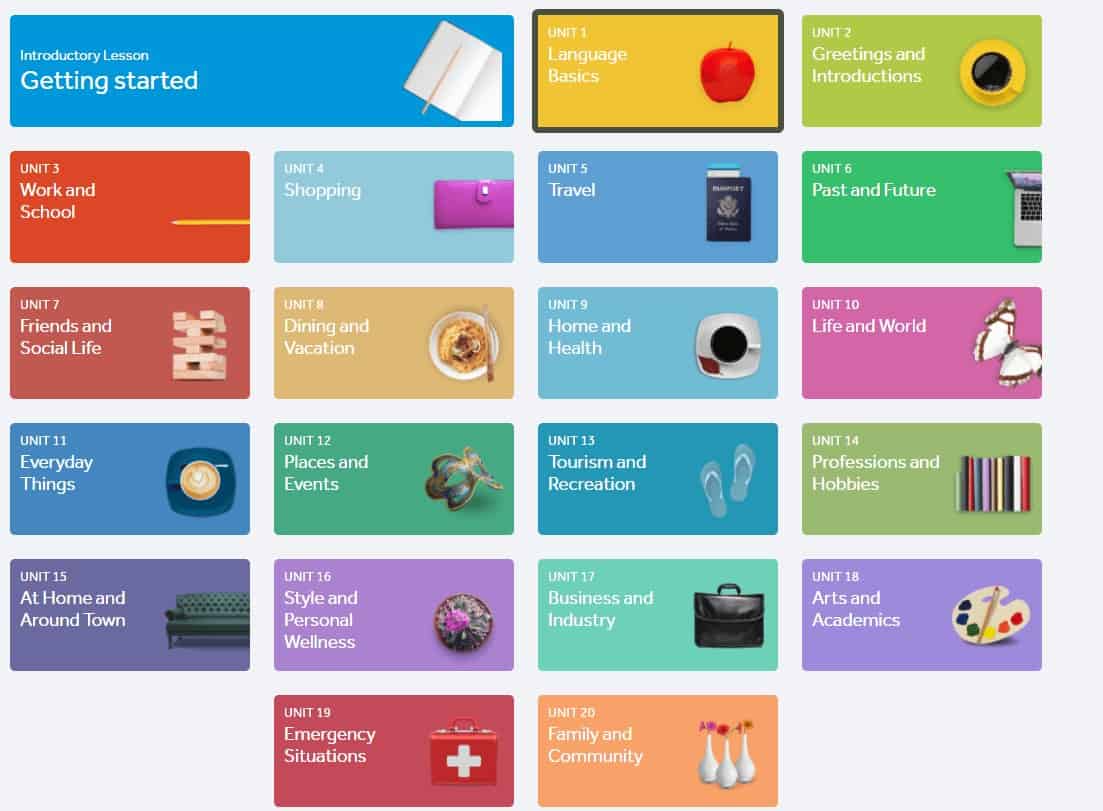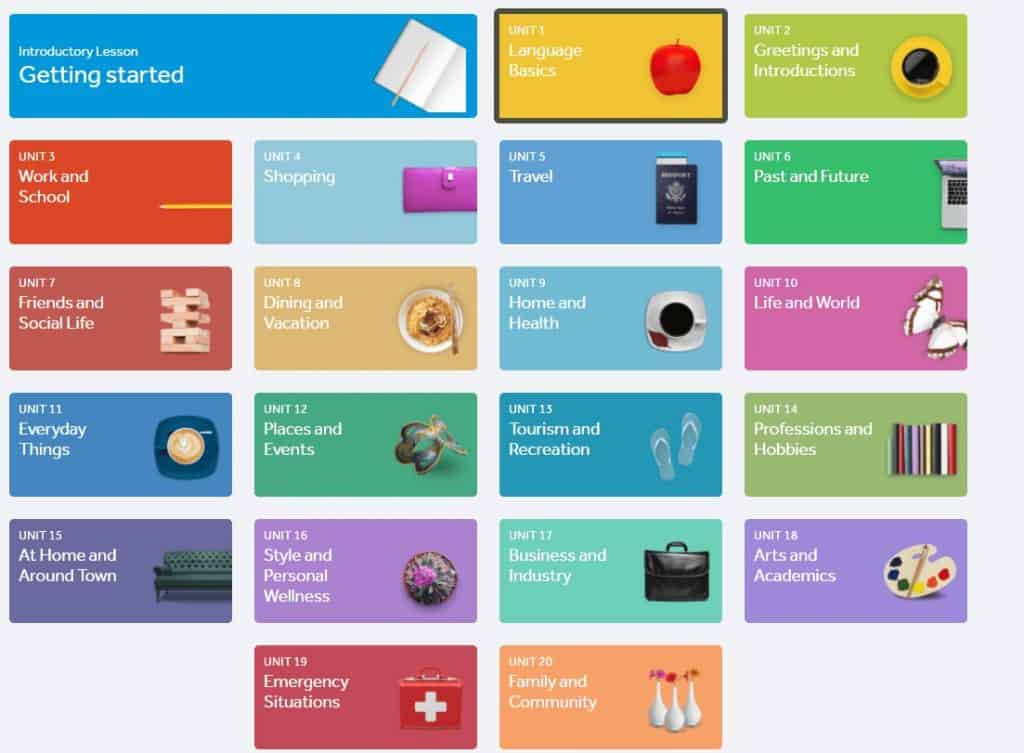 When it comes to reinforcing the vocabulary and pronunciation, Rosetta Stone does a pretty good job with their activities. And even though they don't have grammar explanations, some of the images can be used to explain the difference between some concepts.
So for instance, ser vs estar are placed in the same exercises and they show their uses by contrasting two images with the same topic. For many people, this simple explanation may be easier than a text explaining grammar rules.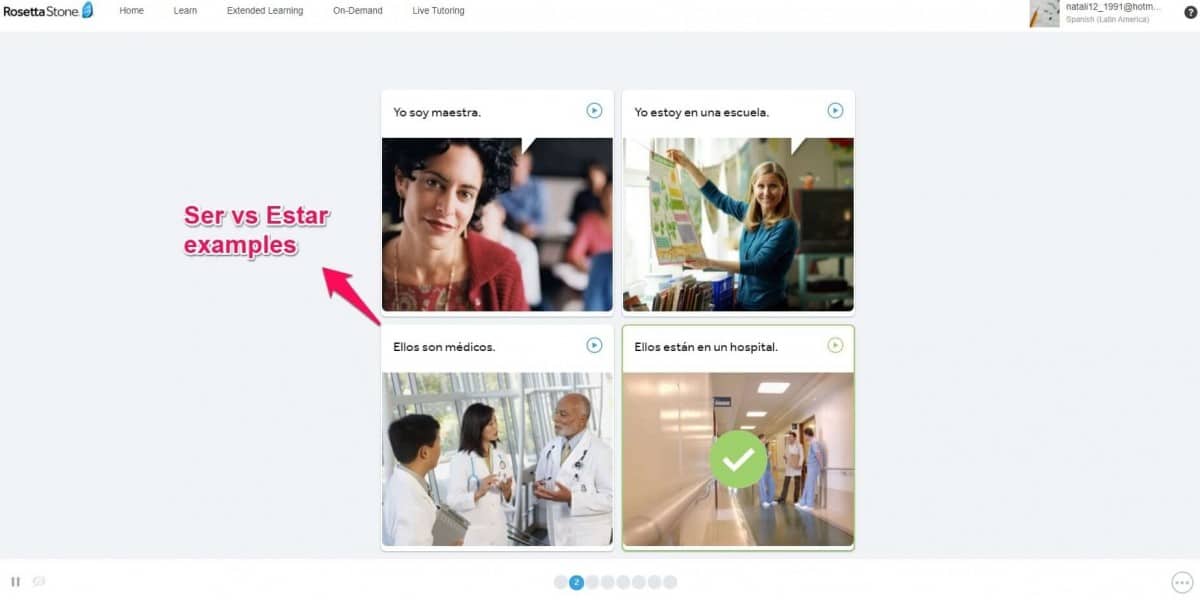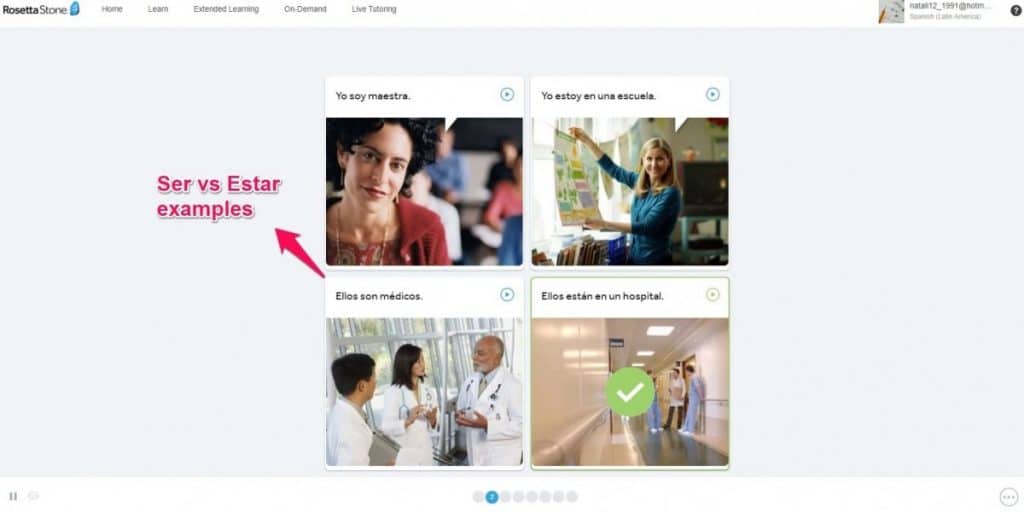 Something that I really liked is that they included some grammar videos explaining important topics or common situation such as:
Ser vs estar
Ordering coffee
Asking for directions
Regular verbs
Despite this, I still believe that in order to become fluent in a language you do need to know some grammar and have some real-life conversations which you won't find here.
Pros & Cons
After checking the Rosetta Stone Spanish program, I found some pros and cons.
Pros include:
It's a great program to learn vocabulary and simple structures.
Unlike other Spanish resources, you can choose the type of Spanish you want to learn.
Depending on your subscription or package, you'll get access to a certain number of live tutoring sessions.
The platform and the app are very friendly and easy to use.
You can work on improving your pronunciation, listening, and reading skills.
Their voice recognition system will show you the words that you're mispronouncing. Although it has some glitches, overall it's very good and works well to identify pronunciation mistakes.
You have access to some extra resources such as downloading content to play offline, games, readings, videos about grammar, and cultural insights.
It creates an immersive experience.
Con include:
Although it's divided into 3 levels, Rosetta Stone Spanish is better suited for beginners.
Compared to other resources or Spanish courses, the prices can be a little bit higher.
You won't find grammar explanations for all the topics.
Using Rosetta Spanish will help you improve your vocabulary and learn some basic phrases, but it won't make you fluent.
After a while, the exercises can feel very repetitive.
Price & Where to Buy
The cost of Rosetta Stone varies depending on the number of languages that you can have access to as well as the number of months that you want to get. The prices start at $35.97 for a 3-month subscription and go up to $299 USD for their unlimited access, Lifetime Plus package, which includes the live tutoring. You can check the current prices and packages here.
Unlike other courses, depending on the package of your choice, Rosetta Stone renews monthly or yearly and you will have access to some live training sessions. It's true that if you compare it to similar applications or other Spanish courses, Rosetta Stone can be a little bit more expensive. What I like about their pricing is that most of the packages they offer include unlimited languages, so you get a pretty great value if you're interested in becoming a polyglot.
Does Rosetta Stone actually work?
I personally think it does if you understand what the course is meant to do for you. All Spanish language learning resources have different approaches and focus, this means that you cannot expect to get conversational skills from a grammar-oriented textbook.
The same applies to Rosetta Spanish. If you're aware that this is a great resource for beginners to:
Learn new vocabulary
Immerse yourself in Spanish
Practice your listening and pronunciation skills
Understanding simple phrases
Then, this program is perfect for you.
Like I said before, I used Rosetta Stone when I was younger to learn English and French. I personally saw an improvement in my vocabulary. So when I actually took classes, I had a basic understanding and it wasn't as difficult for me as it was for my classmates.
But don't expect to use this course and become fluent: you will need a lot of practice in real-life situations and probably some tutoring to fill the grammar gaps.
To be honest with you, no matter the type of course you choose, you'll always need to put extra time and effort to practice on your own.
If you feel that this is not the type of course for you, I've also prepared a list of the best Spanish online courses. Hopefully, some of them will be a perfect fit for you!
Conclusion
Rosetta Stone Spanish is a course or program that will help you expand your vocabulary and improve your listening and pronunciation skills. Due to its content and activities, this course is better suited for absolute beginners or people that want to improve their vocabulary.
Both the website and the app are very friendly with a clean and simple design. In addition to the exercises based on images, Rosetta Stone also has some extra resources such as:
Short video grammar explanation
Downloadable material that you can play offline
Short stories for children and adults
Live tutoring (it varies depending on your subscription)
Cultural videos showing traditions and custom from different Spanish speaking countries
In order to practice your Spanish, you'll find different listen and repeat activities: the voice recognition system will check your pronunciation and will show you the words that need more practice.
To tell you the truth, Rosetta Stone is not for all students. It's a perfect resource for visual learners and people that like to have interactive activities. When testing it, my Canadian friend loved it because it was simple to use and very entertaining (he has a basic knowledge of grammar and needs to work on his vocabulary).
If you get Rosetta Stone, don't forget that the purpose of this course is to help you build your vocabulary and train your listening and pronunciation. Of course, there are other Spanish courses that may offer you a more complete approach.
Hopefully, now you have enough resources to start your Spanish learning journey.