Spanish Uncovered is one of the Spanish courses that you can find on I Will Teach You A Language. These courses were created by Olly Richards, who speaks 8 languages. Olly's language background caught my attention, so I got the course to check it out and share with you my honest and detailed review.
Learning Goals & Objectives
Just like any other Spanish course, Spanish Uncovered is meant to help you learn and speak Spanish in a fun and natural way. In order to do this, this course uses the StoryLearning method: in other words, this course is based around a Spanish story (El Hombre del Sombrero).
El Hombre del Sombrero is a very simple story that contains basic grammar and frequently used vocabulary. So unlike other approaches, this course will provide you with topics and words that you'd actually use in your daily life.
Don't worry, this is not a Spanish book club. The story is just a way to keep you engaged, immersed and to show you how the grammar and vocabulary work in context. To give you a better idea, here is what this course contains:
20 chapters
PDF with exercises, vocabulary and grammar explanations
Vocabulary and grammar videos with Olly
Reading and listening activities
Pronunciation training videos
Speaking exercises
Learning tips from Olly
As mentioned before, Spanish Uncovered is for absolute beginners or people with some basic knowledge of Spanish that wants to improve their skills.
For many students, the course can be challenging because they have to read and listen to a Spanish story. Since a lot of people don't know vocabulary and grammar, the first lessons can be a little bit difficult to deal with.
Leaving the reading and listening activities aside, the rest of the lessons – as well as the instructions – are presented in English. As a result, it won't be as difficult as you may think.
Based on the content and the complexity of the course, Spanish Uncovered is more appropriate for young people and adults.
Design & Learning "User" Experience
Spanish Uncovered is organized in a very simple structure: it's divided into 20 chapters. In each of these chapters, you'll find the following lessons:


Each chapter represents a chapter of El Hombre del Sombrero. As you can see in the screenshot, the first lesson is to read and listen to the chapter. After that, you'll have vocabulary, pronunciation, speaking activities, and grammar explanations related to the chapter. So, yes, it's very organized.
Something that I love about this online course is that the platform is extremely intuitive and easy to use: everything is one click away from your screen and the buttons and sections have descriptive names. So there's no way that you can get lost.
To make things easier, the course has an introduction where Olly will give you some basic tips and he'll teach you how to use the platform. As I mentioned before, the course is built with videos from Olly and Angela (a Spanish teacher).
These videos are meant to teach you grammar and help you improve your pronunciation. In addition to this, some of the chapters include an extra video with some learning tips that will help make the learning process easier.
When reviewing online courses, I always feel that some of the skills are neglected or that they could include more resources to reinforce your knowledge. In this case, each section has a PDF with different activities and information so you can practice what you've learned.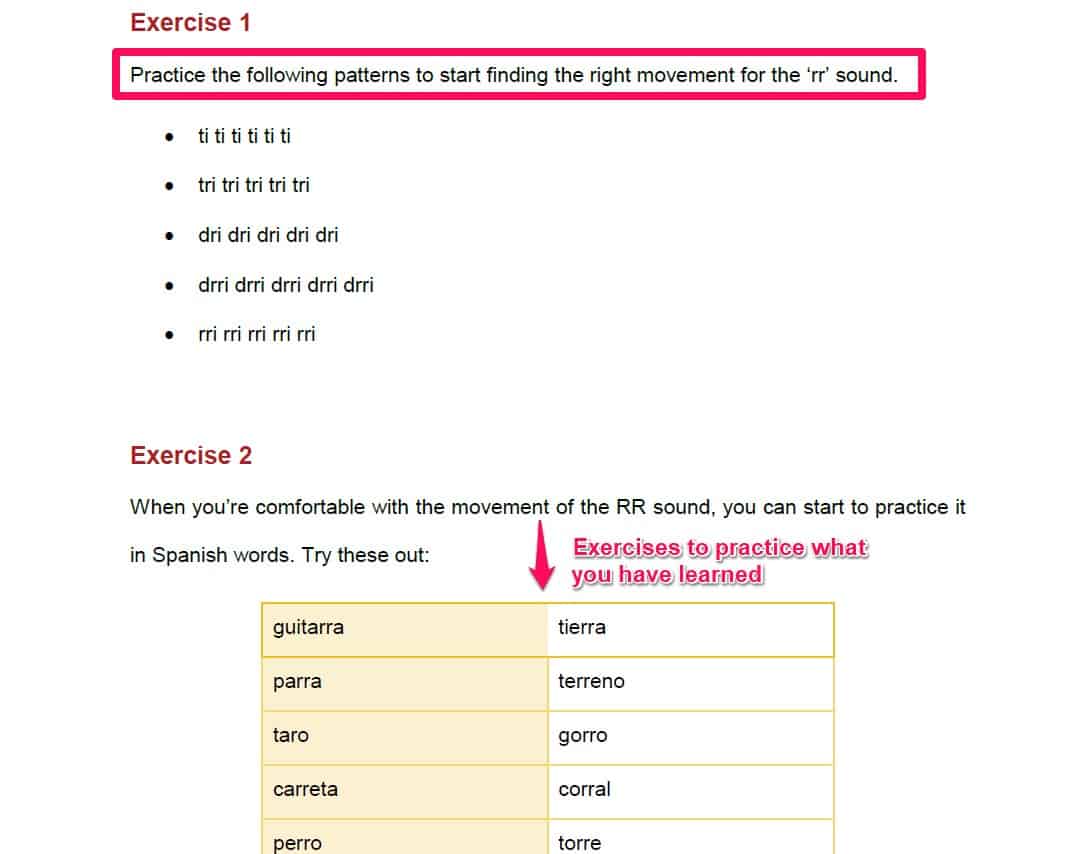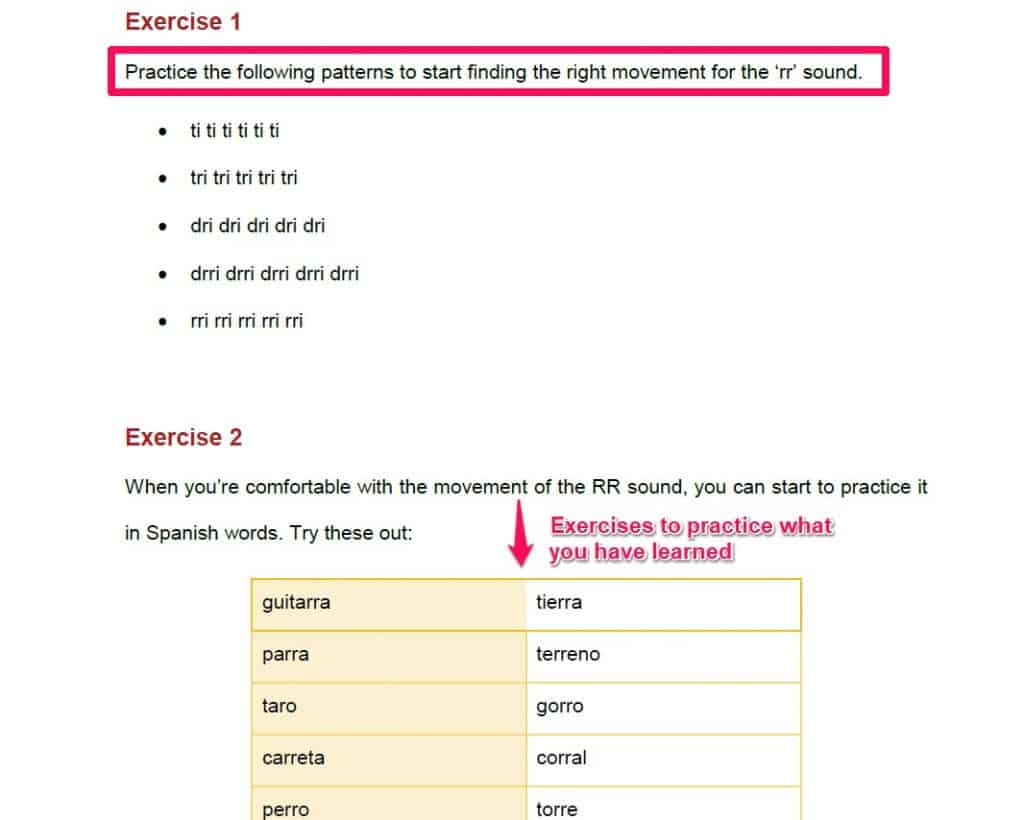 To be honest, this course is full of content and resources. But, without doubt, one of my favorite sections was the speaking activities. In here, you'll find a conversation worksheet with topics and instructions for your teacher. These conversations are going to help you practice what you just learned.
Contents
One of the coolest things about Spanish Uncovered is that all the resources (recordings, PDFs) are in both Latin American and Castilian Spanish. So you just need to choose what dialect you want to learn. This is pretty useful since most courses just offer one type of Spanish.
As I mentioned before, this Spanish course is meant to teach Spanish to beginners. Here is a very quick overview of the topics that you'll see:
Express interests in Spanish
Verb Ser
Talk about the weather
Introduce yourself
How to say I like
Ask how much something costs
Double negatives
Adverbs and adjectives
Different past tenses: preterite, present perfect and imperfect
Ask and give information
Time phrases
Future
Key vocabulary
Por vs Para
Conditional
Spanish 'rr' sound
Learning Resources
One of the things that surprised me the most was that all the contents in this course are very thoroughly explained through the videos and activities. And since the PDFs contain a lot of activities, you actually don't need to use external resources to practice your grammar or vocabulary.
I do need to mention that when it comes to the grammar explanation, the videos are not as well organized as other parts of the course and they jump from one concept to another. However, you can find the information in a more structured way in PDFs.
On top of the exercises in the PDF, at the end of each chapter, you'll find a quiz that will help you measure your comprehension. This course also includes 20 pronunciation training videos with a native Spanish teacher which is great to improve your speaking skills.
Despite this, I found that some of the videos provide too much technical information about the position of your tongue and mouth. Don't get me wrong, this is very useful, I just believe that they could be better organized and have more pronunciation exercises.
Something that I really like about Spanish Uncovered is that in each chapter you have a lesson about cognates where you learn more words and techniques to identify these types of words. This is great because seeing that you already know some words in Spanish can definitely help boost your confidence.
Overall, all the content and tools that you need to learn Spanish are available in the Spanish Uncover platforms. You will only need to get a private tutor to practice your Spanish. Since being able to speak Spanish is the most difficult and important skill to develop, getting your own tutor is totally worth it.
Pros & Cons
After reviewing the Spanish Uncovered course here are some pros and cons that I found.
Pros include:
If you're tired of the traditional Spanish learning methods, this course uses a unique and fun approach.
The course is taught in both Latin American and Castilian Spanish.
The platform is very simple to use.
All the recordings, videos, chapters, and worksheets are downloadable.
Unlike other courses, all the content that you need to practice your Spanish is available here.
Through the course, you'll find different learning tips from Olly. I mean, he speaks 8 languages, so his advice is based on experience.
Olly has what I consider to be a perfect Spanish accent, so you can be confident that you're learning from an expert.
There is a PDF with the most common 100 Spanish words (yes, we do actually use these 100 words a lot).
Spanish Uncovered actually encourages you to practice your speaking skills.
Each lesson has a comment section: it's very useful because people share their notes and questions.
The PDFs are very thorough and contain a lot of exercises.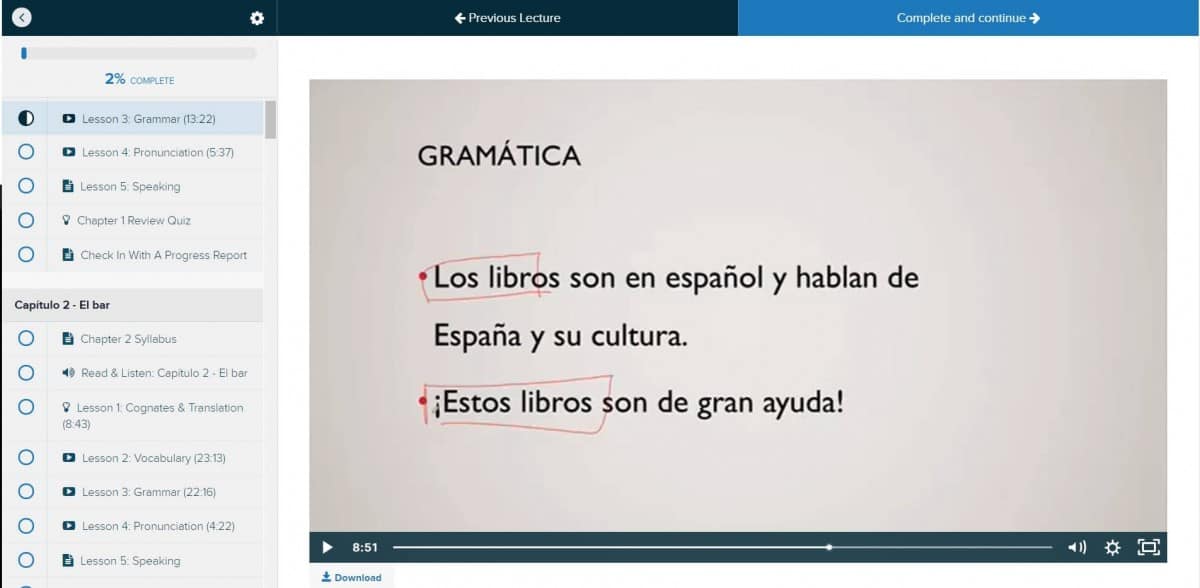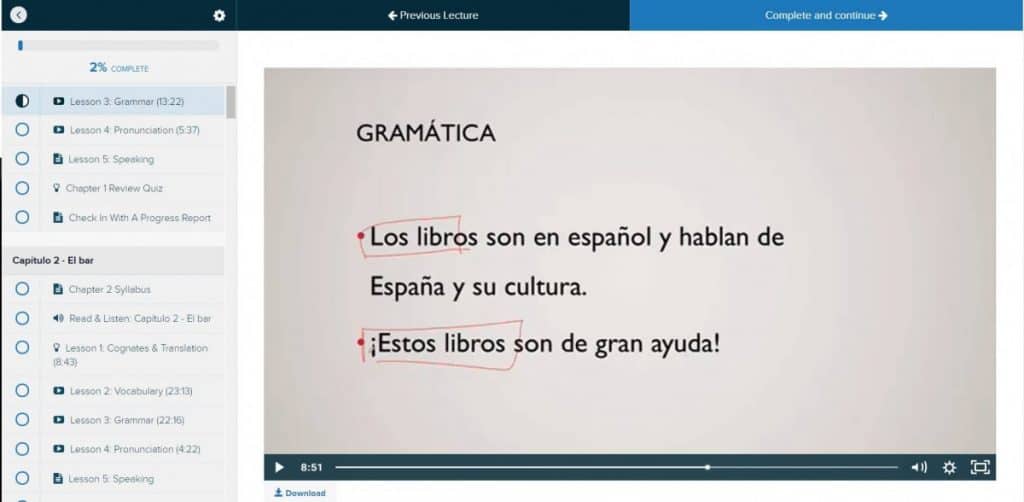 Cons include:
Compared to other courses, Spanish Uncovered has a higher cost.
The grammar videos are not as structured as the rest of the course.
The videos and instructions are in English. So if you don't speak the language it will be difficult to follow.
The course doesn't include tools or exercises to develop your speaking skills. So you will need to find a private Spanish teacher to practice conversation.
Price & Where to Buy
At the time of this review, Spanish Uncovered costs a one-time payment of $297 USD and you have 7 days free trial. But just to be sure, I recommend you to check the most current price on their website.
To be honest with you, the biggest downside of this course is its price which is higher than other courses that offer you more levels and in some cases, more interactive activities.
The thing is that this course includes a lot of PDFs with hundreds of exercises, videos to explain grammar and train your pronunciation. So even though it may be more expensive than other options, you're actually getting a lot of resources that other courses don't offer.
If you're interested in seeing other options, I encourage you to check my article on the best Spanish courses.
Conclusion
Spanish Uncovered offers you a unique and fun way to learn Spanish with solid foundations. This course is based around a story and from it you'll have different activities to learn grammar and vocabulary, and develop your listening, speaking, writing, and reading skills.
The foundation of this course is that a language needs to be acquired in a natural way, with a little bit of grammar and vocabulary, and lots of practice. As a result, the course includes a lot of PDFs with exercises and some worksheets to work on your conversational skills.
The creator of this course, Olly, assures you that if you follow the process, you'll see a big improvement in your Spanish skills. However, this process involves a lot of discipline and practice on your part: he provides the knowledge, content, and resources, but it's up to you to put them into practice.
Despite the fact that it can be a little bit difficult at the beginning, this course is a great option for starting to learn Spanish. If you can afford it and have the time and commitment to do the activities, you should give it a try!