When I started this blog, I used to see Spanish Pod 101 all the time when browsing information on learning Spanish. Seeing this is a popular option for a Spanish course and I always felt curious about it, I decided to thoroughly check their course and provide you with a detailed and honest review.
What is SpanishPod101?
Spanish Pod 101 provides audio and video lessons to improve the Spanish learner's listening and speaking skills. Compared to other audio courses, Spanish Pod 101 includes many learning modules, resources, lessons. It also has a podcast for continued learning in addition to the course contents.
Spanish Pod 101 is a great Spanish course. But, like all courses, it has its limitations that you need to keep in mind and that I'll share with you in this review.
Learning Goals & Objectives
Spanish Pod 101 is a Spanish course that is meant to help learners speak faster and in a natural way. So in order to do this, they provide you with videos and audios that will guide you through real Spanish conversations.
Just like many other audio courses, Spanish Pod 101 gives you the power to control the speed of the recording: that way you can understand what's going on during the conversation. In addition to the audio, you'll also have flashcards and vocabulary lists as well as grammar information.
To be honest, I'm not a huge fan of audio courses because I always feel that they could use some grammar to offer a more complete and solid approach. But with their Lesson Notes and Grammar sections, Spanish Pod 101 does an amazing job delivering you the grammar you need as well as some nuances in meaning that could confuse you.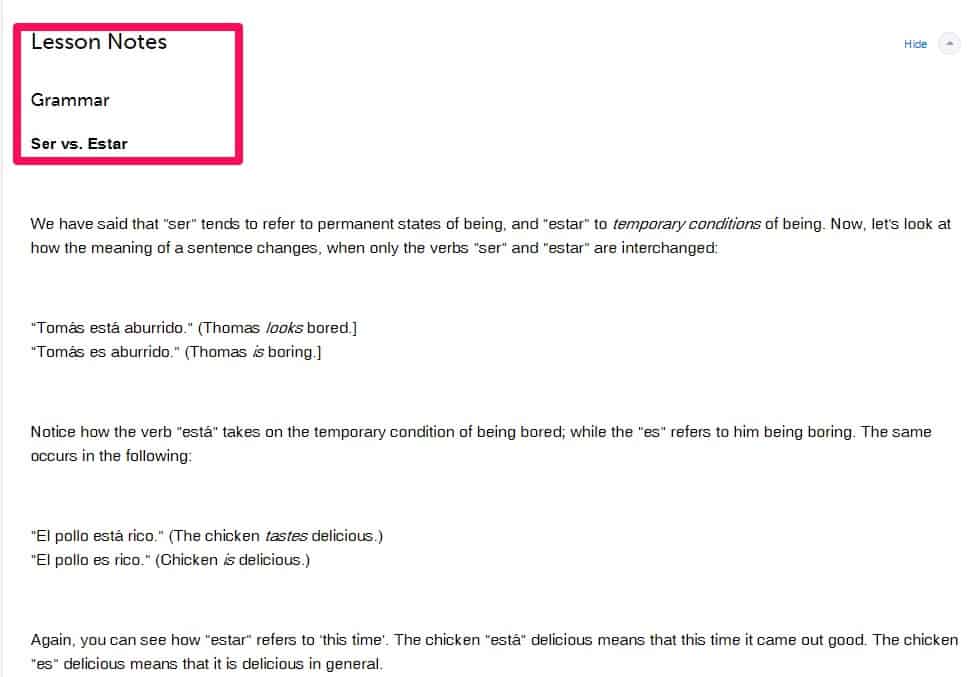 Another cool thing about this Spanish course is that even though you have a suggested path, they have a lot of extra lessons and vocabulary lists that you can use to practice your listening skills.
Levels and difficulty
When it comes to levels, Spanish Pod 101 has courses for:
Absolute beginners
Beginners
Intermediate
Upper-intermediate
Advanced
After checking all of the different levels, overall they were great. However, I didn't like the advanced lessons as much as the other levels. Although I thought they will focus on slang expressions and idioms from different Spanish-speaking countries, they talk about cultural facts and traditions.
Don't get me wrong, you can still learn some vocabulary and expressions from these lessons. But to me, they felt like the types of cultural reading sections you would find in a textbook that no one wants to read.
Despite this, the beginner and intermediate levels contain information and vocabulary that you actually need to know and use. The beginner level focuses a lot on providing you with basic expressions and vocabulary, and the intermediate course contains a lot of videos with grammar explanations.
Based on the contents, SpanishPod101 is better suited for adults with a beginner or intermediate level. Just a heads up: this is both a video and audio course. In other words, you'll be working with your listening, pronunciation, and comprehension skills. So it's up to you to actually practice and complement your learning process.
Design & Learning "User" Experience
One of the things that I liked the most about SpanishPod101 was their onboarding process. Creating the account and going to the main dashboard was very simple. But before choosing a course, you need to choose what's the best level for you.
Unlike other courses, SpanishPod101 includes simple and comprehensive guidelines to help you choose what's the best level for you: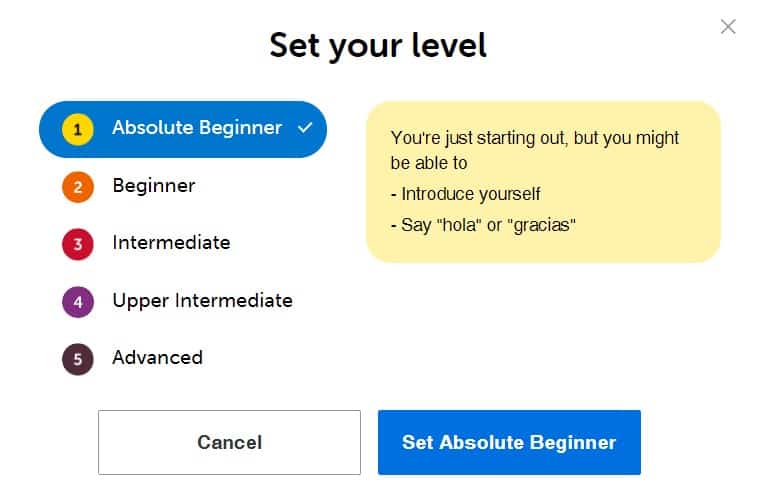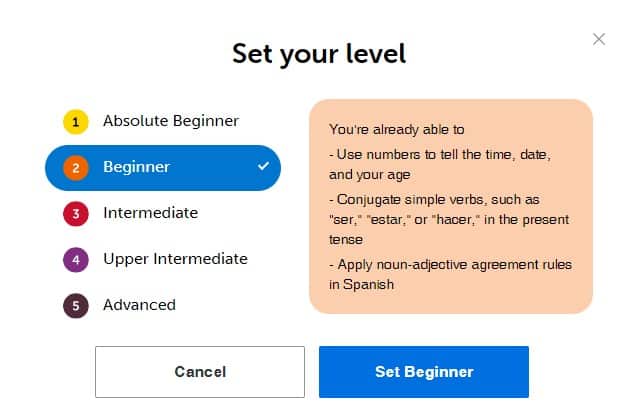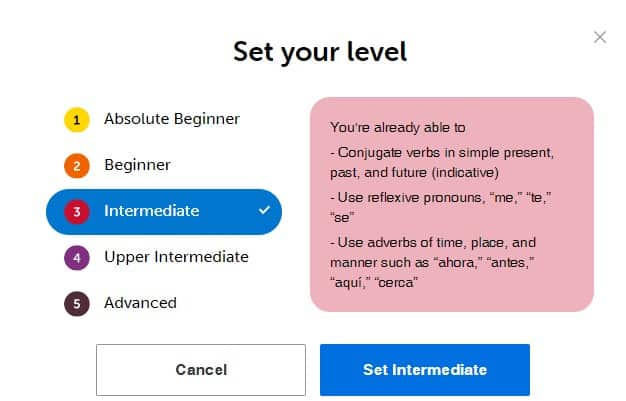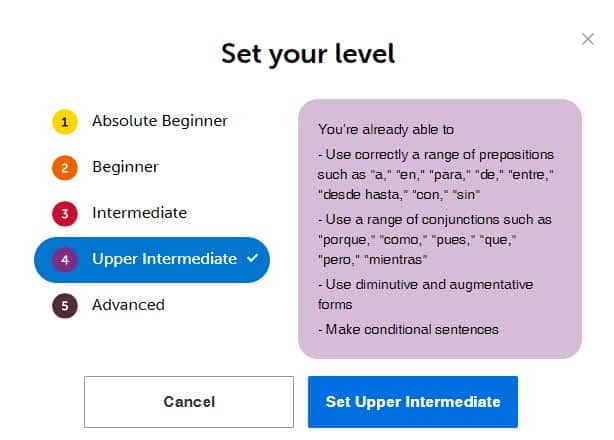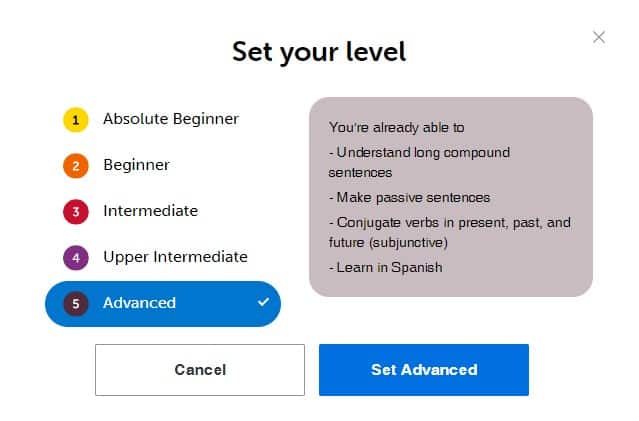 Although these first steps were very smooth, I had a lot of issues with the interface. Now, I'm not very tech-savvy, but there were so many pathways (audio lessons) that I didn't know what to choose. So, in short, their user interface could be improved to make the navigation and user experience easier.
In order to help you with your listening comprehension, the hosts on the SpanishPod101 audio slow down their speed when talking. As a teacher, I had to do this a lot of times. But in this audio it feels very exaggerated and unnatural. However, I can understand that many Spanish learners will find it useful that they speak slowly and clearly.
In addition to the audios, some lessons may include videos where they explain to you different grammar concepts that you need to understand. Although this is perfect for visual learners, I have to say that the quality of the videos is not as good as the audios.
If you have a premium subscription, you'll also get access to a teacher that will help you with your Spanish. Finally, each lesson has a comment section where the learners can share their feedback and questions. This is a unique differentiator from other Spanish language courses since this community element allows members to ask questions and help each other with lesson-specific content. Community moderators also comment and reply to questions, so that's a great benefit.
Contents
Another cool feature of SpanishPod101 is that you'll be able to listen to conversations in both Castilian and Latin American Spanish. This way you'll be prepared to understand Spanish speakers from different parts of the world.
Since SpanishPod101 has a huge variety of lessons with different content, I'll provide you a very general idea about the content and Spanish topics that you'll learn.
Common phrases and expressions
Counting in Spanish
Different idiomatic expressions
Grammar
Spanish for academic life
Describing food and weather
Using adjectives and adverbs
Spanish pronouns
Spanish for business
Small talk expressions
As I mentioned before, something that differentiates SpanishPod101 from similar courses is their grammar section. So, in each lesson, you'll find a short grammar explanation and some links to language resources with further information that will help you better understand each lesson.
The information provided in the learning center is very thorough, uses a lot of tables, phrase structures, and examples. So in short: I totally loved it. Additionally, they link to other episodes where they use that same grammar topic.
Aside from the vocabulary flashcards, SpanishPod101 includes some quizzes so you can reinforce the knowledge that you're acquiring. However, I do believe that this section could be improved with other types of exercises.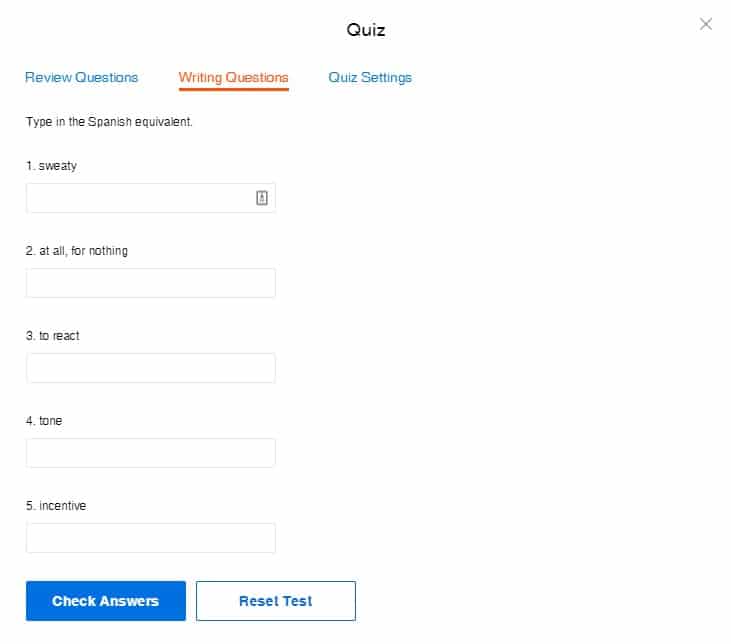 Pros & Cons
Here are some pros and cons that summarize my experience with SpanishPod101.
Pros Include:
Each lesson includes its learning objectives.
Compared to other audio courses, you'll get a huge amount of resources and audio lessons.
They include basic grammar in each lesson. If you want to learn more, you're free to click on their links to go to their learning center.
All the explanations in the learning center are clear and thorough.
You can create your own 'word bank' with the vocabulary that you're interested in learning.
Unlike other audio courses, they help you determine what's the best level for you.
The audios are between 6-15 minutes long, so they're not overwhelming.
You can sort the lessons by grammar, vocabulary, conversation, culture, writing, and reading.
You have 60 days to request a refund.
Cons include:
The content for the advanced level is not as helpful as the beginner or intermediate level.
Compared to other online products, SpanishPod101's interface is not as easy to use.
Although Spanish speakers need to speak slower to make the conversation easier, it feels unnatural and exaggerated.
There are no exercises to practice your vocabulary or speaking skills.
Price & Where to Buy
SpanishPod101 works on a monthly subscription. Just like many subscription services, you have different features depending on the subscription that you choose. In this case, prices start at $4 USD and go up to $23 and you have a 60-day refund policy. In case it has changed, you can check the current pricing here.
In addition to the web platform, you'll also be able to use a mobile application. Compared to similar courses and based on the content that you'll have access to, SpanishPod101 is a great resource to start learning Spanish or reinforce your listening skills.
Unlike other audio courses that just focus on listening and speaking, this Spanish course includes a minimal explanation of grammar. This doesn't mean that they're going to spend a lot of time teaching you all the details of grammar structure, they will only teach the most important things.
If we compare it with my Pimsleur review, SpanishPod101 offers more content and resources for a more affordable price. However, I do think that Spanish Pod 101 could include some activities to listen to and repeat to boost your speaking skills (just like Pimsleur does).
Additionally, SpanishPod101 uses English in their audios and videos to explain the background, the topic, and the grammar information and Spanish to present you the main conversation and examples. You can check out or try SpanishPod101 here. 
Wrapping Up
Spanish Pod 101 is a video and audio course whose purpose is to provide you with the tools and knowledge to help you speak Spanish fast. In order to do that, you'll have to follow a lesson, practice the vocabulary presented, and learn some basic grammar when needed.
One of the main advantages of this Spanish course is the amount of vocabulary and lessons that you get with your subscription. In addition to videos and lessons, they also provide you with a learning center where you can learn more grammar and flashcards and quizzes to practice your vocabulary.
Unlike other courses that make you choose between Castilian and Latin American Spanish, Spanish Pod 101 recordings include different speakers so you can get familiar with different types of Spanish accents.
Additionally, if you get a premium subscription, they will provide you with a personal teacher that will assign you different tasks to improve your Spanish and that you can contact to ask them any questions related to your Spanish learning.
Is SpanishPod101 Right For You?
Overall, this is a good course for Spanish beginners that want to mix audio and video with some grammar and vocabulary. Although they have different levels, I personally find that this course is more appropriate for beginners and intermediate learners that want to work on their listening and comprehension.
As I mentioned before, this course is very suitable for beginners and intermediate learners. But if you want to compare it with other options, I also wrote a review of the best Spanish courses.
Although this is a good option for new learners, you have to keep in mind that, just like any other course, you need to find a way to put your Spanish into practice. Hopefully, now you know what to expect from SpanishPod101. Try SpanishPod101 for Free Now.