Although it's not very well-known, Advanced Spanish Grammar is an excellent textbook for advanced Spanish students. During my days as a Spanish teacher, I had heard a lot of positive remarks from other teachers about this textbook. I came across it again while doing some research and I wanted to share with you an honest review of this advanced Spanish textbook.
In short, Advanced Spanish Grammar includes advanced grammatical structures and their uses as well as different exercises to practice the knowledge acquired. As a grammar-orientated textbook, this Spanish book does not contain listening or conversation exercises.
Overall, Advanced Spanish Grammar is a good book to start the Spanish advanced level, it has some great benefits as well as some quirks that I'll share with you in this review.
Learning Goals & Objectives
As its name suggests, Advanced Spanish Grammar is meant to teach you advanced grammatical elements that will improve your command of Spanish. In order to do this, you'll find a grammar explanation at the beginning of each lesson followed by different activities and exercises.
One of the things that I enjoyed most about this book is that you'll learn advanced uses of basic elements as well as some nuances in meaning caused by different grammar structures. Although these topics are very common in daily life and can be confusing for Spanish learners, they're not covered in all Spanish textbooks.
In addition to this, the exercises in this Spanish textbook require the learner to reflect on the situation presented and the grammatical structure that needs to be applied. For that reason, you'll find different activities that are meant to test your understanding of Spanish grammar.
Since this is a grammar-oriented textbook, you won't find listening exercises or conversational activities. So it will be up to you or your teacher to find ways to practice these skills. Unlike other books from this publishing house, Advanced Spanish Grammar doesn't include extra online resources.
Due to its content, Advanced Spanish Grammar is an excellent book for adults and young students with advanced knowledge of the Spanish language. At this point, it's important to keep in mind that this is a grammar-oriented textbook, so all the information and activities are focused on developing this skill.
Like many Spanish textbooks, Advanced Spanish Grammar is completely written in Spanish. However, at this point of your learning process, this shouldn't be a problem for you. In my opinion, this book could work perfectly in a classroom environment, but you can also use it as a personal resource to improve your Spanish.
Design & Learning "User" Experience
Advanced Spanish Grammar is organized in 106 units and includes over 400 exercises that are meant to help you practice the grammar concepts presented in each unit. Like any other language textbook, the contents are structured in sequential order.
This structure allows you to build and reinforce your foundations so you can progress to more advanced topics. Something that I really like about the organization of this book is that, when needed, they refer you to other lessons that present other uses of the same grammar element.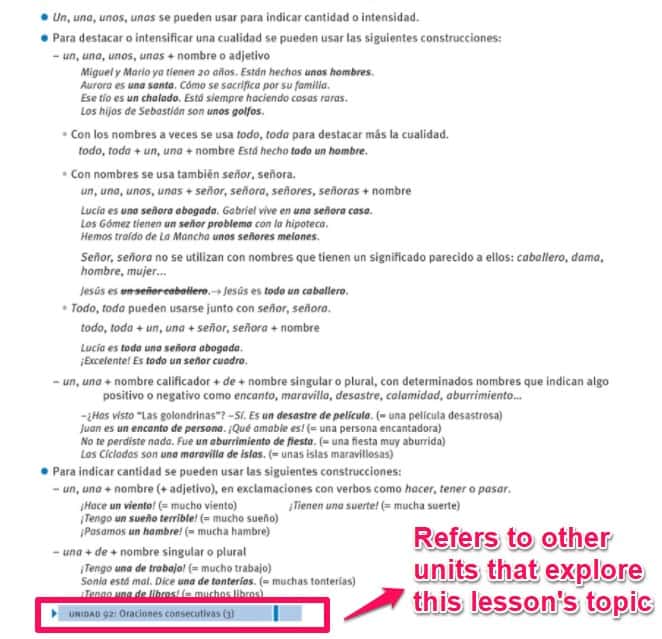 I personally prefer to work with textbooks that use colors and tables to highlight important information. So in that sense, Advanced Spanish Grammar surpassed my expectations. In the book, you'll find simple colors, tables, examples and cartoons to make things easier to read and understand.
But without a doubt, one of my favorite things was their phrase structures. Since most students struggle to understand what's the correct way to order elements in a Spanish sentence, these phrase structures work as a simple formula that you need to follow.
The topics and exercises based on this advanced Spanish textbook will help you reinforce your grammar knowledge as well as your writing and comprehension skills. Of course, knowing grammar will give you more confidence to speak Spanish. But like I mentioned before, you or your teacher will need to take responsibility for developing these skills.
Even though this book is all written in Spanish, the language is very simple and straightforward so you shouldn't have any issues understanding it. In my personal opinion, due to its design and colors, the content is easy to read overall. However, in some cases, the examples are too close together, so the readability won't be as good as it could be.
Contents
Overall, Advanced Spanish Grammar uses a standard Spanish vocabulary. But since the authors are from Spain, you'll notice some influence of Castilian Spanish. Since all grammar rules are applicable to all Spanish-speaking countries, this influence will be more noticeable in the vocabulary.
As you may imagine, the Advanced Spanish Grammar book has the goal to teach advanced grammar topics that you need to have fluent conversations. As a result, this book contains topics that will help you reach this goal.
Here is an overview of the contents included in this advanced Spanish textbook:
Articles and change in meanings
Adjectives: placement and change in meaning
Direct and indirect object pronouns: uses and placement
Relative clauses
Interrogative words: building exclamations
Ser and estar: changes in meaning
Expressing the duration of an action
Past tenses: difference between all Spanish past tenses
Subjunctive: present, imperfect, past perfect.
Verbs that work with subjunctive or indicative mood
Common expressions built with infinitive verbs
Different uses of gerunds and participles
Phrases to express cause
Conditional sentences
Indirect speech
Concessive clauses
As I mentioned before, Advanced Spanish Grammar teaches you advanced uses of some basic structures that you learned before. As a result, you'll learn some nuances in meaning that will make you more natural and fluent in Spanish.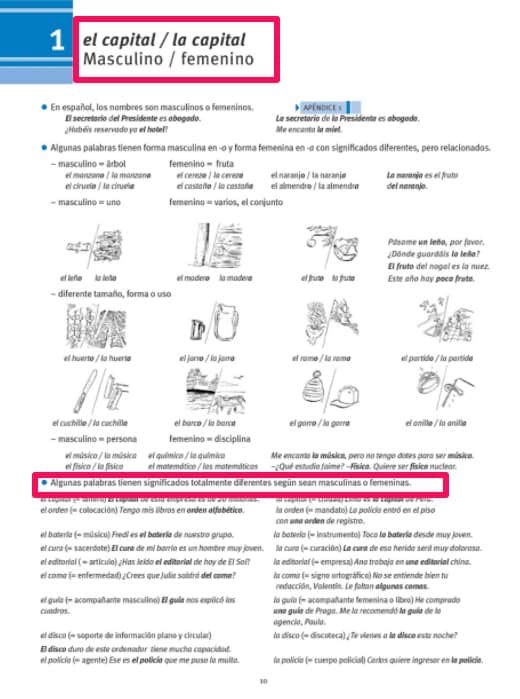 The grammar explanations included in this book are short, simple, and use a lot of examples to make things easier to understand. Additionally, you'll be referred to other lessons that talk about the same grammatical elements and that will help you gain a broader and more complete understanding of its multiple uses.
If you combine them with the exercises, the grammar explanations fulfill their purpose. But depending on the topic, some students may require to conduct more thorough research to fully understand these concepts.
Pros & Cons
Here are some pros and cons that I found after reviewing the Advanced Spanish Grammar textbook.
Pros include:
It refers you to other parts of the book where you can find further information about a grammar element.
The answer key is included at the end of the book.
Although it contains basic grammar topics, you'll learn advanced uses and some nuances in meaning.
The design is simple, but the elements and important information are still easy to find.
Each grammar lesson contains at least two or three exercises so you can reinforce the concepts presented.
Cons include:
Unlike other books from the same publishing house, this textbook doesn't include additional online resources.
As a grammar-oriented textbook, there aren't listening or speaking activities.
If you have other books by the same author, you'll notice an overlap in the topics and examples.
It doesn't provide many expressions, connectors, and other advanced structures that will help Spanish learners to improve their command of Spanish.
Price & Where to Buy
Advanced Spanish Grammar has both a printed and a digital version. Since the textbook contains a lot of exercises, I would highly recommend you get the printed version. That way you can complete the exercises directly in the book.
The price of this Spanish textbook will vary depending on the format that you want to get. But in general, it varies from $15 to $25 USD. If you're interested in this book, you can check its most current price here.  
Overall, Advanced Spanish Grammar is a good textbook for upper-intermediate and advanced Spanish learners. One of the greatest things about it is that you'll have a lot of exercises to practice your grammar.
Although it doesn't include some connectors or words to improve your speech, this textbook covers the same topics that other advanced Spanish textbooks do. The main difference is that you'll learn some nuances in meaning when applying certain grammar elements.
If this textbook doesn't fully cover what you expected, I encourage you to check other advanced Spanish textbooks. Hopefully, you'll find a perfect match for your Spanish learning goals.
Conclusion
Advanced Spanish Grammar is a textbook written by two Spanish-learning experts. As a result, you can expect to find structures and vocabulary that Spanish advanced learners need to know. The book also teaches you advanced uses and nuances in the meaning of some basic grammar topics.
Due to its content and the fact that it is written in Spanish, this book is recommended for Spanish learners that are about to start their advanced level. One of the things that I like the most about Advanced Spanish Grammar is its simple design and its visual aids: tables, examples, cartoons, and recommended phrase structures.
If you are about to or just starting an advanced Spanish level, this textbook will be an excellent tool for you. But if you're looking for something else, I recommend you to check the three best advanced Spanish textbooks I've used and reviewed.
Hopefully, you'll find a good textbook that will help you reach your Spanish learning goals. ¡Suerte!