If you're studying Spanish and you're looking for a textbook for advanced learners, it's very likely that you may have come across Advanced Spanish Step-by-Step. Since this is a popular book among Spanish learners, I wanted to share my analysis on it with you as a former Spanish teacher in this review.
Advanced Spanish Step-by-Step includes short grammar explanations and a lot of exercises. Based on its content, this textbook is appropriate for intermediate learners that are about to start a Spanish advanced level.
Despite its many features, benefits and advantages, this book also has some quirks that I'll share with you in this review.
Learning Goals & Objectives
Even though the title of the book contains 'advanced', in reality, it's appropriate for both intermediate and advanced learners. The purpose of this textbook is to teach you grammar so you can improve your Spanish conversational skills.
In order to provide you with the right elements, in this textbook, you'll find short grammar explanations, exercises so you can practice and reading activities so you can see the different applications of these concepts.
Due to its contents, this Spanish textbook can be used by both intermediate and advanced students. Just a heads up: advanced students will learn new grammar structures, but they will also review a lot of intermediate Spanish topics.
When I first found this advanced Spanish textbook I expected to see a lot of vocabulary and elements to improve Spanish learner's communication skills. Although it's a good book, it's better for those advanced students that feel a little bit shaky with their grammar.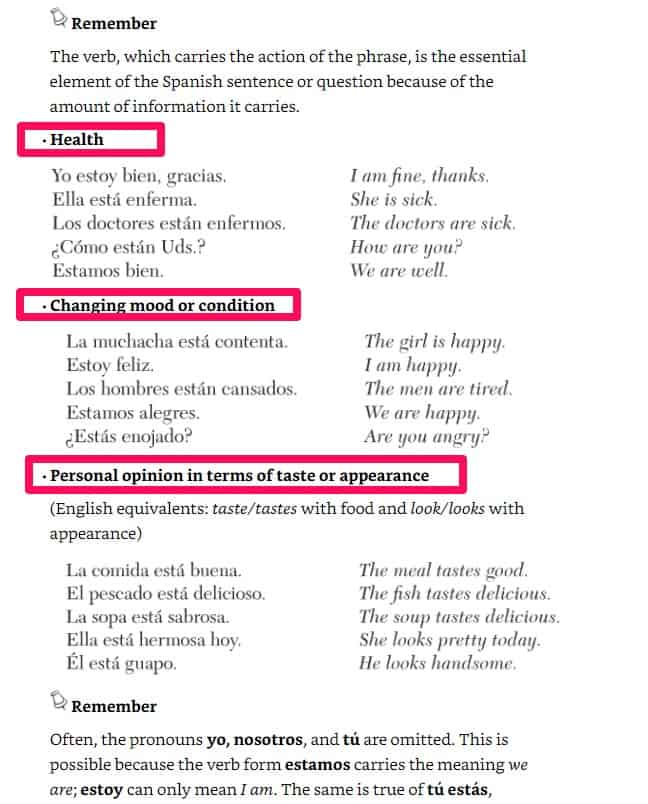 If your primary point of focus is improving your grammar, then this is a great Spanish textbook to use. However, if your grammar is very good and you just want to polish your Spanish and learn techniques to improve your conversations, this book is not for you. For that reason, I encourage you to look at other advanced Spanish textbooks.
Advanced Spanish Step-by-Step is more appropriate for adults and young students, and it can work pretty well in a classroom or as a personal resource. For English learners, this book will be very easy to use since all the concepts and explanations are presented in English.
In my opinion, this is a huge disadvantage of this book: as an advanced student, you should be able to understand these short and simple explanations. These sections could be easily used to present more vocabulary or to illustrate how certain structures are being used.
Design & Learning "User" Experience
Advanced Spanish Step-by-Step's contents follow a sequential order: you need to complete one concept to jump to the next one. In total, this textbook contains 15 lessons and over 150 exercises.
Overall, this book is very straightforward to use: each lesson includes short and simple grammar explanations and a variety of exercises so you can practice the concepts that you just learned. Each lesson or chapter finishes with a reading exercise that will test your Spanish comprehension.
Unlike other Spanish textbooks, I find the readings from this book very useful and enjoyable: they're very short and, most importantly, they use the grammatical structures presented in that lesson.
Additionally, the reading section includes a few questions to measure your comprehension and command of Spanish as well as a list of the most important words that you should learn. Since I've struggled with the reading activities included in most Spanish textbooks, I really liked the approach of Advanced Spanish Step-by-step.
Advanced Spanish Step-by-Step has a very simple white-black design with a few icons but not images or cartoons to support the information. As a result, in order to highlight important information they use bold or italic fonts.
I don't have anything against this type of design, but I do think that the information would be easier to find if they include some tables or a few colors here and there. Unlike other books from this author, Advanced Spanish Step-by-Step doesn't have online resources to practice your vocabulary and pronunciation.
Overall, this advanced Spanish textbook will help you develop and reinforce your grammar and vocabulary. So it will be up to you to take this knowledge and put it into practice in real-life situations.
Contents
As I mentioned before, Advanced Spanish Step-by-Step's grammar explanations are written in English and the examples and vocabulary are in Spanish. Although they try to use as much standard Spanish as possible, this textbook has a small influence on Latin American Spanish.
So for instance, you won't find exercises to practice 'vosotros' and the vocabulary is geared towards Latin American standard Spanish (i.e. they may use pluma instead of bolígrafo). Even though this may seem like a big deal for you, Spanish speakers are still able to understand each other.
As I said, the contents from this book cover the upper intermediate and the low advanced level. So here is a quick overview of the things that you'll learn:
Ser and estar: different tenses and moods. 
Past tenses: preterite, imperfect, past progressive.   
Regular and irregular verbs: basic conjugation, participles and gerunds.  
Subjunctive mood: uses, present tense, imperfect tense, past perfect tense.  
Articles, pronouns and adjectives. 
Future and conditional tenses. 
The grammar explanations in this book are very short and they include some examples so the learner can have a better understanding of how to apply concepts. In some cases, the information provided will be enough. But with more advanced topics, it's very likely that the learner or the teacher will need to do some research to have a more complete explanation.
Fortunately, the book has many exercises so people can practice a concept more than once. In my opinion, this Spanish textbook will offer a more complete approach if it included some listening exercises. So developing this skill, as well as speaking, it's the responsibility of the Spanish learner or the teacher.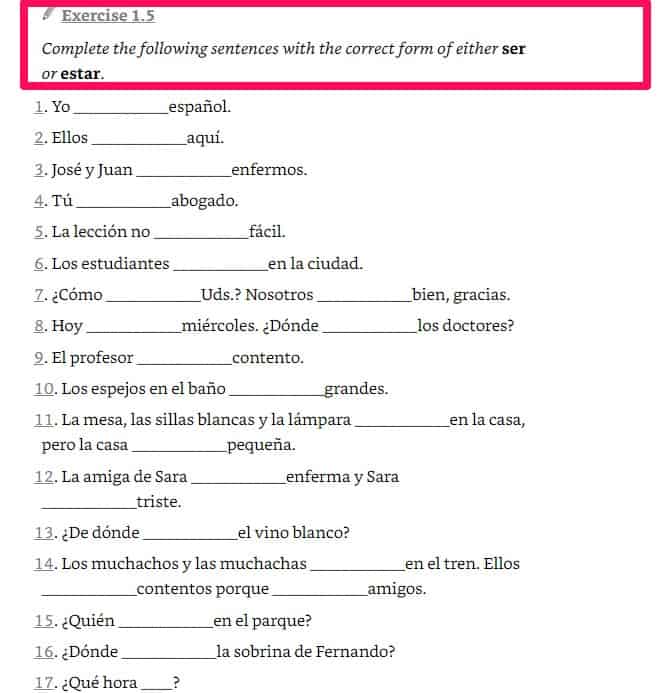 Pros & Cons
After reviewing Advanced Spanish Step-by-Step and comparing it with other advanced Spanish textbooks, here is a list of some of the pros and cons that I found.
Pros include:
There are over 150 exercises so the learner can practice and reinforce grammar.
Unlike other Spanish textbooks, the reading activities are perfect for the level and the topic in question. In fact, they're actually meant to test the learner's comprehension.
It's a good book to jump from an intermediate level to a Spanish advanced level.
The grammar explanations are clear and easy to understand.
All the topics are structured in sequential order.
It includes the answer key at the end of the book.
Cons include:
Unlike other books from the same author and publishing house, it doesn't contain online resources to practice your vocabulary.
Although it has a lot of exercises, you won't find listening or speaking activities.
Most of the book is written in English, and at this level, Spanish learners should be exposed to Spanish as much as possible.
Even though it's called 'advanced', the book covers both upper intermediate and low advanced topics.
It doesn't contain a lot of tables or visual aids to improve the learner's experience.
Price & Where to Buy
Just like many advanced Spanish textbooks, Advanced Spanish Step-by-Step has both a printed and a digital version. Even though I'm a huge fan of ebooks, when it comes to textbooks I rather work with a printed version, especially if it has a lot of exercises just like this book does.
Aside from personal preference, many learners that have acquired both versions complain that the ebook is not very easy to read because you cannot adjust the font size. So I would highly recommend you to get the printed version.
Depending on what version you acquire, the price of Advanced Spanish Step-by-Step will range between $10 to $15 USD which can be considered an average cost for a Spanish textbook. You can go to Amazon to check its most current price. For this price, the book offers you a lot of exercises and new topics to improve your grammar knowledge. 
Just a heads up: when I saw the book, I thought it would cover only advanced topics. But what it actually does is combine advanced concepts with upper intermediate subjects. As a result, I would use this book for students that just finished their intermediate level and want to continue with advanced.
This way you'll have a very good review of some topics that you need to master and, then, you'll jump into more advanced grammar structures. Advanced Spanish Step-by-Step contains good topics and a lot of exercises to practice.
I do have to say that it would be a better book if it had some listening and conversation activities. If this is something that you care about, I recommend you to check other advanced Spanish textbooks because it's very likely that you'll find something that meets your learning needs.
Conclusion
Advanced Spanish Step-by-Step is a good Spanish textbook for those intermediate learners that are about to start a Spanish advanced level. In other words, the contents of this book will allow you to have a quick review of some essential intermediate topics at the same time that you'll learn advanced grammar and vocabulary.
So, you'll check all the different tenses and moods that you've learned so far (present, past, future, conditional, imperative, present subjunctive) and you'll add some new knowledge (neutral pronouns, different tenses of the subjunctive mood, idiomatic expressions).
Advanced Spanish Step-by-Step covers a lot of grammatical topics. This doesn't mean that you'll have to read a lot of grammar explanations. In fact, the bulk of the book is the numerous activities that you need to complete to practice and learn the concepts presented in a simple and short grammar explanation.
Overall, this Spanish textbook is a great tool for Spanish advanced students. And like I mentioned before, I encourage you to get it if you're about to start your advanced level and need to reinforce some concepts.
If you need to check other options before making a decision, you can find other advanced Spanish textbooks that I reviewed and that I think can help you 🙂