When I worked as Spanish teacher, I had used and heard about a lot of different Spanish textbooks. For years, I used Aula Internacional 1 as my main textbook for Spanish beginners. So I wanted to provide you a review of this book that is meant to help absolute new Spanish learners.
In summary, Aula Internacional 1 is a great Spanish textbook for novice beginners. However, it works better in the classroom environment than for self-study. Due to its content and structure, this textbook is appropriate for Spanish learners that want to pursue a DELE certification.
Even though this is a recommended textbook to start learning Spanish, there are some unique components and quirks that I'll mention in this review.
Learning Goals & Objectives
Aula Internacional 1 is meant to introduce people to the Spanish language and take them through the vocabulary, topics and grammar structures they need to have basic and simple conversations. It's main goal is to provide beginners with useful structures that they can use to navigate through easy daily-life situations.
In order to start developing your Spanish skills, this book contains listening, reading, writing and speaking exercises that will reinforce the topics you're learning. All of these activities are based on popular situations that Spanish learners will go (or have gone) through.
As its name suggests, Aula Internacional 1 is the first level of a textbook series for adults and young Spanish students. For that reason, this book is written for new Spanish learners that want to start their Spanish learning journey. Since this textbook is going to cover the most basic topics, you don't need to have any previous knowledge.
Since the goal is to teach you Spanish as soon as possible, Aula Internacional is all written in Spanish. However, it does come with cartoons and images to make things easier for you. In my experience this is a good immersion environment. But for some new students following the instructions can be a little bit difficult, especially if they don't have the guidance of a teacher.
Design & Learning "User" Experience
Aula Internacional 1 has a very appealing design: it has a lot of colors to highlight important things as well as images and cartoons to give learners a better context. One of the things that I like the most about this textbook is that the topics are very well organized and they follow a sequential order.

In other words, you won't learn something difficult without having some previous foundations. This sense of organization and sequence is present in every detail of the book. So for instance, Aula Internacional has 9 units and in each one of them you'll find the same sections:
Introduction (list with the grammar topics and the situations where you can apply them).
Small sample texts that present some of the topics to be covered.
Grammar section with exercises.
Practice section (listening, conversation or writing exercises to practice your new grammar knowledge).
Cultural and reading sections.
Thanks to this layout, the Spanish learner has different opportunities to practice the topics that she or he has learned. It's fair to say that the reading and cultural section is way too advanced for this level and, in my opinion as a teacher and native speaker, not very useful for a daily Spanish conversation.
Aside from that, the rest of the exercises require that the learners think and produce some Spanish based on the knowledge they just acquired. When it comes to learning aids at the end of the book you can find verb charts and more in-depth grammar explanations.
Additionally, you can create a free account to have access to some interactive exercises and videos that will help you reinforce concepts learned. In some lessons, you'll find a suggested video, but it's not clear where you can access them. They're not in the online-free resources and it seems that you have to pay extra money for them which I don't like.
For many students, the fact that the book is all in Spanish is very challenging, but aside from the big reading section at the end of each lesson, the instructions are simple and easy to follow.
Contents
Aula Internacional 1 follows the Instituto Cervantes (the main institution that promotes and teaches Spanish around the world) program. As a result, they try to use a standard Spanish that learners can apply in other Spanish countries.
However, there's a very small influence of Castilian. This is not such a big deal with the grammar or the vocabulary. But the online resources and the listening exercises will have a Castilian accent. If you want to learn Latin American Spanish, you can just practice with songs and movies with the accent you'd like to learn.
As I said before, Aula Internacional 1 is meant to take absolute beginners to an upper beginner level. Unlike other beginners textbooks that contain all the information for the beginner level in one volume, with this textbook series you'll need to get Aula Internacional 1 and Aula Internacional 2 to complete the beginner level which may not be ideal from a financial perspective (see cost below).
Topics that Aula Internacional 1 covers
Here are the topics that you'll learn with Aula Internacional 1:
Ask and provide personal information
Conjugation groups
Spanish gender and articles
Present tense and subject pronouns
Describing places, people and the weather
Structures to shop
Talk about likes and dislikes
Reflexive verbs
Irregular verbs
Phrases and structures to talk in restaurants
Ask and give directions
Talk about past experiences
Present perfect
The topics and vocabulary presented in this book are common situations that new Spanish learners may face. As I mentioned before, each lesson contains different exercises so you can put your new vocabulary and grammar structures into practice in different situations.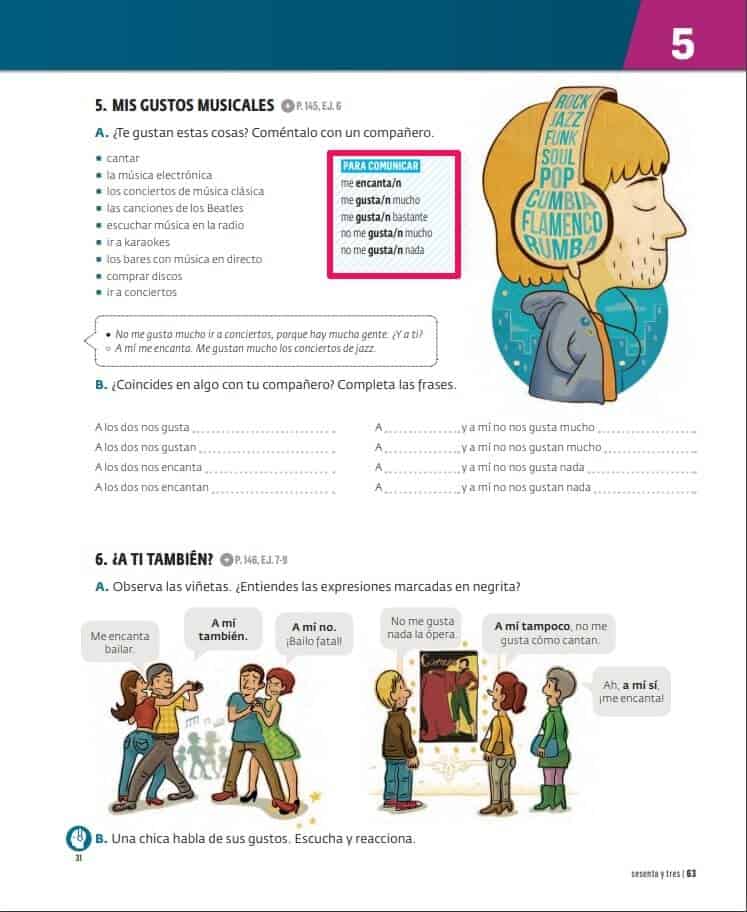 It's important to mention that the vocabulary and structures provided are basic expressions. Additionally, the grammar section contains a brief and quick explanation of a concept. Depending on the topic, Spanish learners may need to do some extra research to understand some topics or to increase their vocabulary.
Remember that at the end of the book, there's a 'more grammar' section where you can find more thorough explanations and verb conjugation charts.
Pros & Cons
After working and reviewing the new version of Aula Internacional 1 here are some pros and cons that you should keep in mind.
Pros include:
It has a beautiful design, so it's very easy to identify the most important things.
Each grammar topic is based or applied to a daily-life situation.
There are some extra exercises on their online language lab.
Using the online resources allows you to work with other accents and different activities.
The topics covered are a basic and strong Spanish foundation.
It contains different activities to reinforce the student's writing, speaking, listening and reading skills.
Contains a "more grammar" section and verb charts with common verbs.
Includes a CD with recordings to perform the listening exercises on each lesson.
On top of the exercises in each lesson, it also contains a 'more exercises' section.
It forms part of the Aula Internacional series which will allow you to learn Spanish in a more structured way.
For the most part, you'll learn standard and common vocabulary and grammar.
Aula Internacional 1 is one of the most popular books for teaching Spanish. It's used by the Instituto Cervantes and you can use it if you want to pursue a DELE certification.
Cons include:
Since it's all written in Spanish, following the instructions can be challenging for some students, especially, if they're self-studying.
You need to get two different volumes to complete the beginner level.
The reading and cultural sections contain advanced words and structures. In fact, this section is not very useful in daily-life situations.
Some lessons include activities with videos, but you have to buy them separately.
The grammar explanations are not always enough, so students must do their own research.
Most of the recordings are in Castilian Spanish, so you won't get familiar with Latin American accents.
It doesn't include the answer keys since most exercises have more than one answer. The answer booklet is only available in the teacher's book.
Price & Where to Buy
Unlike other textbooks, Aula Internacional 1 only has a paper version which will allow you to take notes and answer your exercises in your own book. Additionally, this version of the book will include the CD for practicing your listening skills.
The price of Aula Internacional 1 varies from $28 – $48 USD depending if you want to get it new or used. But you can check its current price here. 
Compared to other books, Aula Internacional 1 has a more appealing design and it's organized in a sequential order. Since this book is approved and used by the Instituto Cervantes, you can be completely sure that you're learning exactly what you need to learn.
But unlike other Spanish textbooks for beginners, if you want to complete the beginner level, you'll need to get two volumes. As a teacher and language student, I don't think it's the most convenient to buy two volumes when someone else offers the beginners level in one purchase.
Despite this, Aula Internacional 1 is one of the most popular books to teach and learn Spanish. As a teacher, I really like the book and most students are happy with it because they find easy and common vocabulary.
Additionally, they like the fact the program is very well organized and for those who want to pursue a DELE certification, this Spanish textbook is the place to start.
Conclusion
Aula Internacional 1 is a Spanish textbook for absolute beginners. Although it can be used for self-studying, this book works perfectly in classrooms or small learning groups since it has a lot of speaking exercises. So if you are a self-study Spanish learner and want to use this book, it's convenient for you to have a conversation buddy.
As a textbook for beginners, Aula Internacional 1 starts with very basic topics such as greetings and progresses into teaching present tense, expressions and some of the most common Spanish verbs.
Thanks to its design and structure, this book is very easy to use and understand. And, if like me, you always want to know what you're learning, in each lesson you'll find listed all the topics that you'll learn and the situations where you can apply them.
Additionally, you can reinforce your knowledge with the exercises presented in the book and the online resources. Something to keep in mind is that the book is written in Spanish which can be quite challenging if you don't know anything about this language.
If you want to learn Spanish, Aula Internacional 1 should be a must for you since you'll have a very well-thought-out program. But if this is not what you want, there are other Spanish textbooks for beginners that you can check and choose from. Good luck! 🙂
Related Resources
Best Spanish textbooks for beginners
Aula Internacional 2 Review