For years, I taught Spanish using the Aula Internacional books. Since I have used these books myself, I wanted to provide you a review of this popular Spanish textbook for beginners.
Aula Internacional 2 is the second volume for beginner level Spanish. It picks up some of the previous topics presented on Aula Internacional 1 and adds past tenses lessons and other grammatical structures. In order to create an immersive experience, this textbook is written in Spanish.
Although it takes up where you just left, there are other books that could offer more value for these topics.
There's no doubt that Aula Internacional 2 reaches its goal of providing you with the tools to complete the Spanish beginner level. However, there are some small considerations that I'll share with you in this review.
Learning Goals & Objectives
Aula Internacional 2 is a Spanish textbook for beginners that have some basic knowledge of Spanish. In other words, this book is meant for upper beginners that know how to conjugate verbs in the present tense and can handle simple situations such as ordering food, talking about their daily routines, likes and dislikes, and ask and give directions.
In order to complete the beginner level, Aula Internacional 2 teaches basic prepositions, irregular verbs, past tenses and other grammatical structures that will allow you to build more complex sentences. Just like other books from the same family, to meet this goal, you'll have grammar explanations and exercises to apply your knowledge in different situations.
As I mentioned before, this Spanish textbook is not for absolute beginners. It's perfect for learners that know simple vocabulary and can keep basic conversations in the present tense. So if you already have these foundations, but don't know the Spanish past tenses this book is for you.
The Aula Internacional books present daily-life situations where you can apply grammar, vocabulary and common expressions. Based on the contexts presented, these books are appropriate for adults and young tourists.
With the purpose of setting an immersive environment, Aula Internacional 2 is completely written in Spanish. But since you should already have some basic knowledge of Spanish and the instructions are written with simple words this shouldn't be such a big problem for you.
It's also important to keep in mind that Aula Internacional 2 works better in a classroom environment since it has a lot of conversational exercises. Unless you want to chat with yourself, you'll need a partner to complete these activities.
Design & Learning "User" Experience
As a teacher that used the previous version of the book, I have to say that the new design of Aula Internacional 2 is very colorful and attractive. It's very easy to identify which sections are the most important. The book is more interactive and contains online resources that you can use.
On top of the pretty design, what I like about this book (and all the books from the same family) is its amazing organization and structure. All the topics presented have a sequential order: what you're learning in one lesson will be useful for the next ones.
Aula Internacional 2 has 10 units or chapters. In each one, you'll find the same formatted sections focused on developing your Spanish skills:
Introduction (list with the grammar topics and the situations where you can apply them).
Small sample texts that present some of the topics to be covered.
Grammar section with exercises.
Practice section (listening, conversation or writing exercises to practice your new grammar knowledge).
Cultural and reading sections.
On top of the exercises and the grammar sections in each lesson, at the end of the book you'll find a 'More exercises' and 'More grammar' sections. As the name suggests, those sections provide you with extra practice and deeper grammar explanations and verb charts.
As a bonus, you'll also have access to free online resources where you can find videos and more exercises to practice your knowledge.
Some lessons may have an activity to accompany the video, but it's not available in the online resources. Instead, you'll need to buy the package or get the interactive version of the book.
Contents
Aula Internacional 2 follows the Instituto Cervantes program. This means that the book contains standard Spanish. However, in some instances you may find a small influence of Castilian Spanish. As you may imagine, this will be more notorious in the listening activities if you're specifically trying to learn Latin American Spanish.
Despite this, the book does a very good job with the vocabulary: everything you learn can be applied in all Spanish-speaking countries.
Many students find that the vocabulary provided is not always enough to keep a conversation. However, they forget that textbooks are meant to give you a basic foundation and it's up to you to start adding more slang expressions.
Here are some of the contents that you'll learn in Aula Internacional 2 and that will allow you to complete the beginner level:
Talking about routines and feelings
Expressing the duration of an action
Reflexive verbs
Past time expressions
Basic phrasal verbs
Prepositions to place objects
Uses of 'ser' and 'estar'
Talk about pains and symptoms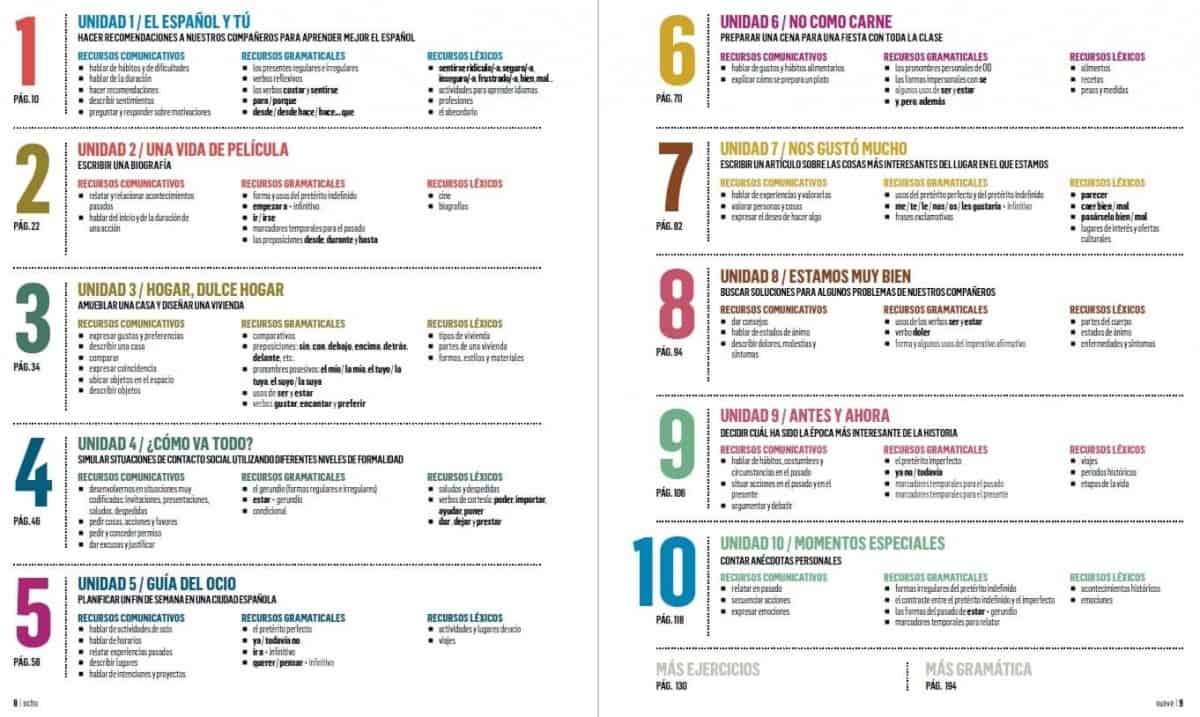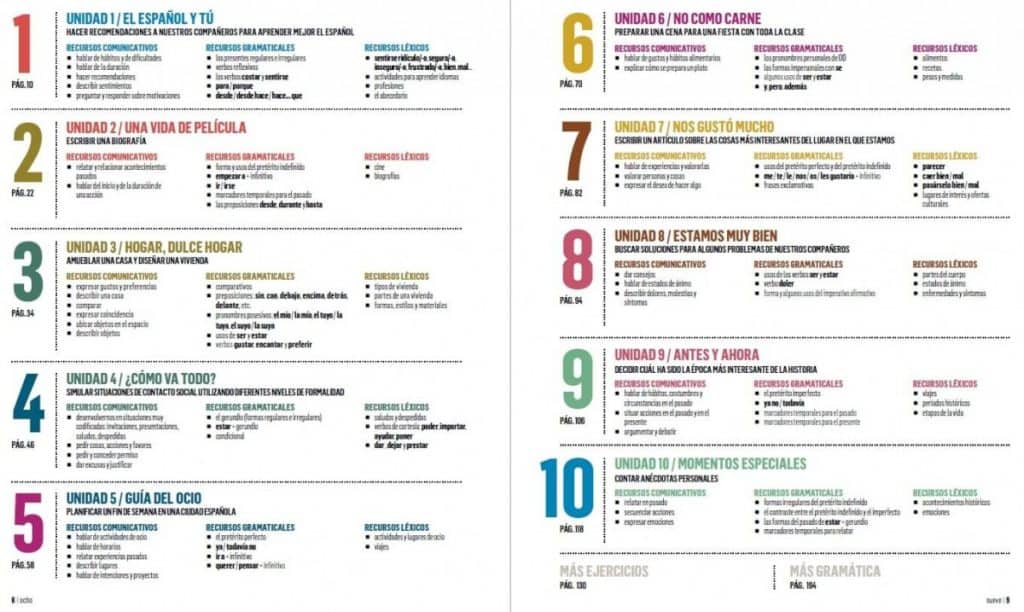 When it comes to the grammar, the explanations are sweet and short and they provide you with tables and examples. Additionally, you can find further information on the 'more grammar' section. Since the book is meant to be used in a classroom, a teacher could provide a more in-depth explanation.
If you're a self-taught learner, depending on the topic, you may need to do some research on your own to complement what you just learned. One of the main advantages of this book is that through all the lessons, you'll find different types of exercises to reinforce the topics.
Most of the exercises are great, but the reading and culture section is very advanced for this level and it's difficult to find a practical application for it.
Pros & Cons
After reviewing Aula Internacional 2 and using it for years, here are some pros and cons that I found:
Pros:
The design is very pretty and the colors allow you to identify sections easier.
All the topics are organized in a sequential order which is great to build your foundations.
You have access to extra online resources.
It creates an immersive experience.
The exercises cover all the skills you need to be fluent in Spanish: listening, writing, reading and speaking.
It contains a CD with native Spanish speakers recordings for your listening exercises.
All the exercises are applied to real-life situations so you can replicate them later.
It's a very popular Spanish textbook for beginners and it's used by the Instituto Cervantes the main institution that promotes and teaches Spanish.
It presents the basic topics that you'll need to know if you want to pursue a DELE certification.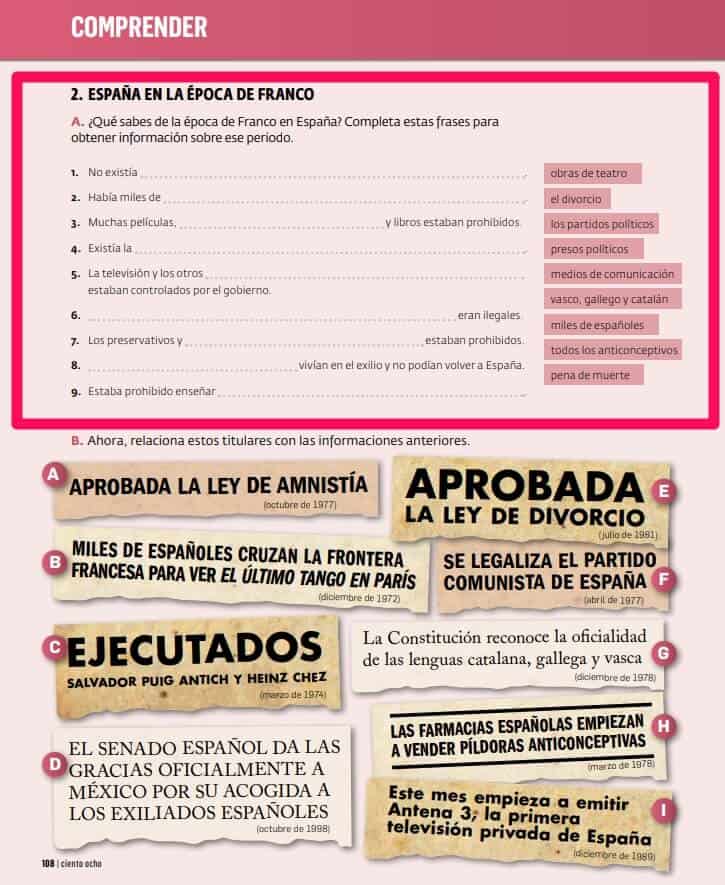 Cons
In order to complete the beginner level, you need to have two books (Aula Internacional 1 and Aula Internacional 2).
The reading section at the end of the lesson and some instructions use more advanced Spanish.
Unless you get the digital version, you won't have access to the answer key.
In some cases, the grammar explanations may not be enough for some students.
If you have the paper version and want to have access to some suggested videos, you'll need to buy this material.
Compared to other beginner books that have the level in a single volume, Aula Internacional 2 is more expensive.
Price & Where to Buy
Aula Internacional 2 has both digital and printed versions. The digital version has access to:
The student book (interactive: you can add notes and audio)
A PDF with the teacher's book (for further instructions and explanations)
Transcriptions
Videos presented in the lessons
Answer keys for the 'more exercises' section
Glossary in 8 languages
Depending on the version, the price of Aula Internacional 2 varies from $45 to $55 USD. But you can always check its current price here. In my opinion, the printed version should be enough textbook for Spanish beginners.
If you're worried about not having the answer key, your teacher will have them. And if you're a self-learner, you can always ask a Spanish friend or studying group to check your answers.
Compared to other books, Aula Internacional 2 follows a very organized structure and sequence. Additionally, it presents you with different types of situations where you need to apply your Spanish knowledge.
However, unlike other textbooks, you have to buy two books to complete the beginner level. If you want to follow a more structured method or have the goal of getting a DELE certification, this book is perfect for you.
But if you're not sure this is the right book for you, there are other great Spanish textbooks for beginners that you could try.
Conclusion
Aula Internacional 2 is one of the most popular Spanish textbooks for beginners. Due to its characteristics, this book works better in a classroom environment. However, it can also be used individually or with a small Spanish studying group.
As I mentioned before, this book is meant to provide upper beginners (students that can keep simple conversations in present tense) with the necessary information and tools to become Spanish intermediate speakers.
In order to do that, this book picks up some of the most complicated topics for lower beginners such as reflexive and irregular verbs and presents them in other situations. Additionally, you'll also learn past tenses, prepositions and more complex grammar structures that we use in our daily-lives.
This Spanish textbook has an amazing design and incorporates different exercises to improve all your Spanish skills. On top of that, it forms part of the Aula Internacional textbook series which will give you a guided and structured program to learn Spanish.
If you want to learn Spanish by following a textbook series or want to get a Spanish certification, you should definitely buy Aula Internacional 2. But if you're learning Spanish on your own, this may not be the best option for you.
Related Resources