Even though there are many resources available that you could use to improve your Spanish intermediate level, I personally worked with Aula Internacional 3 and Aula Internacional 4. These Spanish textbooks for intermediate learners are a great resource to improve your Spanish.
Overall, Aula Internacional 3 and Aula Internacional 4 are very complete Spanish textbooks for intermediate learners. Thanks to their contents you'll be able to learn new grammar and vocabulary and put them into practice in different situations. Both books have a small Castilian Spanish influence.
However, they have some quirks that I'll share with you in this review.
I'm sure that you have seen a lot of reviews for textbooks. So what makes this one different? First of all, I have professional experience with this particular book. Second, the fact that I used this book for so many years didn't encourage me to just put it on the list.
Third, I'm very picky when it comes to recommending stuff: I don't like to buy something because I trusted the reviews and then I discover that they're not accurate. I don't want that to happen to you. So, each review is a selected resource that I carefully chose from my winning list (the books that I consider to be very good). Be sure that in this review, you'll find my honest and professional opinion 🙂
Learning Goals & Objectives
Aula Internacional 3 and Aula Internacional 4 are two Spanish textbooks that are meant to get you through the Spanish intermediate level. Yes, as you may have imagined, with this book series you need two books to complete this level.
In order to reach that goal, in these books, you'll be introduced to more advanced vocabulary and grammar structures that you need to improve your command of Spanish. On top of having grammar explanations, you'll also find conversation, reading, listening, and writing exercises to reinforce your grammar knowledge and refine your listening and speaking skills.
Although it's not a rule of thumb, I think Aula Internacional 3 and Aula Internacional 4 work better in a classroom. This is because some of the activities are meant to be done with a partner. Additionally, the grammar elements start to get more complicated and, since the book's explanations are not always enough, you may need a teacher to guide you.
Of course, if you're a serious self-taught, you can always do your own research to find further information about these topics. In order to create an immersion experience, the book is written in Spanish. Since you are an intermediate Spanish student, you shouldn't have a lot of issues following the instructions.
Something to keep in mind is that both books are perfect for adults. So if you want your kids or teens to start learning Spanish, this book is not the most appropriate for them.
Design & Learning "User" Experience
When it comes to design, Aula Internacional 3 and Aula Internacional 4 have an amazing layout, a lot of images, and some cartoons to try to make things as easy and enjoyable as possible. Thanks to the different colors applied in the book, you won't have any trouble identifying important sections o content.
In addition to its very pretty design, one of the things that I enjoy the most about this book series is its organization: the topics follow a sequential order and the lessons always follow the same structure. As a result, you'll always find an:
Introduction (lists the topics to be learned and the situations where you can apply them)
Comprehension (small reading samples to get familiar with vocabulary and grammar)
Grammar section (grammar explanations and a few exercises)
Exercise section (different types of exercises to apply what you just learned)
Practice and communicate (speaking and listening activities)
Travel (reading materials)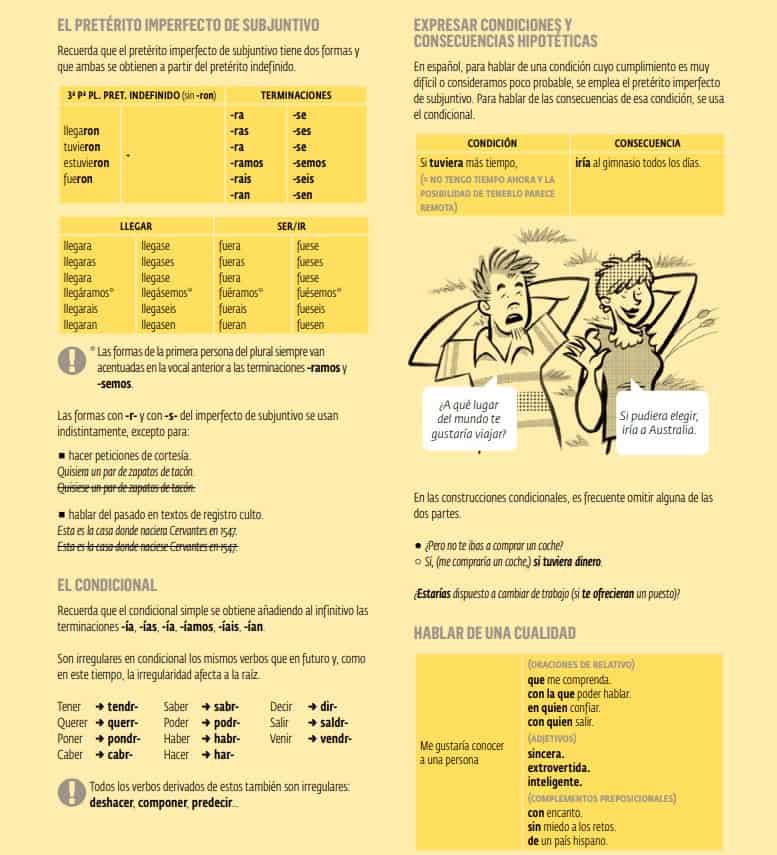 I'm going to be honest: after a while, some students find this structure very repetitive. But, speaking as a teacher, I find that Aula Internacional 3 and Aula Internacional 4 contain a lot of exercises to improve your grammar, listening, writing, reading and speaking skills.
Even though these books are going to help you boost your Spanish intermediate level, let's be real: your listening and speaking skills depend on how much you practice with Spanish native speakers. Of course, you'll have some foundations and structures, but no book will be as good as real-life practice 😉
As a plus, when getting these books you'll have access to some online exercises so you can practice your Spanish knowledge.
Contents
Although many Spanish textbooks try to use a standard set of vocabulary, the truth is that each author is influenced by their Spanish variant. In this case, Aula Internacional 3 and Aula Internacional 4 have a Castilian Spanish influence. You'll see this in some vocabulary and conjugations.
But to be honest, this doesn't affect your learning process: in the worst-case scenario, you may need to learn some specific vocabulary for the Spanish country you're visiting. As I mentioned before, Aula Internacional 3 and Aula Internacional 4 are meant to cover the intermediate level.
So here are some of the most important topics that you'll learn in these books:
Review of Spanish past tense
Common verbs
Describe habits and past experiences
Conditional sentences and future tense
Connectors and quantifiers 
Impersonal structures
Give advice and suggestions
Present subjunctive 
Indirect speech 
Passive voice
Preterite subjunctive
Talk about desires and hypothetical situations
Imperfect subjunctive 
The topics presented in these books are applied to real-life situations so you can have a better understanding of how to use these concepts in your conversations. As I mentioned before, each lesson contains a grammar section where you'll find simple and short explanations about the most important topics.
To be honest with you, these grammar explanations are not enough: as a teacher, it was my responsibility to prepare further information and some extra exercises just to reinforce these concepts. So if you're using this book yourself, be prepared to go online and try to find more extensive explanations.
When it comes to the exercises, the books contain different activities so you can put the new concepts into practice. But since you're learning more complicated topics, you should try to practice on your own too.
Pros & Cons
After reviewing these Spanish textbooks for intermediate, here are some cons and pros that you should be aware of.
Pros include:
Contains a CD with listening exercises so you can practice this skill.
Their contents are based on the Instituto Cervantes syllabus. The Instituto Cervantes is the main institution that promotes and teaches Spanish around the world.
The design is beautiful and it allows you to identify sections and content easier.
At the end of your book, you can find a 'more grammar section' and 'more exercises section'. As you may imagine, here you'll find more information and extra practice.
You'll have access to an online lab where you can find more resources to practice your Spanish.
Following the program presented in these books will allow you to pursue a DELE certification.
Cons include:
It tries to include as much standard vocabulary as possible, but it does have a Castilian Spanish influence in the instructions and some vocabulary.
The last reading section is more about culture and it's not very helpful since they use very formal language.
It doesn't include the answer key, this resource it's only available in the teacher's book.
Unlike other Spanish textbooks for intermediate students that have the whole level in one volume, in this case, you'll need two books to complete the level.
Some lessons require you to do some activities with videos; however, you have to buy some of this material separately.
Price & Where to Buy
Both Aula Internacional 3 and Aula Internacional 4 a printed and digital versions that you can only use with your computer. This version is considerably more expensive and to be honest, it seems to be perfect for the teacher but not the student.
In my opinion, the printed version should be good enough for you to start improving your Spanish intermediate level. The price for these books ranges from $35 to $50 each. But you can always check their current price:
Considering that it is difficult to find good Spanish textbooks for intermediate students, Aula Internacional 3 and Aula Internacional 4 are great books that will help you learn new concepts.
However, you have to get two of them in order to complete the intermediate level (in fact, there is an Aula Internacional 5 which is an intermediate book, but it just covers most of the same. So I didn't include it for the review).
Don't get me wrong, these books are a very good tool but you have to be prepared to do some research and find ways to practice on your own. Aula Internacional books are perfect for those people who want to learn Spanish in a more structured way and that at some point want to get a certificate.
If you feel that this is not the best approach for you, there are still some other Spanish textbooks for intermediates that you can try 🙂
Conclusion
Aula Internacional 3 and Aula Internacional 4 are two Spanish textbooks for intermediate learners. So if you already completed the beginner level, these books are perfect for you. As an intermediate learner, these textbooks will help you review some basic but necessary grammar and vocabulary. Additionally, you'll learn new elements that will boost your Spanish level.
In other words, you'll be reviewing more advanced applications of the present tense, reflexive verbs, and expressions of time. As for your new topics, you'll be in touch with different tenses of the subjunctive tense, indirect speech, passive structures, and imperative mode.
These books have an amazing design and the contents are organized in sequential order: you start with simple grammar elements and you progress into more complex structures. It's important to mention that the Aula Internacional books follow the syllabus of a recognized Spanish language institution.
This means that you'll be following a program widely used and that, eventually, will allow you to get a certificate if that's your goal. So if you're about to start your intermediate level and you're looking for a textbook that allows you to practice all your skills, Aula Internacional 3 and Aula Internacional 4 are the best options for you.
If you have other goals in mind or you just want to check other options before making a decision, I wrote an article where I present you the best intermediate Spanish textbooks. Hopefully, you'll find something that fits your learning style 🙂 ¡Buena suerte!