When looking for Spanish textbooks for beginners, many new learners may come across the Easy Spanish Step-by-Step book. Since this name sounds promising, I checked the book as a Spanish teacher myself, to give you an objective review of the things that you can find.
Easy Spanish Step-by-Step has great exercises and short grammar explanations that will allow you to practice and understand basic grammar structures. This Spanish textbook helps learners to develop their writing and reading skills. Additionally, the learner will be provided with basic vocabulary.
Although it has some cool features, there are some things to keep in mind that I'll share with you in this review.
Learning Goals & Objectives
Easy Spanish Step-by-Step is a Spanish textbook that is meant to teach people to speak, to read and write in Spanish in 15 quick and easy steps. For that reason, this textbook is more suitable for beginners and upper beginners learners.
In order to deliver on its value proposition, Easy Spanish Step-by-Step contains short grammar explanations, vocabulary lists, examples and different types of exercises so you can practice the concepts presented.
According to the author, the vocabulary that you'll find in Easy Spanish Step-by-Step was selected on the basis of usefulness and frequency. Most Spanish textbooks claim the same, but in this case I found that this vocabulary is actually very common in our daily lives.
In addition to the exercises presented in the book, you'll also have access to the publishing house online language lab. In there, you'll find some recordings for each lesson as well as some vocabulary flashcards.
For many students, one of the main attractions of this Spanish textbook is that the instructions and explanations are written in English. On top of this, the grammar explanations are short and easy to understand.
As a result, this book is a good workbook option for beginners and people that have very basic Spanish foundations. And since it contains a lot of grammar explanations, it's more suitable for adults and young adults. Although it could be a nice option for the classroom, Easy Spanish Step-by-Step can also be used for self-studying learners.
Design & Learning "User" Experience
Like many Spanish textbooks for beginners, Easy Spanish Step-by-Step follows a grammatical progression. For that reason, it's recommended that you just continue to the next lesson until you understand the vocabulary and concepts presented in previous lessons.
I like this very much because it prevents the student from trying to figure out what's the next topic they should learn. Of course, this requires some commitment: you can just move forward if you understand the grammar explanations.
Overall, the book is very well organized and even though the design is simple you can easily find the section that you're looking for. As I mentioned before, the book has 15 lessons and over 150 exercises. You can get a few more exercises on the online language lab.
One thing that I don't like is that it doesn't have listening exercises which are fundamental for a Spanish textbook for beginners. Although the online resources have some audios, the recordings are good for pronunciation and getting in touch with the accent. But they don't actually require you to do something.
Something to highlight is that the online resources provide you with different vocabulary quizzes that you can use to test your progress and to keep your vocabulary sharp. Additionally, the book exercises are created to verify that the learner actually understands the material presented in that particular lesson.


So for instance, when it comes to practice the verbs 'ser' and 'estar' many Spanish textbooks have different exercises for each verb. However, with Easy Spanish Step-by-Step some exercises require you to choose between these verbs based on the context.
Since dealing with nuances in meaning can be very challenging, I think it's amazing that this textbook contains some of these exercises.
Contents
Just like many Spanish textbooks for beginners, the vocabulary in Easy Spanish Step-by-Step is standard Spanish words. However, they include Castilian conjugations and just a few words that may be more common in Spain than in Latinoamerica. Despite this, all the vocabulary can be perfectly applied in all Spanish-speaking countries.
The contents of this book are pure grammar structures and elements that will allow you to build your language skills. Here is a quick overview of some of the things that you'll learn with this textbook:
'Ser' and 'estar'
Interrogative words
Prepositions
Present tense
Future tense 
Body parts
Adjectives and adverbs
Comparative structures
Negative sentences
Present subjunctive 
In order to teach you these topics, the textbook contains some grammar explanations as well as different exercises so you can practice this new knowledge in different contexts. Although it's written with simple words and contains the basic things you need to know, the grammar information may not be enough in some cases.
As a result, some students may need to perform their own research in order to complement the information and have a better understanding of the concepts. When it comes to practice, all the exercises are very useful and allow you to practice vocabulary and grammar concepts.
Something that I really love about this book is that its reading sections are extremely useful and they actually use the words and structures presented during the lesson. Seems like a small thing, but most textbooks fail to do this well.
Pros & Cons
Here are some pros and cons of Easy Spanish Step-by-Step that you may want to keep in mind before buying the book.
Pros
It's written in English which can make your learning process easier.
The topics have a sequential order: one concept will reinforce the other.
You have access to the online language lab where you can find vocabulary and listening resources.
The reading exercises are simple and appropriate for beginner level.
It contains some advanced topics that are very common in daily-life conversations but that other books will teach in their advanced versions. This makes this book a better value.
The vocabulary is very common, just keep in mind that it is formal and standard Spanish. So don't be surprised if you don't understand slang terms.
There are over 150 exercises to practice your Spanish.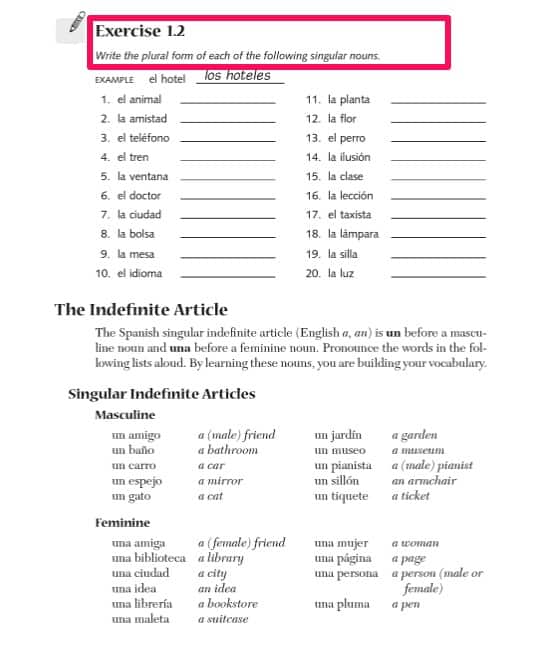 Cons
The grammar explanations are simple and contain basic information. But in some cases, this may not be enough and you'll need to do some research.
It provides a lot of grammar exercises, but if you want to develop other skills such as speaking and listening this book is not for you.
Although it claims to teach you Spanish in 15 steps, the 15 steps are 15 lessons with different grammar topics.
It lacks listening exercises.
Some students experience difficulties with the digital version.
Since it's a grammar-based book, it can be very dense.
The listening online resources are not actually exercises. They're recordings that allow you to check pronunciation.
Price & Where to Buy
On most libraries, Easy Spanish Step-by-Step has a printed and a digital version. But since this book is more like a workbook, I recommend you to get a printed copy so you can actually take notes and answer the exercises more comfortably.
Additionally, depending on your e-reader some of the tables may be too small and difficult to read. As you may imagine, the price of the book depends on the type of version that you choose. However, it ranges from $10 to $15 USD. You can check the current price here.  
Even though the book promises that it will teach you Spanish in 15 steps, Easy Spanish Step-by-Step will work better as a workbook or as a complementary tool. In my opinion, the grammar explanations are not always enough and they lack some conversation and listening exercises that other Spanish textbooks for beginners have.
Despite the fact that it's promoted as a 'beginner book', some students have found it a little bit difficult to handle. As I mentioned before, you do need to do some extra research in order to fully understand the concepts presented in some lessons.
It still contains some great elements that will help beginners develop their skills, but if you want a more consistent and in-depth learning experience, you'll need to check other Spanish textbooks for beginners.
Conclusion
Easy Spanish Step-by-Step is a Spanish textbook for beginners. Even though it claims that a new learner can use it, it will be easier for you to work with it if you have some basic vocabulary knowledge.
Like any other beginner book, it teaches you important grammar topics that you should know such as basic verb tenses, reflexive verbs, nouns and prepositions. In order to reinforce these concepts, you'll find different exercises as well as online resources that you can use as a practice.
As a grammar-orientated book, it doesn't contain expressions or structures that allow learners to keep simple conversations such as ordering food or asking for directions.
Despite this inconvenience, Easy Spanish Step-by-Step is a good book if you're aware of what you're getting: a nice workbook with some short grammar explanations. If you combine it with self-studying and other support books or resources, this Spanish textbook will be an excellent tool for you.
Related Resource: