When learning Spanish, it's always tricky to find a good textbook for advanced learners. El Ventilador is a popular textbook that covers some tips and grammar topics for learners with an advanced level of Spanish. Since I worked with this book for a while, I wanted to provide you with an honest review that can help you make a better decision.
In short, El Ventilador is an excellent book for advanced Spanish learners because it provides you with vocabulary and grammar expressions to improve all your Spanish skills. Additionally, Spanish learners will learn different techniques that will help them learn and develop new words in Spanish.
The textbook has some wonderful learning features as well as some small quirks that I'll share with you in this review.
Learning Goals & Objectives
El Ventilador is an advanced Spanish textbook that focuses on providing the grammar elements to master the Spanish C1 proficiency level. In other words, you'll be learning expressions, grammar, and different techniques to have an advanced command of the Spanish language.
To achieve this goal, the book contains advanced grammar topics, popular idiomatic expressions that you can include in your vocabulary, and lots of activities to practice your writing, reading, speaking, and listening skills.
One thing that I like the most about 'El Ventilador' is the exercises. As an advanced Spanish learner, you're expected to be able to use your Spanish skills in different situations. Here you will no longer complete exercises as a way to memorize grammar and vocabulary, you actually have to produce Spanish that works for each situation presented.
Advanced students are always worried about being as fluent and natural as possible. Unlike other books, El Ventilador is always presenting you with useful connectors, expressions, and linguistics resources that you can use to make your conversations more natural.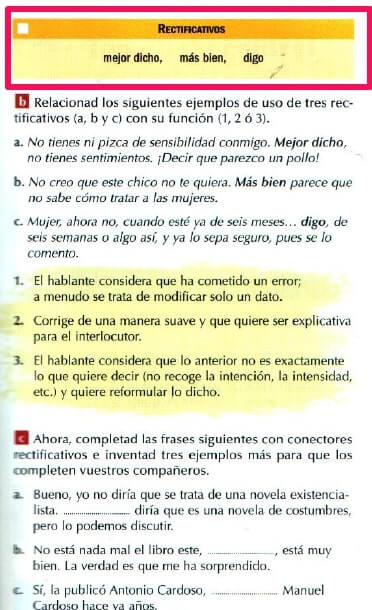 These resources are not only cool, but they also are super common and essential. Additionally, you'll also learn advanced grammar topics that will allow you to build complex sentences just as a Spanish speaker would.
As you may imagine, El Ventilador includes advanced Spanish topics. Therefore, you'll need to be an advanced Spanish learner in order to use this book. I personally like to use it with adults because it's often too dense for young teens and kids.
Even though it's not a rule of thumb, due to its organization and the conversation activities, this advanced Spanish textbook works better in a classroom or small Spanish study group.
Design & Learning "User" Experience
On top of having some awesome linguistic resources, 'El Ventilador' also has a beautiful design with images, different colors to highlight sections as well as important information, tables, and boxes with phrase structures. In this sense, this book is very friendly for the Spanish learner.
But I do have to confess: the first time that I worked with this book I felt overwhelmed and a little bit lost.
Why?
Because it doesn't follow the traditional layout where you complete the program going page by page and where lesson #2 comes before lesson #1.
In other words, El Ventilador doesn't have a single correct order to follow: the authors wanted to give teachers or learners the freedom to choose what combination of topics they want to learn first. However, you can find a suggested path at the end of the book.
Even though it seems chaotic, the book has some logic to it: you have 33 lessons divided into six big blocks that handle different Spanish skills. These are the contents that the teacher has the freedom to combine depending on the class's needs:
Saber hablar – It contains activities and resources to develop your conversation.
Saber gramática – Exercises and introduction to new grammar topics.
Saber cultura – Cultural topics based on Spain, it can include idioms and expressions.
Saber hacer – Provides you with resources to improve your communication skills (writing and speaking).
Saber palabras – Activities and techniques to learn and develop more vocabulary.
Saber entender – Exercises to develop your listening and reading comprehension.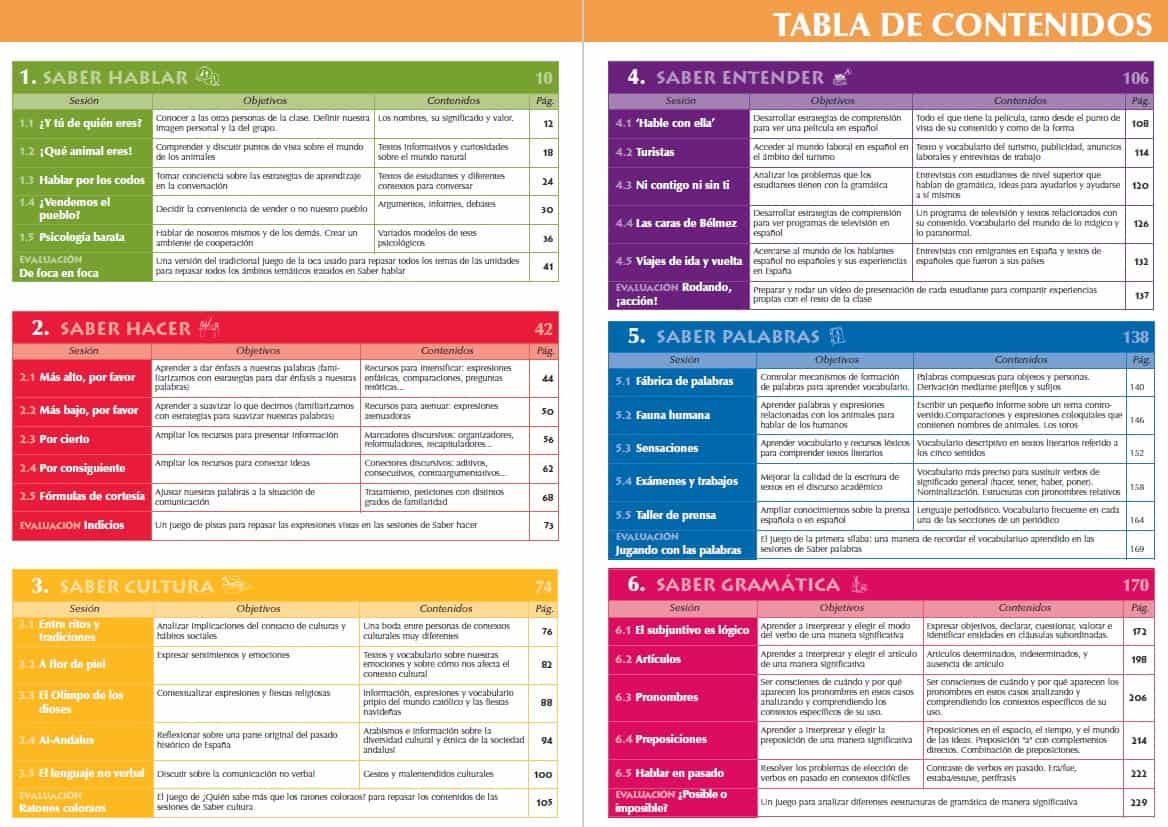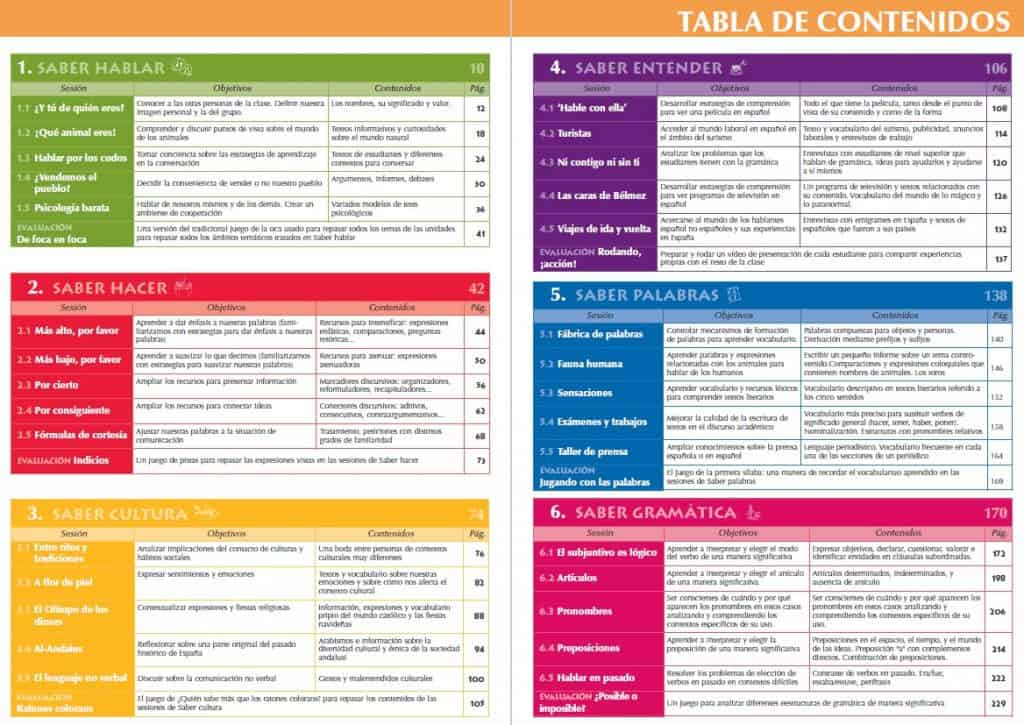 As I mentioned earlier, El Ventilador includes a lot of tables, phrase structures and cartoons that will make your learning process easier. You'll also have listening exercises to practice your comprehension, but to be honest most students find them a little bit boring and not useful for their conversations.
Contents
Most Spanish textbooks try to use standard vocabulary and grammar rules as much as possible. However, 'El Ventilador' has a significant Castilian Spanish influence that you can notice in the vocabulary and some conjugations. This shouldn't prevent you from using this book, it just means that you'll need to do some extra research to learn some local expressions for Latin American Spanish.
When it comes to the contents, you won't learn as much grammar as you did in previous levels. However, you'll get other resources for your Spanish skills. Here is an overview of the topics that you'll learn in this book:
Resources to intensify and soften your speech 
Discourse markers
Courtesy expressions for different contexts
Express feelings and emotions
Vocabulary for job interviews
Techniques to form new words in Spanish (prefixes and suffixes)
Subordinate clauses 
When to use and not use articles and pronouns
Subjunctive
The grammar explanations in this book are short and simple: they have the purpose to provide you with enough information so you can start applying the new concepts as soon as possible.
In most cases, you don't need to complete the information with other resources: you already know the basics of these concepts and you're just learning how to use them in advanced contexts. However, some topics may require the teacher to provide a more in-depth explanation.
As I mentioned earlier, the book contains a lot of conversation and comprehension exercises. This means that, in order to complete them, you need to reflect on the situation and the element that you can apply.
To be completely honest with you, I'm not a huge fan of the exercises in the Saber Hablar and Saber Cultura sections. They feel off-topic and not as useful as other sections.
Pros & Cons
After working and revising 'El Ventilador', I wanted to share with you some pros and cons.
Pros include:
It includes a CD with listening exercises and some videos as extra resources.
The lessons are meant to help you develop your reading, listening, writing and speaking skills.
Instead of teaching you lots of grammar, this textbook provides you with expressions and vocabulary to improve your communication and help you sound more natural.
All the exercises require the Spanish learner to analyze the context and use their Spanish knowledge.
As for learning aids, 'El Ventilador' includes tables, information boxes and phrase structures to make your learning process easier.
It provides different resources that advanced Spanish learners need to be more fluent.
Cons include:
It is heavily influenced by Castilian Spanish.
Since the book wants to give the teachers the freedom to organize their program, the book doesn't seem to follow a logical order.
Some sections of the book feel like fluff and they don't add much value.
The answer key can be found online or in the teacher's book.
Price & Where to Buy
Unlike other advanced Spanish textbooks, El Ventilador only has a printed version. In fact, this is great because all the content and the visual aids will be easier to use. Additionally, you won't run the risk of not receiving the CD's that come with the book which is pretty common with digital books.
Depending on the provider, 'El Ventilador' costs around $35 to $50 USD. But you can always check the most current price here. The price for this book is a little bit higher than other textbooks. However, it has so many resources that you won't find in other textbooks. 
Additionally, 'El Ventilador' just focuses on advanced topics. What I mean by this is that it doesn't take some lessons to review and refresh topics that you learned in the intermediate level as other books do. 'El Ventilador' jumps right into the topics and resources that you should know as a Spanish advanced student.
Of course, you'll be using some grammar elements that you learned throughout your Spanish learning process, but they will all be used in more advanced situations. Without a doubt, 'El Ventilador' is one of the three best advanced Spanish textbooks that you'll find out there.
Conclusion
El Ventilador is a Spanish textbook for advanced learners. As a result, all the concepts and resources presented in it are meant to help Spanish learners to perfect and improve their command of the language.
In this textbook, you'll learn different resources that will allow you to sound more natural when using your Spanish. As a teacher, I find the connectors and the expressions that this book has really useful and are imperative to add to your vocabulary.
On top of this, the exercises require learners to analyze the context and choose the best element which is pretty much what you'll do in real-life situations. Another thing that I like a lot about this book is its visual aids: you'll find tables, examples, and phrase structures that will show you the correct order that a sentence needs to follow.
El Ventilador is by far my favorite book for Spanish advanced learners. Since it has a lot of vocabulary and grammar elements that will improve your conversations, I highly recommend you to get it!
If you want to see other options before making a decision, I've written a post with the best advanced Spanish textbooks. Hopefully, you'll find the best resource to improve your Spanish command.