If you're about to start your Spanish intermediate level, it's very likely that you'll need to get a good textbook that helps you learn all the concepts and vocabulary you need. Intermediate Spanish Grammar is a Spanish textbook that will help you complete your intermediate level.
In short, Intermediate Spanish Grammar is an excellent textbook for intermediate learners. Students will review some basic concepts and learn advanced structures that allow them to perform at their level. Despite this, there are some downsides that I'll share with you in this review.
Learning Goals & Objectives
In Intermediate Spanish Grammar, you'll find grammatical topics and vocabulary that all Spanish intermediate learners need to know. In order to reach this goal, you'll be provided with grammar explanations and a set of different exercises to practice the new concepts.
Since the objective of the book is to help you get through your intermediate level, there will be a few lessons dedicated to simple and basic concepts that you may already know. Don't get frustrated! The purpose of this is to review your foundations and strengthen some topics that can be confusing for Spanish learners.
Unlike other Spanish textbooks, the exercises on Intermediate Spanish Grammar actually require you to think about what you learn and produce your answers. So for instance, in some cases, you'll have to look at a list of vocabulary and choose the best answer based on the context.
In other cases, you'll need to form words or complete sentences based on your knowledge. As a teacher, I like the exercises that challenge students a little bit more. That way you'll know you're learning exceptions and rules that will make you sound more natural and fluent in Spanish.
For many people, the Intermediate Spanish Grammar textbook can be challenging because it's written in Spanish. As a Spanish learner, it's good for you to be surrounded by Spanish as much as you can. When needed, you'll find some translations that will give you some context. So you shouldn't be too worried about this.
Additionally, the grammar explanations are short, use simple language, and have a lot of tables, examples, and cartoons to make things easier to understand. Based on these characteristics, this book is very appropriate for adults and young Spanish learners.
I personally like it very much for a classroom!
Design & Learning "User" Experience
Intermediate Spanish Grammar uses a simple design white-black with some blue to highlight important information such as vocabulary, translations or tables. As a result, it's very easy to identify the most relevant things on the page.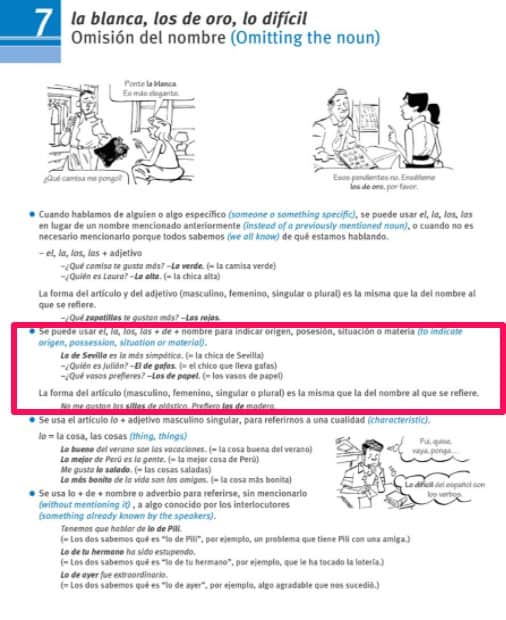 Most of the lessons include some tables, boxes with important information, and cartoons that will give you some extra context about the topic you're learning. I particularly like this simple design: it gives a good user experience without being overly distracting.
In addition, each exercise comes with a 'score box' where you can keep track of your correct answers. This Spanish textbook for intermediate learners includes 116 units or chapters, a vocabulary list, and the answer key for all the exercises.
Even though I like this book a lot, I have to admit that it would be much better if it had some listening and conversation exercises. Why do I care so much about this? Because most students can be brilliant when it comes to grammar and exercises. But they feel overwhelmed if they have to listen or have a conversation with someone.
So when you get this Spanish textbook (and with most textbooks in general), you have to put some extra effort to find ways to practice these skills. But overall, the book is easy to use.
Something else that you need to keep in mind is that if you already have a textbook by the same authors, you'll find that some topics and examples are the same. So before you buy it, make sure to compare it with their others just to avoid this overlap.
Contents
As I mentioned before, the Intermediate Spanish Grammar textbook is written in Spanish. Most of the vocabulary and the grammar rules are presented in standard Spanish; however, you'll find a small influence of Castilian Spanish in some words. Don't worry: Latin American people will still be able to understand you 🙂
Like many other Spanish intermediate textbooks, the first few topics of this book are a quick review of some of the concepts that you learned as a beginner. Additionally, you'll learn grammar structures appropriate for your Spanish level.
Here is a very quick overview of some of the topics covered in this textbook:
Different types of pronouns and their position in the sentence
Adjectives
Comparative structures
Relative clauses
Different uses of present tense
How to express the duration of an action
Gerunds and participles
Past tenses: uses and differences
Future and conditional tenses
Subjunctive: present and imperfect tenses
Express opinion
Indirect speech 
Each lesson is focused on a different aspect of a grammatical structure, as a result, the explanations tend to be more thorough and focused than other Spanish textbooks. It's up to the student to do some extra research but there's no need.
I would like to mention that Intermediate Spanish Grammar covers some nuances of grammar that other intermediate Spanish textbooks don't talk about and that is very common in Spanish conversations.
As a big plus, all the exercises are based on grammar explanations: so there's no chance for you to be guessing or wondering what's going on.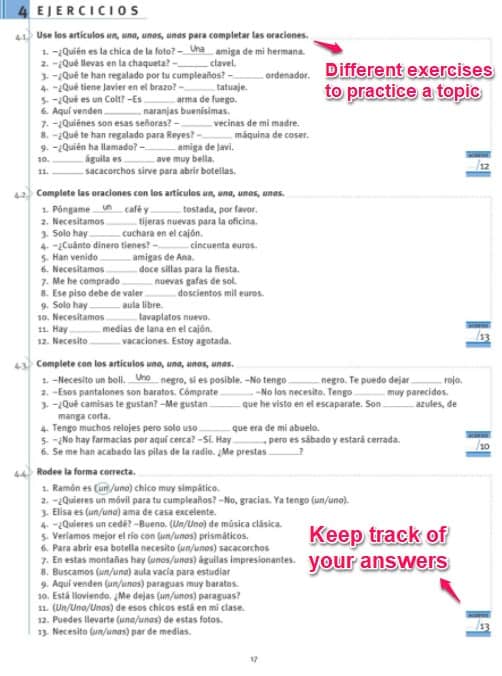 Pros & Cons
Here are some pros and cons that I noticed and that I think you should keep in mind too.
Pros include:
All the grammar explanations are simple and are focused on the particular element that you're learning.
The exercises require you to reflect on your knowledge and produce answers based on the context presented.
It has a simple design but still allows you to identify the most important sections.
The content is written in simple Spanish, but it includes some translations to give you a rough idea of the context.
They try to be as inclusive as possible: the vocabulary is standard and includes conjugations for both Latin America and Spain.
You'll find the answer key as well as some glossaries at the end of the book.
Each lesson has different learning aids: cartoons, tables, examples, etc.
Cons include:
If you have another textbook by the same authors, you may notice some overlaps. So the beginner lessons reviewed will be almost the same as their beginner textbook.
There are no exercises meant to develop your listening and speaking skills.
The lessons don't list the goals or context where you can apply these topics as other textbooks do.
Price & Where to Buy
If you're interested in getting Intermediate Spanish Grammar you can find it in a printed or ebook version. To me the printed version seems to be more appropriate since there are a lot of writing exercises to do and pages may be easier to find.
Depending on the version you want, the prices may range from $13 to $17 USD. You can always go to Amazon to check the most current price. For the amount of exercises you'll get and some grammar nuances that you won't find in other books, the price is more than fair and cheaper than other options.
I personally like this book a lot and if I had to compare it with other books, one of the main issues that I find is the lack of conversations and listening exercises. Additionally, all intermediate Spanish textbooks start by reviewing some beginner concepts.
However, if you have a beginner textbook written by these authors, you'll notice that the first few lessons are very similar and have the same examples. So keep that in mind if you already have a previous level with them.
Conclusion
As its name suggests, Intermediate Spanish Grammar is a textbook for Spanish intermediate learners. Through this book, you'll find some lessons that will give you a quick refresher of some concepts that you learned as a beginner and you'll acquire more complex structures.
Some of the intermediate concepts that you'll learn in this book are different conjugations of the subjunctive, passive voice, imperative, past tenses, and some grammar exceptions and nuances that you weren't able to learn as a beginner.
One of the things that I liked the most about this textbook is that the grammar explanations are a little bit more complete than other books. Additionally, they just focus on one aspect before jumping to another topic. Some of these grammar topics cover rules or nuances that you won't find in other Spanish textbooks.
And since there are over 400 exercises, you'll have a lot of opportunities to apply what you're learning. The design of the book is very simple and it includes some colors so you can find things easier without being too distracting.
Overall, this one of the best Spanish textbooks for intermediates that I have found: it's great for a classroom, but it's also a perfect tool for self-taught learners. Before you make a decision, I reviewed the 3 best intermediate Spanish textbooks, so you can check other options and choose the best for you!