If you're searching for Spanish textbooks for beginners, it's very likely that at some point you'll bump into Madrigal's Magic Key to Spanish. Since this book is quite popular among Spanish learners, I want to provide you with an honest review of this textbook.
In short, Madrigal's Magic to Key to Spanish is a great resource for people that want to learn Spanish in a fast and easy way. As a result, you will only find relevant topics and grammar explanations.
Even though I love this book, it still has some small quirks that I'll discuss in this review.
Learning Goals & Objectives
Madrigal's Magic Key to Spanish is a textbook for young and adult beginners. It's main purpose is to teach people Spanish in just a few weeks. In order to do this, the author uses her own teaching method that she applied during all her Spanish teaching career.
Unlike other textbooks, Madrigal's Magic Key to Spanish doesn't jump into teaching right away greetings and simple expressions to introduce yourself. Instead, she starts by showing you some identical Spanish and English words. The purpose of this is to prove to you that you already know some Spanish.
This approach is fanatic because most of the time Spanish speakers feel overwhelmed with the things that they don't know. During this book, you'll find pronunciation, grammar and vocabulary information that you need in order to know Spanish.
Once you have learned the required information, you'll have examples so you can actually see how these concepts are applied. Then, there will be some exercises that you need to complete to reinforce what you just learned.
One important thing that I have to mention is that Madrigal's Magic Key to Spanish follows its own method. This means that you won't find the usual structure or organization that you may be used to seeing in most language textbooks. In other words, the author starts by teaching grammatical structures that will allow you to communicate better and faster in Spanish.
For many Spanish beginners, one of the most attractive things about this book is that it is written in English. As a result, the explanations and instructions are very easy to follow.
Design & Learning "User" Experience
One of the things that surprised me the most was the organization and structure of this book. As a teacher, I'm used to following programs that almost always have the same sequential order. In this book, you'll learn past and future tenses way before you learn how to use the present tense.
According to the author, knowing these tenses first will allow you to have richer and more natural conversations. And if you think about it, it's true: most of our conversations are directed to talk about the things you did or the things you want to do.
This Spanish textbook for beginners contains 45 lessons where you can find examples, activities and explanations related to grammar, vocabulary and pronunciation. Additionally, after the last lesson, the book contains a section with common expressions and vocabulary that you learned.
It provides you with the necessary tools so that you can start forming your own words and phrases. And thanks to its exercises, you'll get to practice your Spanish grammar and comprehension skills.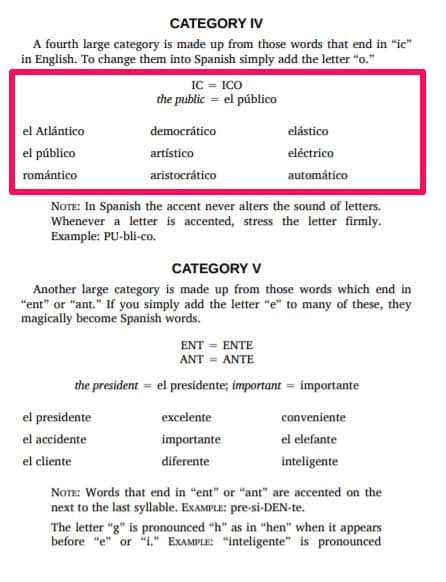 Even though it's a book full of explanations and vocabulary, this textbook is very easy and friendly to read. The grammar sections are explained with simple words and zero fluff. But when it comes to design, you'll find that this textbook follows a simple white-black design with some bolding and italics fonts to highlight important things.
Although there's nothing wrong with this, in some cases and depending on your version, it's difficult to identify the sections. For example, the conversation examples aren't presented very clearly. But once you get the hang of it, it's easy to follow.
Contents
As I mentioned before, this Spanish textbook is written in English. But the Spanish vocabulary and examples are presented in standard Spanish that you can use in different countries.
It's fair to say that the author is from Costa Rica. As a result, some of the vocabulary and expressions may have a small influence of Latin American Spanish.
If you're wondering what type of things you'll learn with this book, here is a quick overview of its contents:
Identical / similar words in Spanish and English
How to form sentences
How to form Spanish words from English words
Converting nouns into verbs
Conversations using past tenses
Converting English verbs into Spanish verbs
Greeting people
Future tense
Conjugating 'ar', 'er', and 'ir' verbs
Using 'ser' and 'estar'
Gerunds and participles
How to form and use the present perfect tense
Identify the most useful tenses in Spanish
Irregular verbs
Pronouns
Verb 'gustar'
Expressing fear, doubt and hope in Spanish
Give commands
Since the goal of this textbook is to help learn Spanish in a fast way, all of these topics include an explanation of the elements or concepts you may need as well as different activities to reinforce your knowledge.
The explanations from this book are easy to understand and simple to understand. In general, all the information provided in this book should be enough for you to learn the concepts presented.
Like many other books, Madrigal's Magic Key to Spanish applies these concepts to real-life situations. However, since the book has never been updated, some of the examples may no longer be applicable to our context. But you can still find a way to adapt them to your needs.
By teaching how to form words from English, this method will prevent you from memorizing and translating every word.
Pros & Cons
After reviewing and comparing this book with other Spanish textbooks for beginners here are some pros and cons.
Pros
You'll learn techniques to form Spanish words based on English.
Since the book is in English, the explanations and instructions will be clear for you.
Contains a wide variety of tasks and activities to improve your Spanish.
Reinforces the pronunciation.
It teaches you grammar and vocabulary that you need to have a Spanish conversation.
It provides you with different patterns that will make your learning experience easier.
Unlike other books, it focuses on one of the most important things for your Spanish learners: being able to communicate and understand others.
You can test your progress with quizzes.
It contains the answer key to the exercises.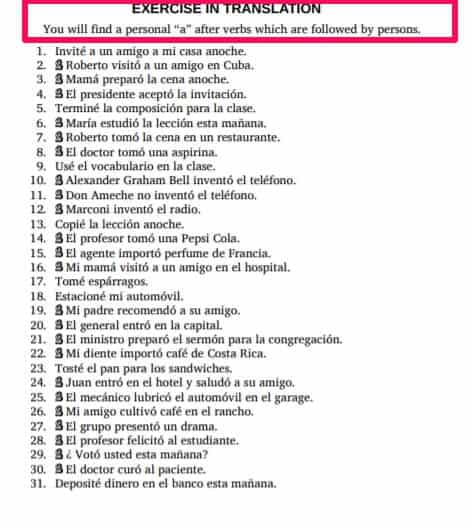 Cons
It hasn't been updated, as a result, you may find vocabulary or situations that are no longer applicable.
Some of the lessons can seem repetitive.
It has a black white-design, so it's not easy to identify what you're looking for when you first start using it.
It doesn't follow a sequential order.
All the exercises focused on your written, pronunciation and reading skills. Since there's no listening exercises, you'll need to train these skills with other resources.
It doesn't set specific goals or skills to be developed in each lesson.
Price & Where to Buy
You can find Madrigal's Magic Key to Spanish in a printed or digital version. Although it's up to your personal preference, I recommend you to get the printed version. That way you can use the book as a workbook and be able to write your answers right there.
Many Spanish students have pointed out that the digital version contains some spelling mistakes that can confuse you. You can also find some formatting and design issues that can make your learning experience less pleasant.
Depending on what version you're interested in, the price of this Spanish textbook for beginners ranges from $14 to $20 USD. You can check the current price for this book here.
Overall, this textbook keeps its promise and provides Spanish learners with tools and patterns so they can learn Spanish in a fast way. Compared to other books, it contains amazing vocabulary techniques that will increase people's confidence and comprehension skills.
Additionally, it only teaches you the grammar and vocabulary that you need to know to communicate with other Spanish speakers. So, unlike other Spanish textbooks, this book doesn't contain any fluff.
Without a doubt, this book is a perfect way to start learning Spanish. However, at some point, you may need to add more grammar structures and elements that are not mentioned in the book. If you want to reinforce your Spanish knowledge, there are other Spanish textbooks for beginners that you could try.
Conclusion
Madrigal's Magic Key to Spanish is an amazing Spanish textbook for beginners. The main purpose of this book is to help students to learn Spanish in a fast and easy way. So in order to do it, the author only uses the most important grammar structures and vocabulary that you would need to have a conversation.
Additionally, you'll find different lessons where you'll learn different techniques and patterns to increase your Spanish vocabulary. I believe this textbook does an amazing job showing Spanish learners their progress and the abilities that they've acquired (from the first page!).
Unlike other books, it doesn't contain listening exercises or conversation assignments. So if you really want to improve your Spanish, you'll need to apply your knowledge in a real-life conversation. Without a question, Madrigal's Magic Key to Spanish should be a must in every Spanish beginner library.
If you're still not sure if this is the best book for you, there are other Spanish textbooks for beginners that you can use to start learning Spanish.