If you're an intermediate Spanish learner looking for textbooks and resources, at some point you're bound to come across the Practice Makes Perfect Intermediate Spanish Grammar textbook. Since this book series is very famous among Spanish learners, I'd like to share with you my review of this textbook.
The Practice Makes Perfect Intermediate Spanish Grammar textbook is a good option for intermediate learners who want to reinforce some basic grammar structures and learn new and more advanced structures. In addition to including exercises, the textbook provides extra online resources.
Despite that this book has very good exercises, there are some details that could be improved and that I'll share with you in this review.
Before giving you more details about this textbook, rest assured that I personally reviewed the books and compared them with each other before making a final decision. All the items that I share with you went through a selection process so I can just show you the best.
Learning Goals & Objectives
As the title suggests, Practice Makes Perfect Intermediate Spanish Grammar is meant to teach different grammar topics that Spanish intermediate learners need to master. Even though you'll also acquire some vocabulary, the main focus of this book is improving your grammar skills.
Some Spanish students don't like to learn a lot of grammar, but the author explains that by mastering some structures you'll increase your confidence to speak Spanish.
In my opinion, you do need to learn grammar, but most importantly: you need to put it into practice as much as you can. So in this textbook, you'll find simple grammar explanations followed by two or three exercises to reinforce the topic.
On top of these exercises, this book also has an online language lab where you can find recordings and vocabulary quizzes, and flashcards for extra practice. In addition, you can also record yourself to practice your pronunciation. What I like about their online language lab is that you can keep practicing in a more interactive and entertaining way.
As I mentioned before, this Spanish textbook is for learners that are about to start their intermediate level. And since it's too grammar-focused it wouldn't be a nice option for kids. And even though you're going to be learning some complex topic, the book is written in English so you shouldn't have any issues understanding it.
Personally, I think that an intermediate learner should have more Spanish exposure, but I also understand that for some people it may be overwhelming to try to understand everything in Spanish. Unlike other books, this Spanish textbook can either be used in a classroom or for self-taught.
Design & Learning "User" Experience
Compared to other Spanish textbooks, Practice Makes Perfect Intermediate Spanish Grammar has a very simple white-black design. Although there's nothing wrong with this, I think some cartoons, images, colors or tables would make things easier to highlight or emphasize.
Due to its type of content and design, this book could get a little dense after a while. Fortunately, if you get tired, you can always turn to the online language lab. When it comes to the content, the topics are organized in sequential order so your learning process is progressive. In total, you'll have 20 lessons.
As I mentioned before, each lesson has a short grammar explanation and exercises. But now, I'd like to talk to you about the resources that you can find on the online language lab. In this tool, you'll find recordings and vocabulary exercises.
Although I like the interactivity of this online language lab, the audios are just recordings of a speaker repeating a sentence from the book. So they don't actually require you to do some listening comprehension, you get familiar with the pronunciation, but that's all. On the bright side, you can record yourself reading some sentences to practice your speaking skills.
When it comes to vocabulary, you can either work with flashcards to learn vocabulary or quizzes to test your progress. Even though the quizzes are simple, there's still a refreshing exercise that will help you measure your knowledge.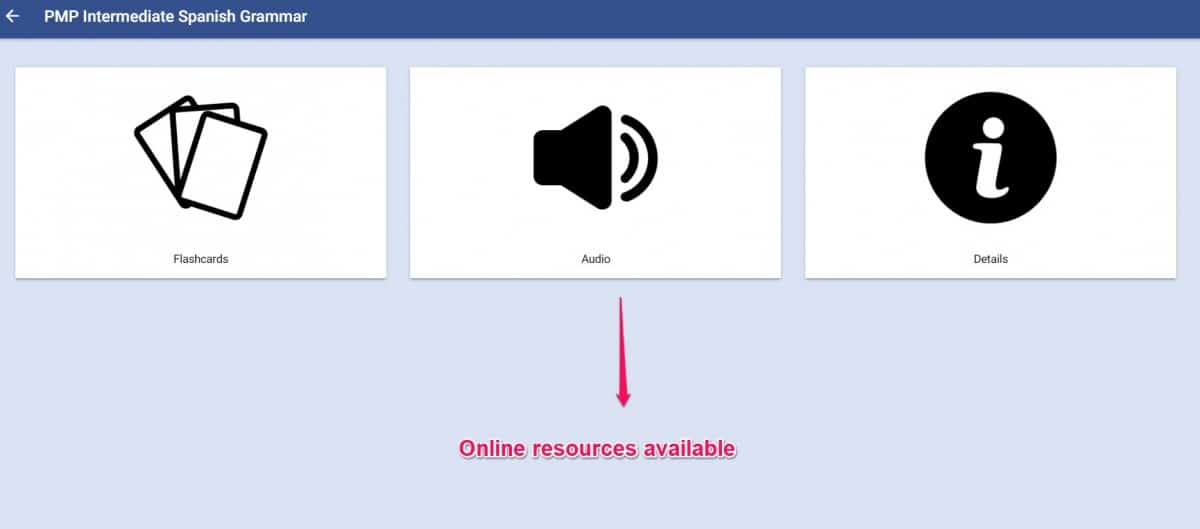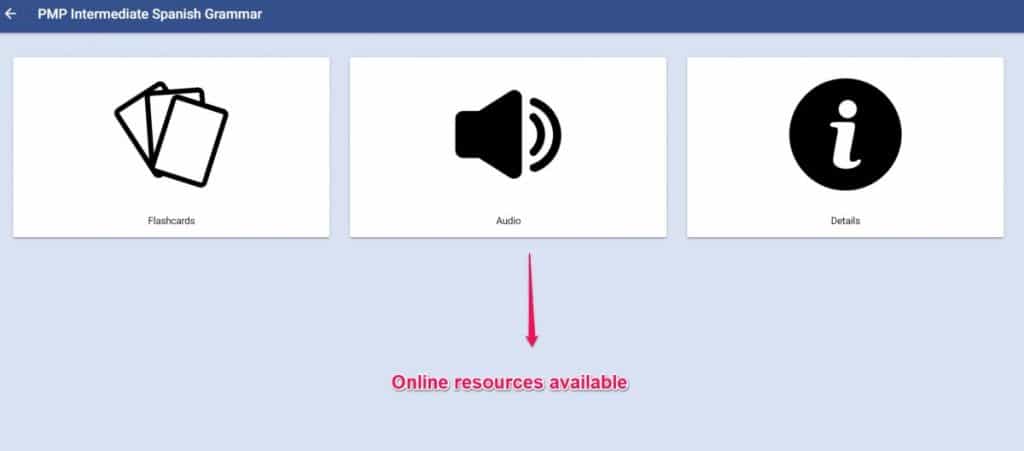 I like this book because it has different exercises that will help you improve your grammar and vocabulary. But it would be better if it had some listening comprehension and conversation activities.
Contents
Practice Makes Perfect Intermediate Spanish Grammar is all written in English with some examples and activities to do in Spanish. As a result, the vocabulary that they use is in standard Spanish and you may find a very small influence of Latin American vocabulary.
However, this influence is not too notorious and it won't affect your communication with other Spanish-speaking people. Like any other intermediate Spanish textbook, some of the contents of this book will be familiar to you. The purpose of this is to have a quick refresh of some essential topics that you learned as a beginner and that you'll need as an intermediate learner.
Here is a small summary of the contents that you'll find in this Spanish textbook for intermediates:
Present tense: regular, irregular, and reflexive verbs
Present progressive: gerunds
Demonstrative and possessive adjectives
Direct and indirect object pronouns
Preterite and imperfect tenses
Conditional conjugation: irregular and regular verbs
Uses of conditional tense
Past perfect tenses
Subjunctive: uses, impersonal expressions, present, and imperfect tenses
Probably half of the lessons of this textbook are taught to be a refresher of some beginner topics. When teaching intermediate level, I always like to do some reviews to make sure that the basic foundations are in place.
However, I think spending half of the book reviewing these foundations could be better invested in showing you some connectors, time expressions, and words that will allow you to be a more fluent speaker.
Fortunately, the grammar explanations Practice Makes Perfect Intermediate Spanish Grammar are very short because they want you to practice as much as you can. Depending on the student and the topic, these short explanations may require you to do some extra research to complete the information.
Pros & Cons
After reviewing this book and comparing it with other Spanish textbooks for intermediate learners, here are some pros and cons that you should consider.
Pros include
By getting this book, you'll have access to online resources that you can use to practice your vocabulary and pronunciation.
There are over 125 exercises so you can practice the concepts that you learn.
All the grammar sections are explained in English. I have mixed feelings about this: yes, it will be easier to understand, but you should also try to push yourself harder.
It's a textbook that you can use either in a classroom or as a self-taught tool.
The answer key is included at the end of the book. So you can always check your answers.
The exercises included are varied. So for instance, you'll need to complete sentences, conjugate verbs, translate paragraphs or choose the best option based on the context.
It does include some of the most important grammar points that an intermediate learner should know.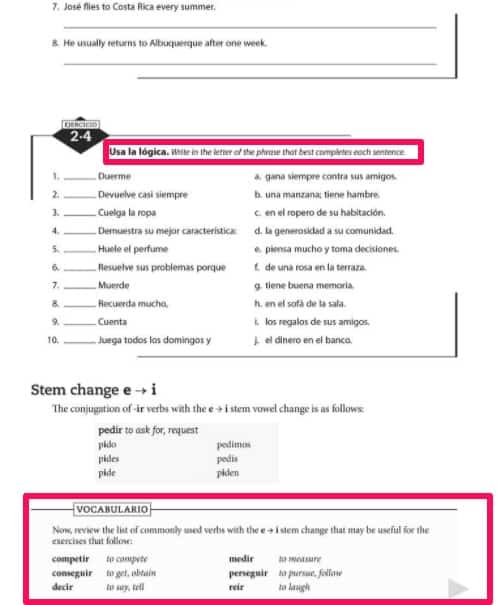 Cons include
It spends too much time reviewing some beginner concepts.
If you compare it to other intermediate Spanish textbooks, you'll find that it lacks some connectors, expressions, and grammar topics that will help you be more fluent.
You won't find listening or conversation exercises. Intermediate learners should practice these skills in order to have good Spanish communication skills.
At some point, you or your teacher will need to do research in order to provide a more in-depth grammar explanation.
Price & Where to Buy
Practice Makes Perfect Intermediate Spanish Grammar has a printed and an ebook version. Depending on what you want to get, you'll find that the price will range between $10 to $17 USD. You can always check its current price here.
Since you have a lot of exercises to do, to me it makes more sense to have the printed version. That way you'll have plenty of space to do your practice in the book and if you want to check some grammar explanations, you won't lose your page as easily as you may do on the digital version.
Compared to other Spanish textbooks for intermediate learners, the price of this book is very accessible. But keep in mind that this book focuses on grammar, so you may miss some other activities that can develop your other Spanish skills.
As a teacher, I always struggled to find good intermediate Spanish textbooks. In this case, Practice Makes Perfect Intermediate Spanish Grammar contains a lot of practice opportunities that other books don't have. That's probably why I liked it so much. Like the book says: practice makes perfect and an intermediate Spanish learner needs to practice as much as possible.
If you like or want to reinforce your grammar, this book is perfect for you. Just be aware that you or your teacher will need to do some extra work to provide listening and conversation activities and find more in-depth grammar explanations when needed.
Conclusion
Practice Makes Perfect Intermediate Spanish Grammar is a Spanish textbook for learners that are ready to start the intermediate level. In order to start with it, the first lessons will be dedicated to refresh and review some essential beginner concepts.
This is perfect if you haven't studied Spanish in a while or if some of the concepts you learned are not clear enough. In addition to this, you'll learn more advanced and complex grammar structures that you need to perform as an intermediate Spanish speaker such as imperative, passive structures, and subjunctive mode.
This book focuses completely on grammar. But it doesn't mean that the book is only for grammar geeks like me. It means that you'll have a textbook that will provide important Spanish structures and grammatical rules. So, yes, even if you don't like grammar this is a good book for you.
To your advantage, the grammar explanations are very short and are written in English. Additionally, the bulk of the content is the different types of exercises that will allow you to practice and test your knowledge. As a cool feature, you can also find some extra resources in an online language lab.
Even though they're missing a few things (listed in the cons above), overall, this is a good book that you can use to improve your grammar skills. I would recommend you to get it and find other resources to practice your listening and conversational skills.
If you want, you can also check some other Spanish textbooks for intermediate learners that I personally recommend. Just keep in mind that no matter what book you get, at this point of your learning process, it's time for you to practice as much as you can 🙂