If you're interested in learning Spanish and have heard about the Dummies book series, it's very likely that you'll come across the Spanish for Dummies textbook. Since these books are so popular, I wanted to check for myself how well the Spanish for Dummies book works as a Spanish textbook for beginners.
Spanish for Dummies is an amazing book to develop your conversational skills and will help you to go through daily-life situations that tourists will face such as shopping and being in a restaurant. The vocabulary presented in this book is focused on Latin American Spanish.
Although I find this book very useful, there are some quirks that I would like to share with you in this review.
Before we go any further, I would like you to know that all my reviews come from textbooks that I checked personally and that formed part of my top 20 books. Yup, I'm that picky as a Spanish teacher: I checked a lot of books, chose the bests and from those I chose the best. So be sure that my reviews are only things that I literally consider the best of the best 🙂
Learning Goals & Objectives
Spanish for Dummies is a Spanish textbook that is meant to help beginners or people that want to travel to Latin America and need some basic knowledge of Spanish. As a result, you'll learn grammar structures as well as how to deal with different situations that you may encounter when traveling.
As you may imagine, this is not the typical Spanish textbook that you'd follow in a class with lots of grammar and exercises. Although for some students this may seem discouraging, I actually find this useful and refreshing. Spanish for Dummies will provide you with some foundations and vocabulary that you can apply in different situations.
The point of this book is clear: they want to help learners to speak and understand Spanish very fast. For that reason, the activities are focused on vocabulary, grammar structures, pronunciation and conversation activities.
When it comes to exercises, you won't find many like you would in a regular Spanish textbook for beginners. As a teacher, I feel that having some exercises is necessary to practice and reinforce some concepts, but I understand that their objective is to help you talk. Instead, you'll find some crossword puzzles and word search games to practice your vocabulary.
Spanish for Dummies is a great textbook for young learners and adults that are interested in learning to speak Spanish fast. This book is meant for beginners but also for tourists that need basic Spanish foundations. So keep in mind that its goal is to develop your listening and speaking skills.
As a plus, all the explanations are in English, so it would be easier for you to understand the lessons.
Design & Learning "User" Experience
Like other books from the same series, Spanish for Dummies has a very simple design. However, they easily highlight some contents with italics or bold text. I do have to mention that, at least for me, the font is too small and since they have big chunks of text, sometimes it gets difficult to read.
To be fair I have to say that they include some tables, icons and cartoons to make things easier, but without a doubt the design could be more friendly (to be honest, I may be too used to working with colorful books).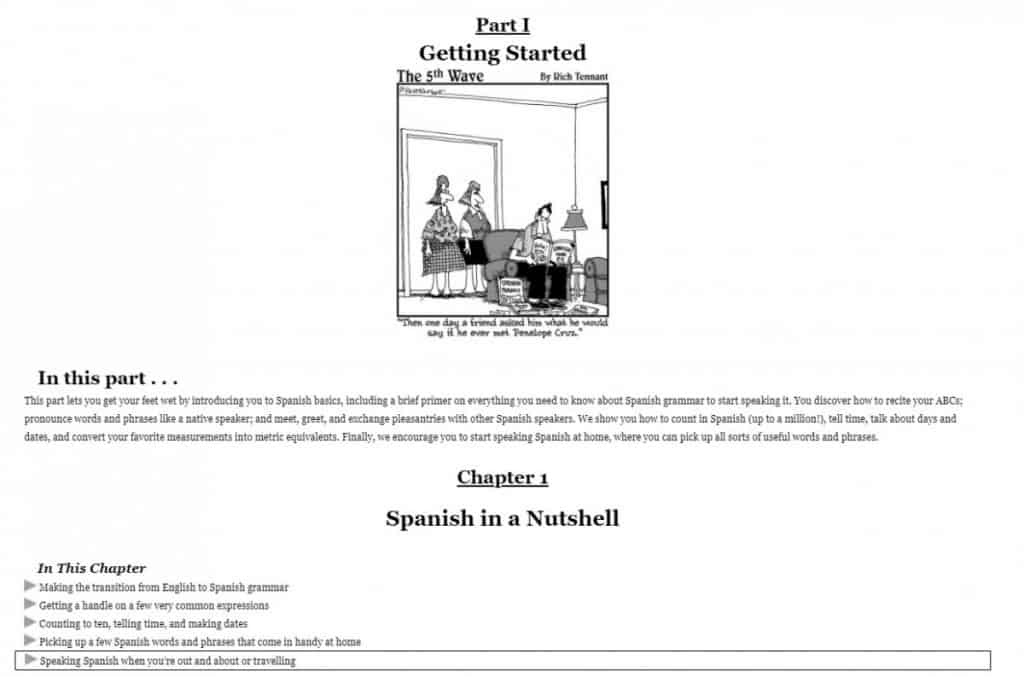 The Spanish Dummies book for beginners has 21 chapters and a few appendices. Even though it's not a typical grammar textbook, it follows some sequential order: the concepts they teach and the situations presented get more difficult as you go through the book.
As a book that is focussed on your conversational skills, the printed version includes a CD with listening exercises that you'll need to use along with the book. Additionally, you'll find some extra resources in the appendices such as dictionaries, cheat sheets, answer keys and verb tables.
One thing that I really like is the last three chapters.
Why?
Because I found them useful: one of them is dedicated to preventing you from making common mistakes, another contains the author's favorite Spanish expressions, and the last one, phrases to sound like a native speaker.
As a Mexican Spanish speaker, I'm telling you: we do use these expressions and I actually love them!
Contents
Unlike many Spanish textbooks for beginners that try to use standard, Spanish for Dummies focuses on Latin American Spanish and it has a big influence of Mexican Spanish.
Of course, the grammar concepts you'll learn will be useful in all Spanish-speaking countries, but the vocabulary will be more useful in Latin American. They do try to include some Castilian expressions and words, but there are not that many.
As I mentioned before, the purpose of this book is to help new Spanish learners to acquire communicative skills as fast as possible. Here is a quick overview its contents
Basic Spanish (alphabet + pronunciation)
Greetings and introducing yourself
Asking for directions
Eating out and buying food
Shopping
Getting around with local transportation
Phrase structure
Asking questions
Regular and irregular verbs
Uses of 'ser' and 'estar'
Spanish for your house
Basic verbs, including: 'ser', 'estar', 'hacer', 'tener', 'vivir', 'subir', 'bajar', 'querer', 'ir', etc. 
Making a restaurant reservation
Going to the market
Past tenses
Airport and making reservations
Handling health problems
As you may have seen, most of the topics presented are usual situations that you'll face when traveling to a Spanish-speaking country. For that reason, the book contains common phrases and vocabulary that could be handy for those contexts.
Since the book doesn't contain a lot of grammar exercises (they have a lot of conversation activities, though), they actually do a pretty good job explaining the concepts presented. If it's appropriate for the topic, they'll include some visual aids such as tables or examples.
Of course, some tricky grammar topics may require you to do some research and to find exercises to practice which is almost always the case with Spanish textbooks.
Pros & Cons
After reviewing this book, here are some pros and cons that I found and that could help you make a decision.
Pros include:
Depending on your preference, you can find a printed or digital version of the book.
It presents real-life situations that a tourist will likely or need to face. As a result, they provide you with vocabulary and structures to deal with these contexts.
If only to focus on the thing they promised: help you speak fasts.
One of the authors is Berlitz, a famous language school that specializes in helping people to develop their communication skills faster.
It includes how to pronounce phrases and words.


Cons include:
The digital version of the book DOES NOT include the CD.
Since it's based on Latin American culture, you won't be able to use the vocabulary you learned in Spain.
As a book that focuses on conversation, it doesn't include a lot of written exercises to practice grammar concepts.
The book will be more ideal for people who are going to travel to Latin America.
The design is simple and the font can be difficult to read.
It focuses on your speaking skills, so it's very likely that you won't learn all the grammar elements and structures that you'd do with a course or another textbook.
Price & Where to Buy
Depending on the version you want to get, Spanish for Dummies' prices range from $10 to $15 USD. Here you can check the current price. Something to notice is that this book doesn't have a lot of written exercises, perhaps for that reason many students prefer to get the digital version. 
But by buying the digital version you won't have access to the CD files. So I recommend you to get the printed version: the book is meant to help you develop your communication skills and without audio you won't be able to do it.
Spanish for Dummies could easily be used as a conversation tool or just as a textbook for those who want to learn how to speak Spanish in some specific situations.
Conclusion
Spanish for Dummies is a book targeted for beginners or tourists with some basic knowledge that want to improve their communication skills. Since their main goal is to help you speak Spanish quickly, most of their contents include daily-life situations that you can face when being in a Spanish-speaking country.
Of course, it also includes some grammar topics that beginners need to know. However, it doesn't focus too much on these explanations and doesn't provide exercises to practice or reinforce these topics.
But this Spanish textbook does offer you great phrases and foundations to communicate better in Spanish. Compared to other books, the situations included are very easily applicable to your real-life situation: it's very easy to relate to them and to use the vocabulary provided.
Something important to notice is that this book is especially focused on Latin American Spanish, so it may not be very useful if you're planning to travel to Spain. To put it in a few words: this book is perfect for those people that want to speak fast in daily-life situations and great for tourists preparing for a trip abroad.
I included it in my favorite books because it definitely can help people develop their speaking skills better than other textbooks. But if you want to complement the things you'll learn in this book with other methods, I also reviewed the best Spanish textbooks for beginners.
Hopefully, you'll find a book that fits your Spanish needs.
Related Resource: