Private 1-on-1 Lessons
Here at Tell Me In Spanish, we have three different Spanish levels: basic, intermediate, and advanced. As a result, each level has its own topics and lessons. If you already have an idea about your Spanish language level, we'll start our tutoring sessions to match your pre-existing knowledge.
If you're just starting learning Spanish, your online tutoring sessions will begin with Spanish 1, also known as Spanish for Beginners. It's also very common that some students just want to practice their speaking skills. If this is the case and the student has a good understanding of basic grammar, in their tutoring sessions, they'll learn vocabulary, idiomatic expressions as well as some Spanish elements that will help them have more natural and fluent conversations.
Additionally, if you want to practice Spanish for traveling, working, or any other specific subject, you can let me know, and I'll tailor your Spanish lessons for your particular purposes. If you're not sure what you're looking for, I encourage you to visit our Spanish 1, Spanish 2 and Spanish 3 pages, so you have a better understanding of the knowledge level of these classes.
Regardless of what your level is, my goal is to help you become fluent in Spanish :)!
How Our Spanish Lessons Work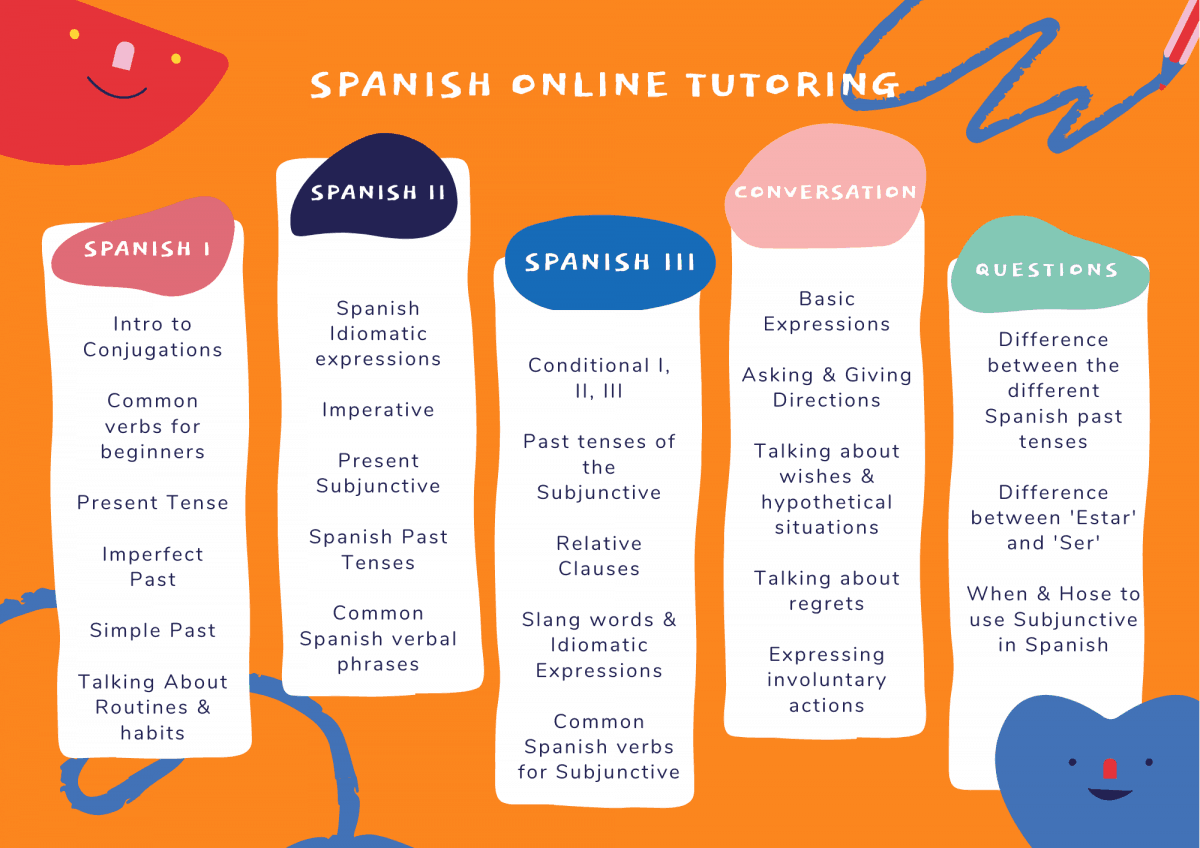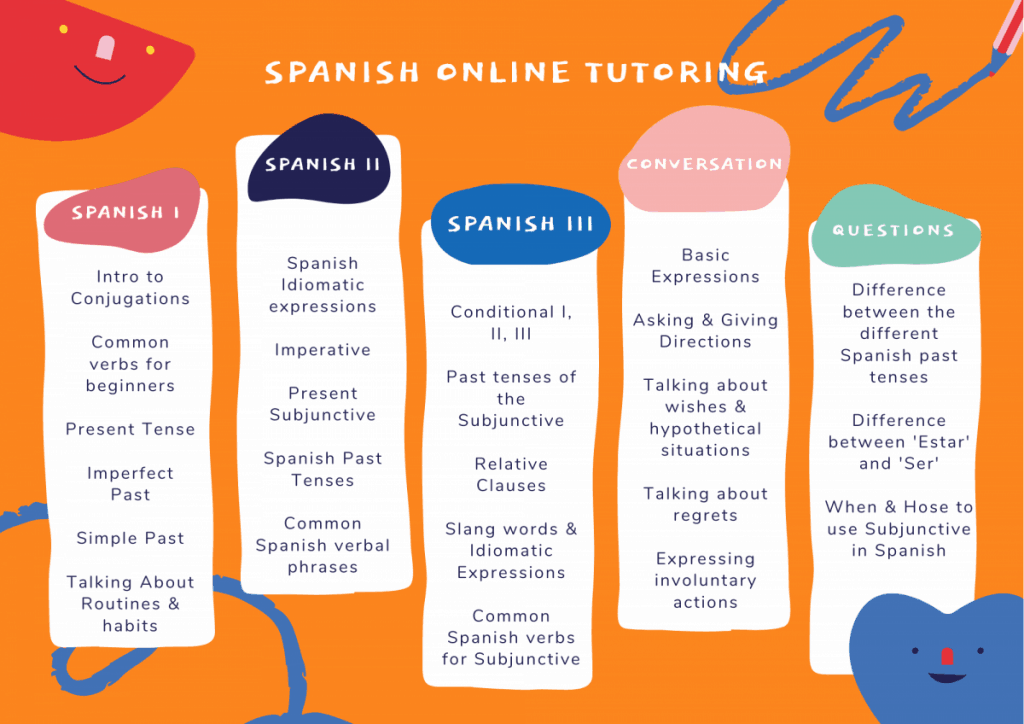 Our Spanish lessons take place over Skype or on another video call platform. Depending on the student's choice, the tutoring sessions have a duration of 30 minutes to 1 hour. In our first online Spanish lesson, we'll talk about your language learning skills goals as well as your expectations and experience with Spanish.
Learn Spanish Quickly and Effectively:
From the comfort of your own home
At your own pace
With the full attention of your tutor
Supplementary materials to help you practice daily, between lessons
Start speaking with others in Spanish as soon as possible
As a Spanish tutor, this information will give me a better understanding of your learning experience and how I can address your tutoring needs, so you reach your Spanish goals. Although we'll learn some grammar rules, all the Spanish lessons are meant to be practical. As a result, in every tutoring session, we'll have real-life conversations where you can apply what you're learning.
Depending on the topic we're studying, I'll likely ask you to do some homework for our next class. Don't worry, I won't ask you to make hundreds of lines about vocabulary and conjugations. Our homework will consist of exercises, useful vocabulary, and some blogs that you need to read to reinforce what we've learned. Remember: my goal is to teach you real and practical Spanish.
The first few minutes of every Spanish lesson consists of reviewing your homework by applying it to a conversation with me. And if you have some questions about a previous topic, we'll also address them in this moment. The rest of the class will consist on a new Spanish lesson. 
Although I encourage you to practice your Spanish with me as much as you can, we can speak in English every time you need it. But remember: as much as I love the idea, you're not here to help me with my English. You're here to speak Spanish 🙂
About Me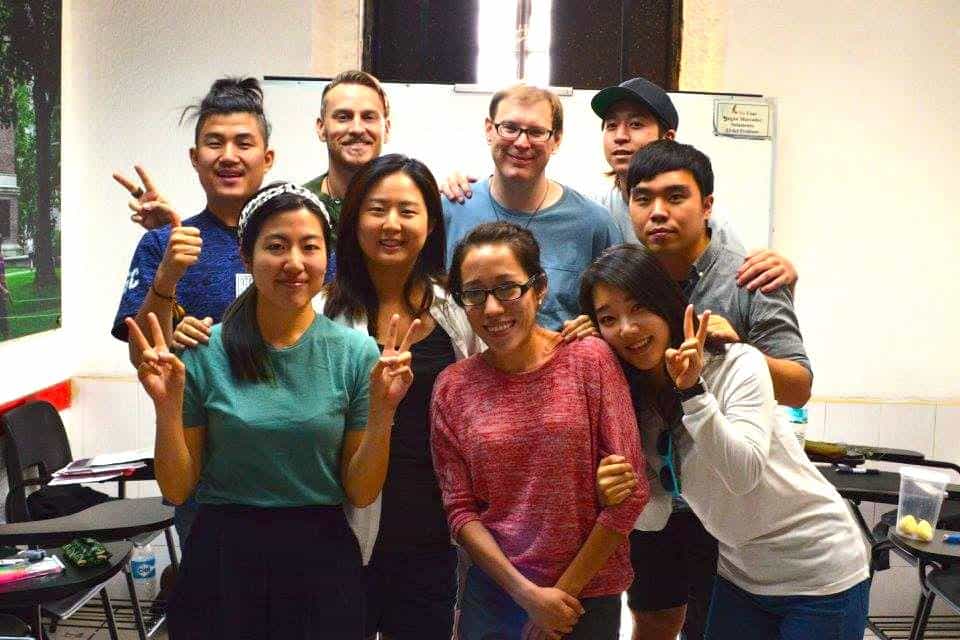 Hey there! I'm Daniela Sánchez and thanks to my Spanish Language and Literature studies, I became an ELE teacher (Spanish as a Second Language). For two years I worked in one of the biggest Spanish schools in Guadalajara, Mexico. There, I taught Spanish to a wide variety of foreigners. From students and tourists to doctors, business people and soldiers who've moved and visited here over the years.
During this time, I taught all the different levels of Spanish. Since our students had all types of objectives, I also had the chance to teach more specific Spanish courses such as Spanish for Customer Service, Spanish for Medical Attention, Spanish for Agriculture and the Aircraft & Aerospace industry.
These days, I'm the Editor and Author at Tell Me in Spanish and an online marketer. I believe that everybody can learn Spanish in a funny and easy way, that's why now I'm starting to offer Spanish private tutoring through Skype, Facebook, WhatsApp, and Zoom.
Time & Place: How to Book an Online Tutoring Lesson
If you're interested in learning Spanish with an online Spanish tutor, such as myself, go to the bottom of this page and fill out the form to sign up. Specify what days and times are best for you and we will follow-up on setting specifics for your lessons!
Here at Tell Me in Spanish, we offer online Spanish tutoring over a wide range of platforms such as Skype, WhatsApp call, Facebook call, Google Hangouts, and Zoom. Although we mostly work with Skype, you can choose the platform where you rather have your tutoring session! 🙂
Objectives & Goals
Through my career as a Spanish teacher and a second language speaker, I know how challenging learning a new language is. I'm also aware that Spanish learners want to see results as soon as possible. That's why my online tutoring lessons are structured to accomplish the following goals:
Help students all over the world improve their command of Spanish.
Provide Spanish learners with tools, expressions, vocabulary, and grammar that they can apply in real-life situations.
Customize my tutoring sessions to help students reach their particular learning goals.
Help students start having simple Spanish conversations from our very first tutoring session.
Teach students the key grammar topics that are most commonly used in daily Spanish.
Offer students fun, engaging, and easy Spanish tutoring lessons.
Provide students with Spanish idiomatic expressions and common phrases that they will need to engage in conversations with other Spanish speakers.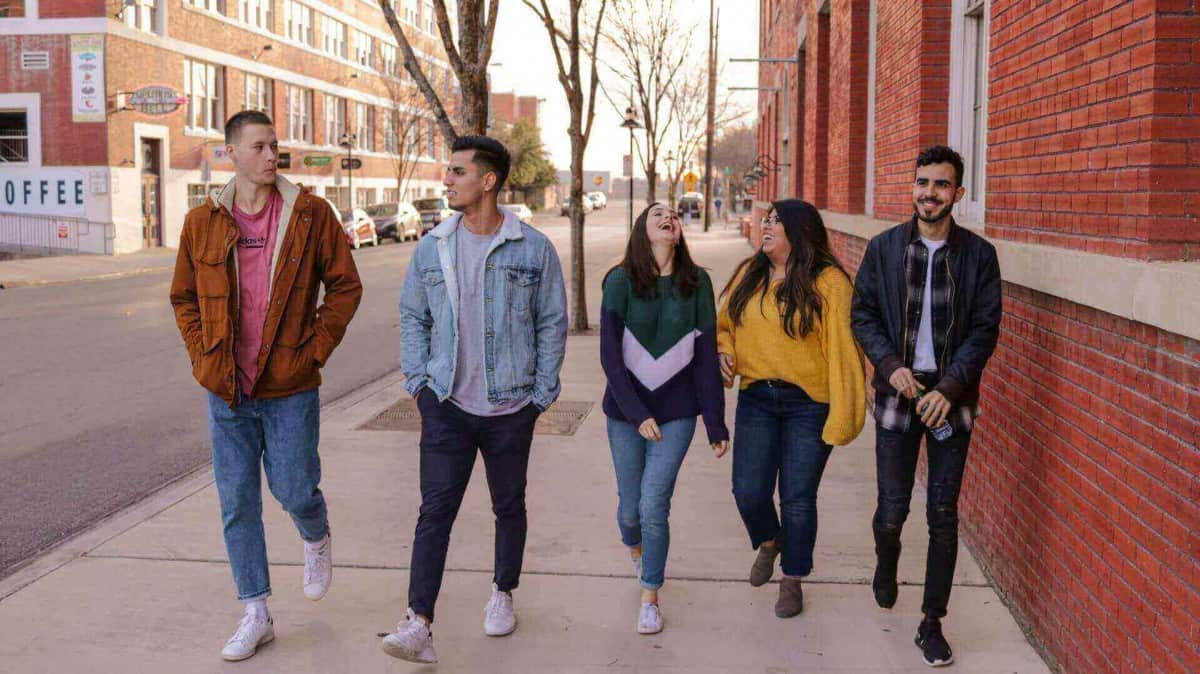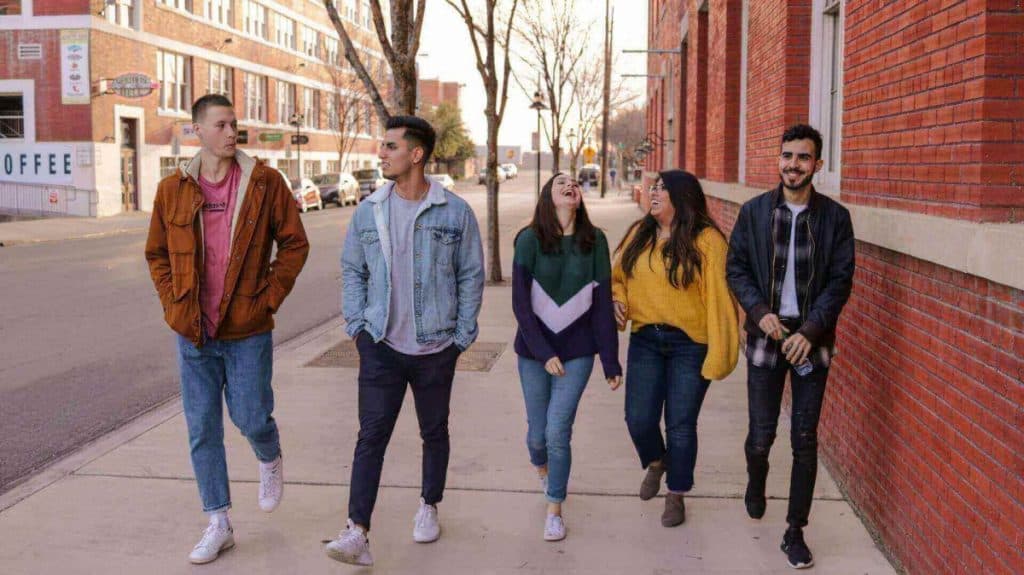 FAQs
How Much Do Private Spanish Tutoring Lessons Cost?
Depending on the tutor's years of experience and education as well as the student's requirements, the cost of Spanish lessons will vary. On average, a Spanish private lesson ranges from $15 – $40 hr.
Although there are lower rates available for private Spanish tutors, it's always better to invest in an experienced and well-prepared Spanish teacher that can help you improve your language skills.
At Tell Me in Spanish, our fees are $25 USD per hour and $15 USD for 30 minutes. Included in this price, you'll also receive study and practice materials to use throughout the week so that you can get the most out of each lesson and be ready to make even more progress during your following session.
How Long Does it Take to Learn Spanish?
According to some studies, learning Spanish takes around 600 hundred hours. However, learning a language depends on many factors, such as the attitude, the method, and the effort that people put on it. Spanish is no different. In my own experience, I've seen people become conversationally fluent in six months.
But watch out! Unlike most Spanish learners, these people immerse themselves in the language and take every opportunity they have to practice their Spanish in real situations. Some of them indeed lived in a Spanish speaking country for a while. But most of these people found ways to practice Spanish every day in their own countries.
Can you tailor the lessons to my Spanish class/college courses?
Yes. Over the course of my Spanish teaching experience, I've worked with people from many different backgrounds. Many of my students wanted to learn Spanish to be able to travel around the world, while others were doctors, engineers, business people, and students with specific objectives. As a result, my Spanish tutoring sessions needed to match their necessities.
Once we schedule our first class, we'll talk about your goals and the issues that you're having when it comes to learning Spanish. In this first session, we'll also discuss if you want your Spanish tutoring to be focused on one particular subject. Having this information will allow me to tailor your Spanish lessons so that you can reach your learning goals as quickly and effortlessly as possible.
What are the Advantages of Spanish Private Tutoring?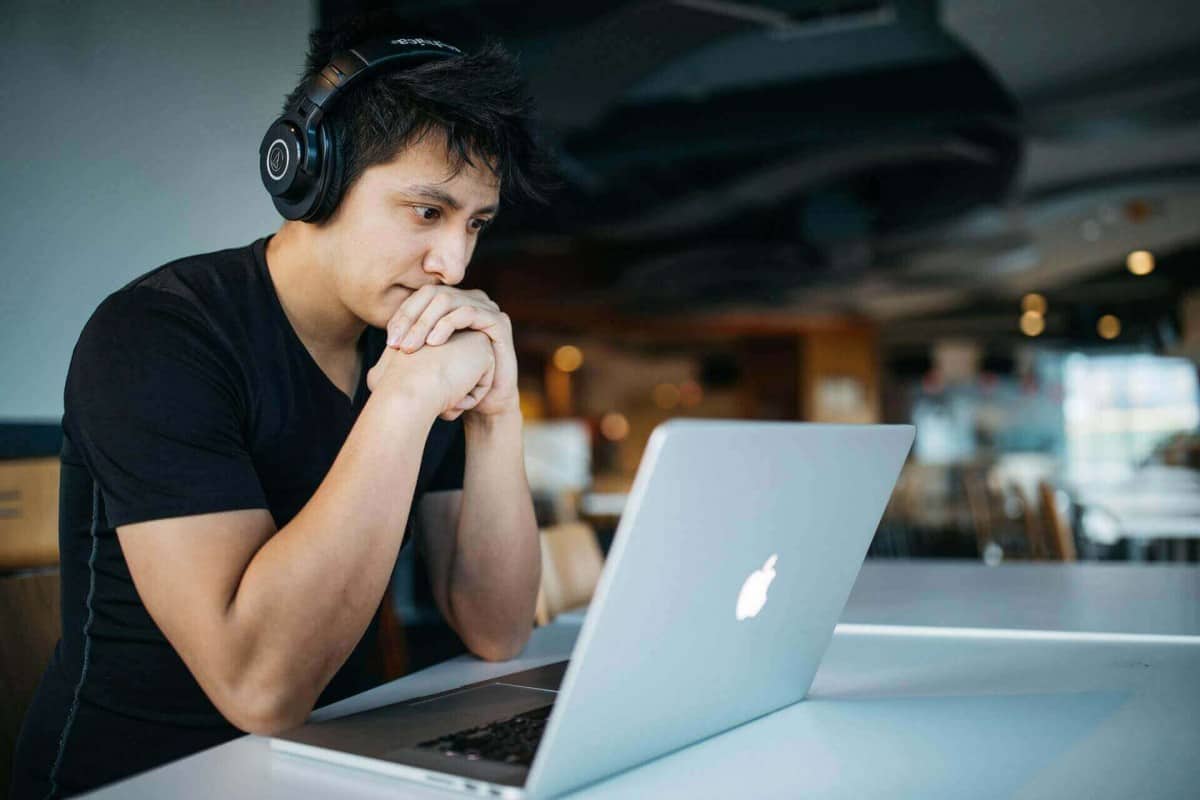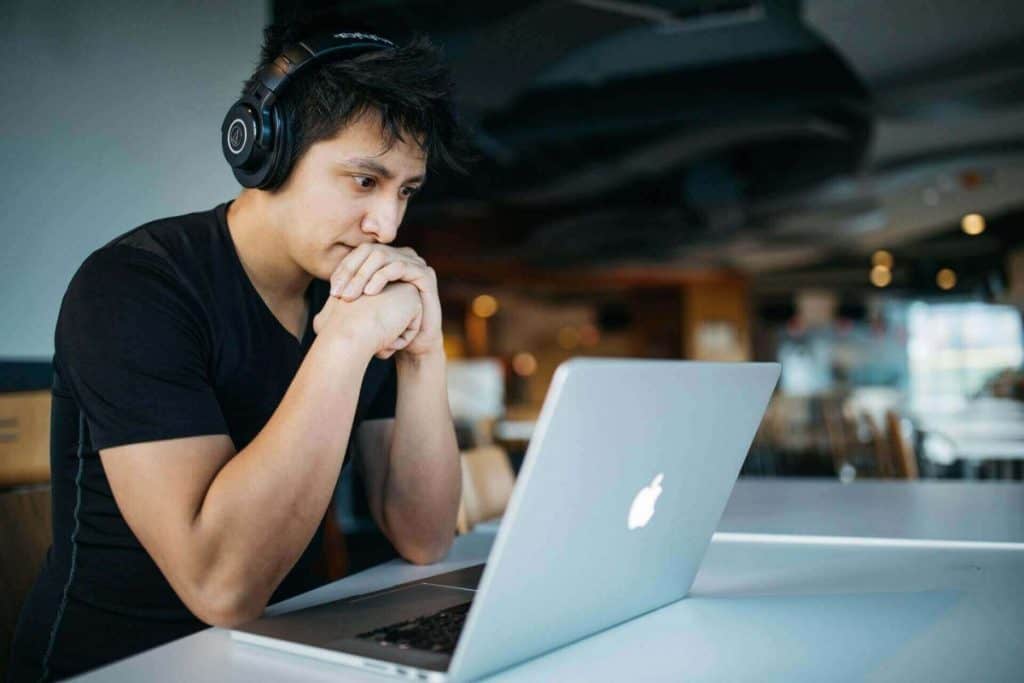 One of the main advantages of Spanish private classes is that the tutoring session can be customized to reach your specific goals. Additionally, the tutor's full attention will be focused on helping you improve your Spanish skills.
When taking private tutoring, many Spanish learners feel more comfortable to practice and ask questions, which will help them build and improve their command of the Spanish language. On top of this, you will also learn at your own pace without any distractions.
How Can I Become Fluent in Spanish?
The easiest way to become fluent in Spanish is to immerse yourself in this language's environment. This doesn't necessarily mean that you need to live in a Spanish speaking country. However, it does mean that you need to incorporate Spanish into your daily routine as much as possible. Here are some things that you can do:
Listen to Spanish songs and podcast
Watch movies and tv shows in Spanish
Read magazines or books in Spanish
Chat as much as possible with a Spanish native speaker or with other students
Learn idioms and slang phrases that you can incorporate to your vocabulary
How Can I Learn Spanish Fast?
Daily practice and conversations. There's no doubt that learning grammar and vocabulary will help you improve your Spanish knowledge. However, the key to learning Spanish fast is to practice what you learn in real situations. The best way to do this is to have conversations with Spanish speakers. But you can also watch TV shows or videos in Spanish. This will allow you to get used to the accents, the speed, the vocabulary and the way we apply grammar rules into real-life situations.
As a Spanish teacher and as an English learner, I know that putting yourself in real situations can be very daunting and somewhat intimidating. However, it's also the fastest way to absorb all the information you need. Learning the right amount of grammar and vocabulary, as well as practicing every day, will help you improve your Spanish skills very quickly.