When you start to learn Spanish, it's helpful to focus on acquiring basic vocabulary that allows you to hold simple conversations. Since clothing and accessories are part of our daily routine, in this guide, you'll find 85 words (including synonyms and variations) for clothes in Spanish.
You'll also learn some common words and expressions to talk about and describe your clothes. Here is an overview of what we'll cover:
List of Clothes in Spanish
Below you'll find Spanish words for clothing and accessories. This vocabulary has been broken down into different categories to make learning easier.
In some cases, Spain and Latin American Spanish may have different words for the same clothing. For those situations, I've included both options starting with the Castilian dialect.
Take Note: In Spanish, ropa is the word we use to say 'clothes', and we always use it in singular form. Prendas de vestir is a more formal term that means 'clothing'.
Basic Spanish Clothes
Below are some of the basic words for Spanish clothes:
El abrigo: Coat
La blusa: Blouse
Las bragas / Las panties: Panties
La camisa: Shirt
La camiseta: T-shirt
Los calcetines: Socks
Los calzoncillos / Los calzones: Underwear
La falda – Skirt
Los jeans / El pantalón de mezclilla: Jeans
El pantalón: Pants
Los pantalones cortos / Los shorts: Shorts
El pijama / La pijama: Pajamas
La ropa interior: Underwear
El sujetador / El brasier: Bra
El suéter: Sweater
El traje: Suit
El vestido: Dress
Los zapatos: Shoes
Me gusta el vestido azul.
I like the blue dress.
La blusa está sucia.
The blouse is dirty.
Necesitamos las camisas negras que te presté
We need the black shirts that I lent you.
¿Dónde está el calcetín del bebé?
Where is the baby's sock?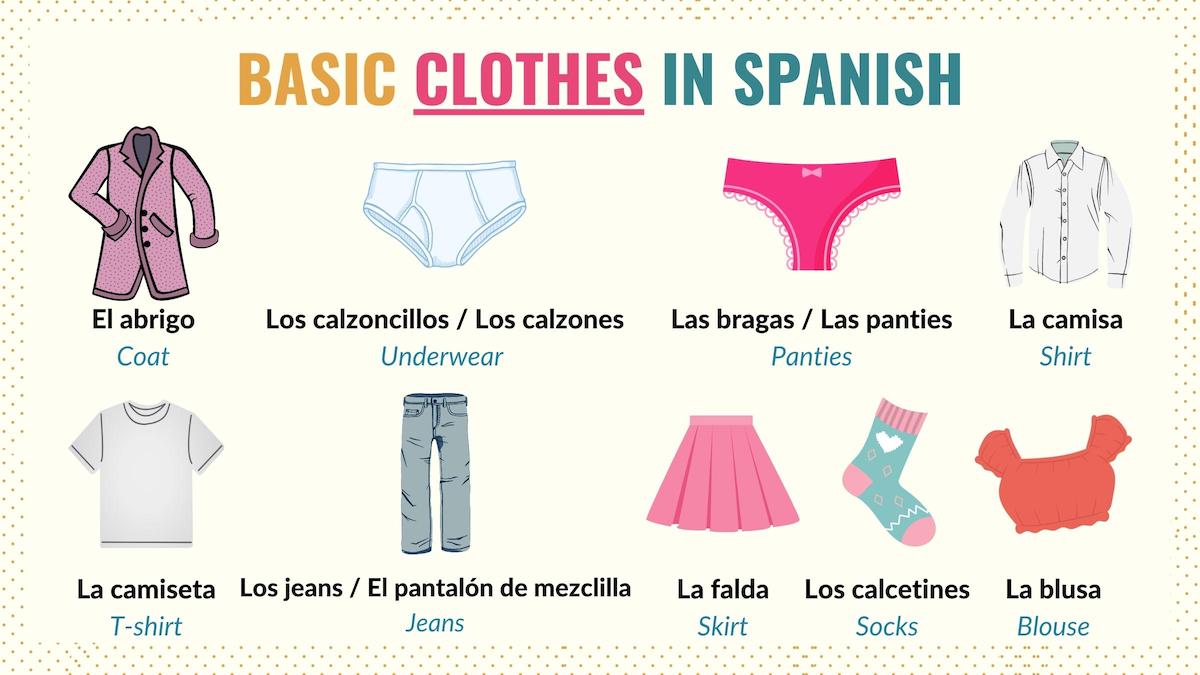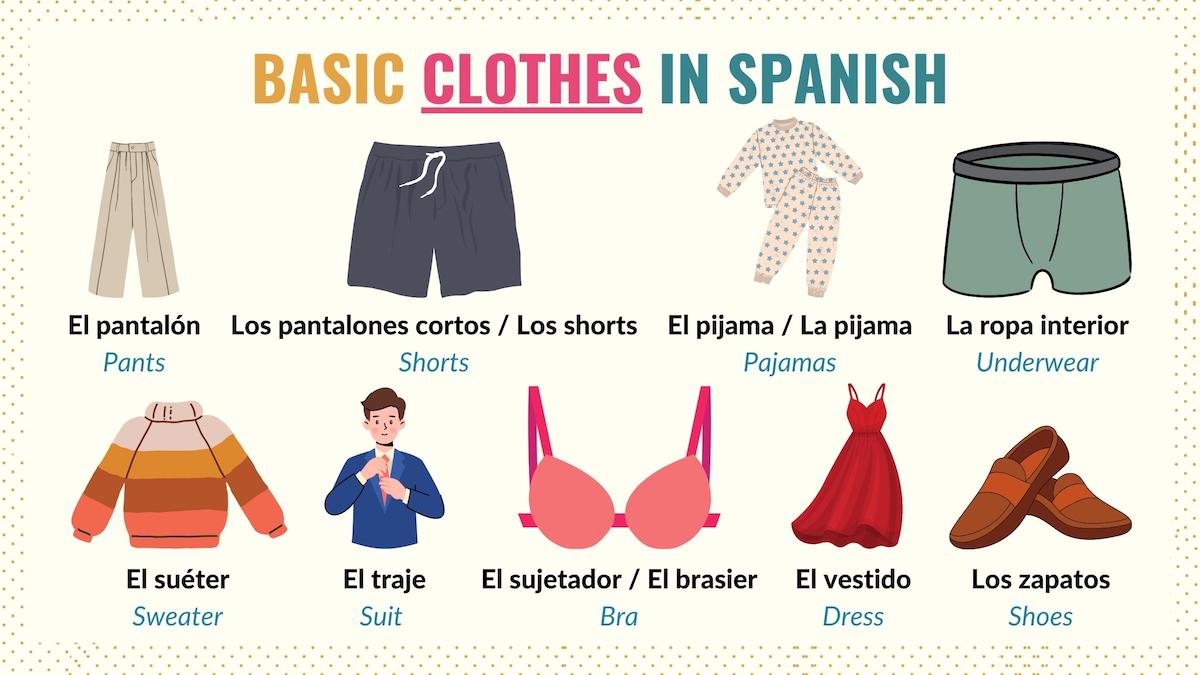 Take Note: Although the clothes vocabulary is preceded by a definite article in these examples, you can also use other Spanish determiners (such as numbers or possessives) with these words.
Clothes for winter, autumn and summer
Here is some additional Spanish clothing vocabulary for different seasons:
La camiseta sin mangas: Sleeveless shirt
El chaleco: Vest
Las chanclas: Flip-flops
La chaqueta / La chamarra: Jacket
Las botas: Boots
La bufanda: Scarf
El gorro: Hat
La gorra: Cap / Hat
Los guantes: Gloves
El impermeable: Raincoat
El sombrero: Hat
La sudadera: Sweatshirt / Hoodie
El traje de baño: Swimsuit
And here are some sentences applying these terms:
Se me olvidó el impermeable.
I forgot my raincoat.
La gorra de Mayra es azul.
Mayra's cap is blue.
¿Y el traje de baño? ¿Lo trajiste?
And the swimsuit? Did you bring it?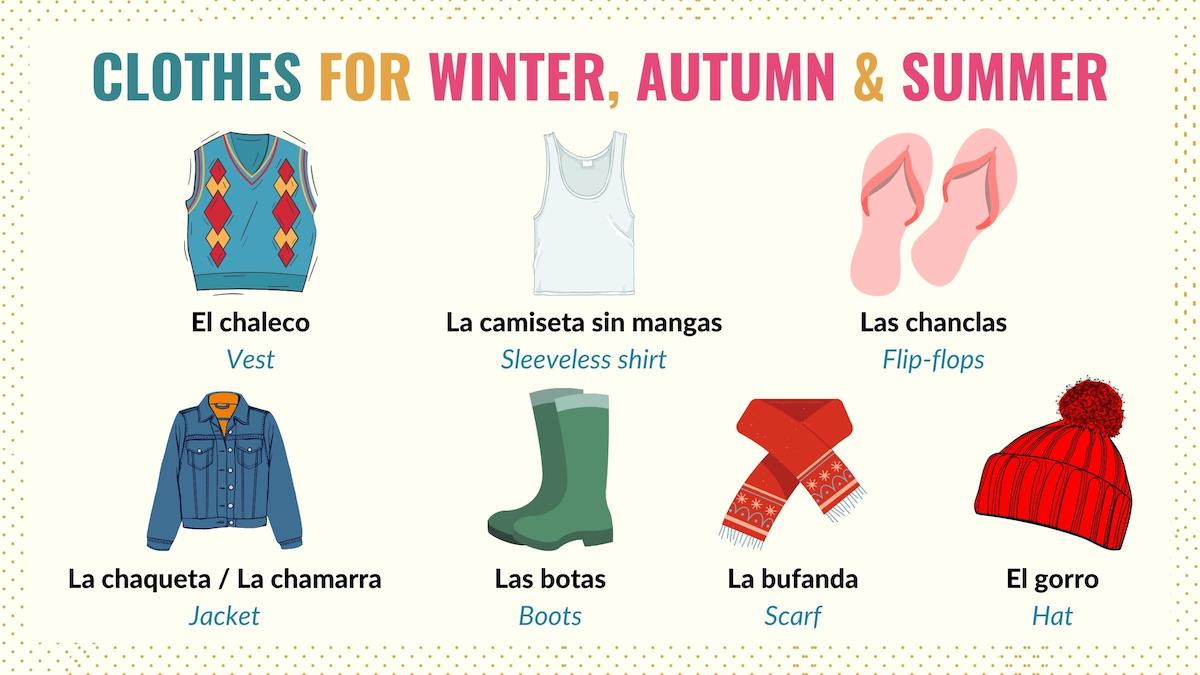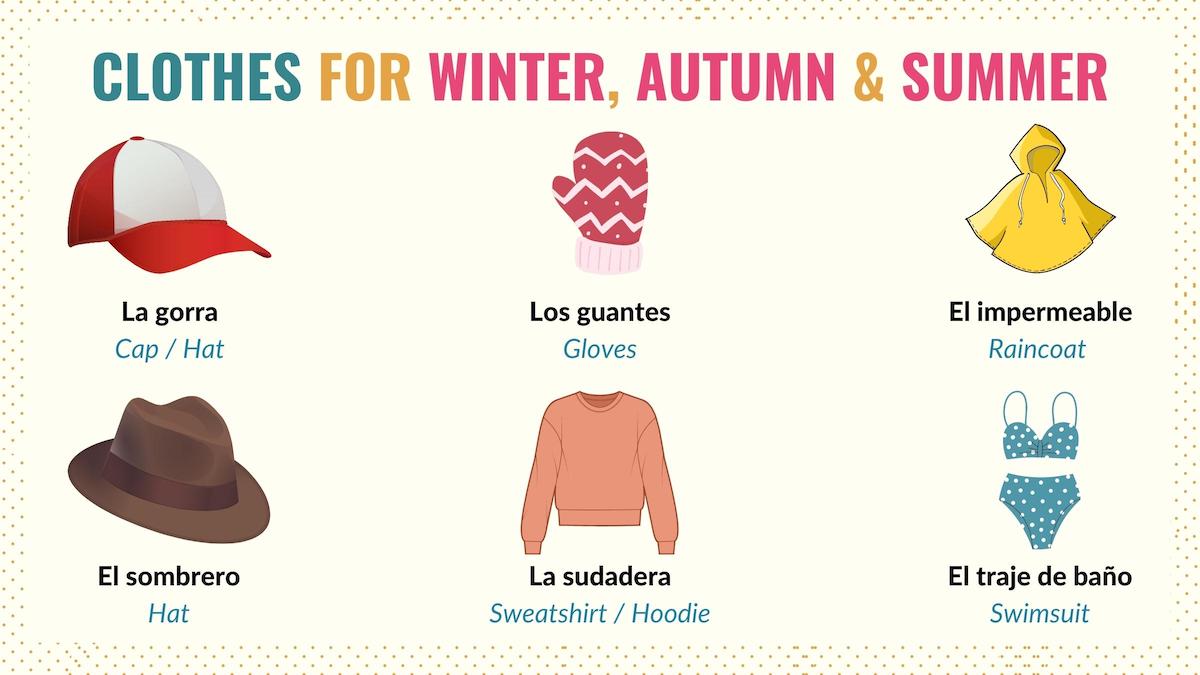 Accessories
El anillo: Ring
La bolsa: Bag / Purse
El brazalete / La pulsera: Bracelet
La cartera: Wallet
El cinturón: Belt
El collar: Necklace
La corbata: Tie
Las medias: Stockings
La mochila: Backpack
Los lentes de sol: Sunglasses
El paraguas: Umbrella
El pañuelo: Handkerchief
Los pendientes / Los aretes: Earrings
El reloj: Watch
El sombrero: Hat
Los tacones: High heels
Los tenis: Tennis shoes / Sneakers
Check these examples:
El paraguas está en el carro.
The umbrella is in the car.
Me gustan los aretes de Betty.
I like Betty's earrings.
¿Por qué no te pones el reloj que te regalamos?
Why don't you wear the watch we gave you?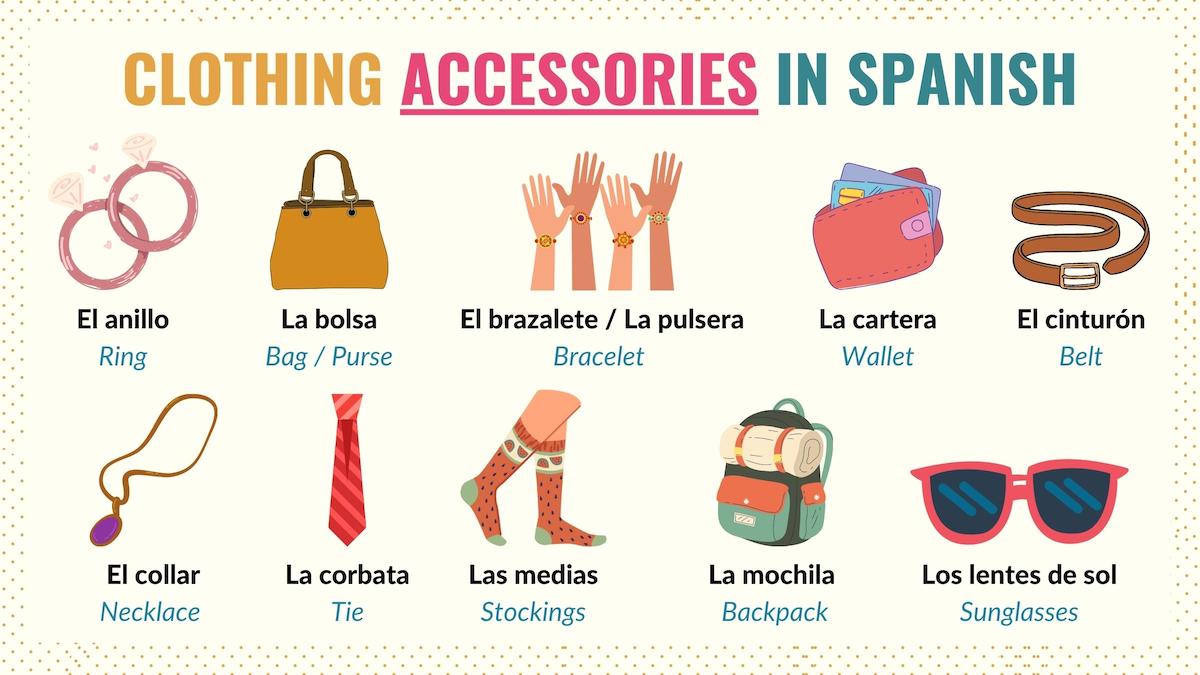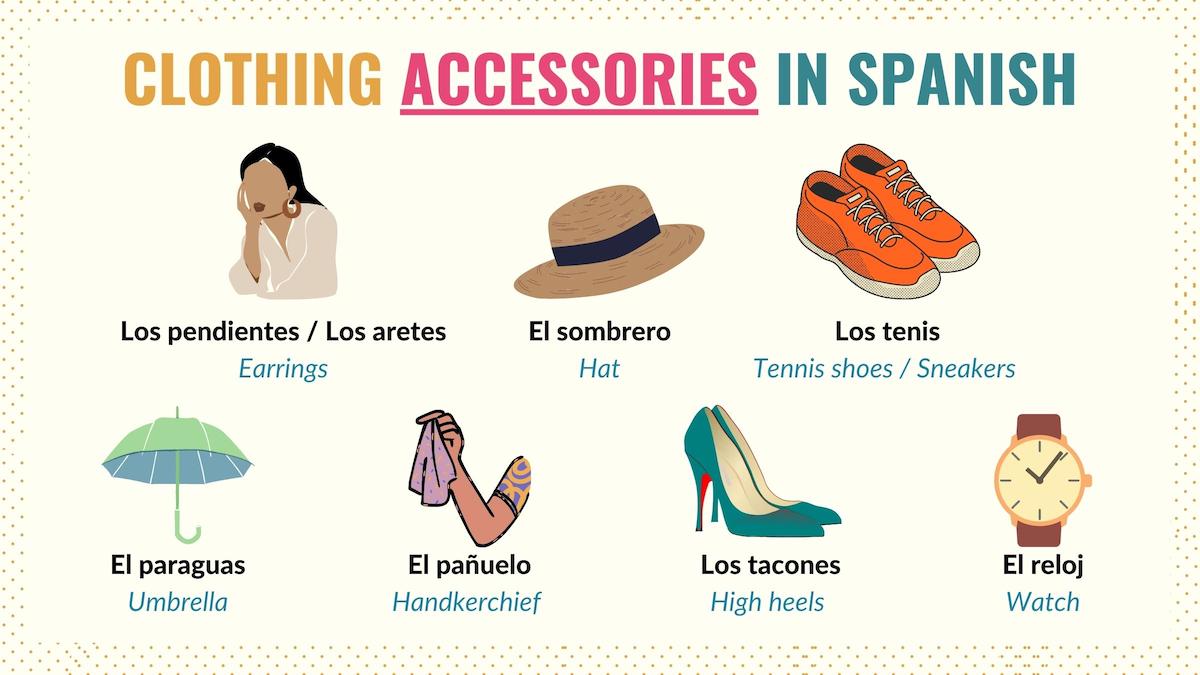 Words to Describe Clothes in Spanish
Now that you've learned some basic words for clothes in Spanish, let's check some verbs, adjectives, and expressions you can use to talk about these items.
Verbs:
Abrochar: To button
Apretar: To be tight
Cambiar: To change
Comprar: To buy
Colgar: To hang up
Doblar: To fold
Planchar: To iron
Ponerse: To wear
Probarse: To try on
Quedar: To fit
Quitarse: To take off
Usar: To wear / To use
Vestirse: To get dressed
Adjectives & Adverbs:
Ajustado / Apretado: Tight
Blanco: White
Bien: Well
Casual: Casual
Colorido: Colorful
Corto: Short
Elegante: Elegant
Estampado: Patterned
Largo: Long
Rayado / A rayas: Striped
Suelto / Flojo: Loose
On top of these adjectives, you can also use Spanish colors to describe your clothing.
La falda me queda muy corta.
The skirt is very short for me.
Ben nunca plancha sus camisas.
Ben never irons his shirts.
Lauren compró unos guantes rosas.
Lauren bought some pink gloves.
¿Colgaste el vestido rayado o dónde lo dejaste?
Did you hang up the striped dress, or where did you leave it?
In addition to these words, you can also use the structure de + noun to express the material of a clothing item:
[Clothing] + de + [noun]
Mi vecina tiene un vestido de seda.
My neighbor has a silk dress.
Quiero comprar unas botas de piel.
I want to buy some leather boots.
Take Note: Remember that Spanish adjectives change to match the number and sometimes the gender of the word they describe.
Next Steps to Learn Spanish
If you're a beginner looking to improve your Spanish, here are some of your next steps. First, learn the most common Spanish nouns and basic adjectives to describe and refer to essential items.
Gender and number are essential grammar rules you'll have to apply when using nouns and adjectives. As a result, you may want to check how to form plural words in Spanish and what the rules for feminine and masculine words are.
Just like adjectives help you describe nouns, Spanish determiners help you identify or make a noun more precise. So, make sure you know some of these words as well.
Finally, if you're serious about leveling up your vocab and conversational skills in Spanish, check out my Spanish Learning Kit here.
Download the Spanish Clothes Vocab PDF
If you're learning Spanish, knowing basic vocabulary such as the words for clothes in Spanish is a must. You can download a free copy of the PDF for this guide with all the vocabulary graphics for clothing.