Whether you are an advanced or beginner learner, knowing the different body parts in Spanish can help you describe yourself and explain physical discomfort, among other useful applications.
So, in this guide, you'll find:
In addition to real-life examples, I'll also provide you with audio so you can check the pronunciation of these words.
List of Body Parts in Spanish
Below is a list of terms for parts of the body in Spanish. These words have been classified into beginner and advanced levels.
As a quick reminder, here are some of the most common Spanish verbs used to talk about body parts: 
Doler: To hurt
Estirar: To stretch
Lastimar: To hurt
Rascar: To scratch
Quebrar / Romper: To break
Sonarse: Blow your nose
Tocar: To touch
Tener: To have
In the sections below, you'll see more examples of these verbs.
Take Note: Although they share the same translation, doler and lastimar have slightly different functions in Spanish. The verb doler (works like 'gustar') describes aches and pains, whereas lastimar refers to injuries.
Basic body parts
Here is a list of common body parts you must know:
Axila: Armpit
Barbilla: Chin
Boca: Mouth
Brazo: Arm
Cabeza: Head
Cabello: Hair
Cejas: Eyebrows
Cintura: Waist
Codo: Elbow
Cuello: Neck
Dedo: Finger / Toe
Diente: Tooth
Espalda: Back
Estómago: Stomach
Frente: Forehead
Garganta: Throat
Hombro: Shoulder
Labio: Lip
Lengua: Tongue
Mano: Hand
Mejilla: Cheek
Muñeca: Wrist
Nariz: Nose
Ojo: Eye
Ombligo: Belly button
Oreja: Ear
Pantorrilla: Calf
Pecho: Chest
Pesteñas: Eyelids
Pie: Foot
Pierna: Leg
Rodilla: Knee
Talón: Heel
Tobillo: Ankle
Uña: Nail
Tip: 'Frente', 'mano', and 'nariz' are feminine words in Spanish.
Check these sentences:
Mi papá se lastimó la espalda.
My dad hurt his back.
Sus ojos son azules.
Her eyes are blue.
Emma tiene unas pestañas muy largas.
Emma has such long eyelashes.
A nosotros nos duele mucho la cabeza.
Our head hurts a lot.
Charlie tiene una cicatriz en el pecho.
Charlie has a scar on his chest.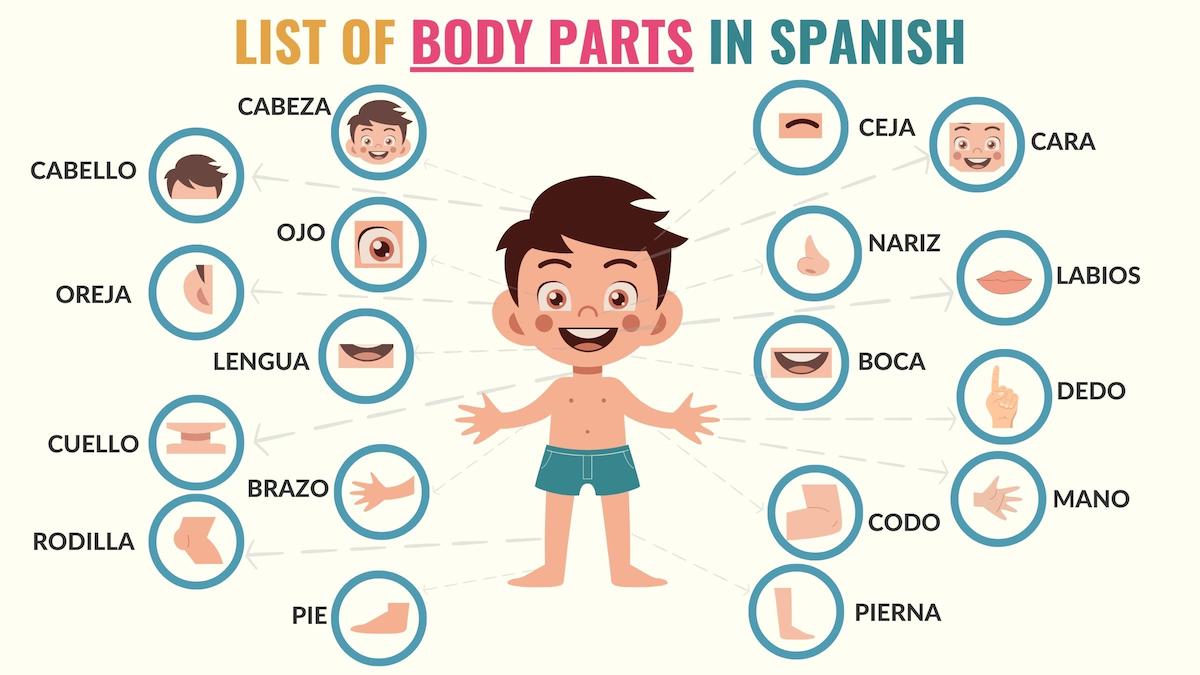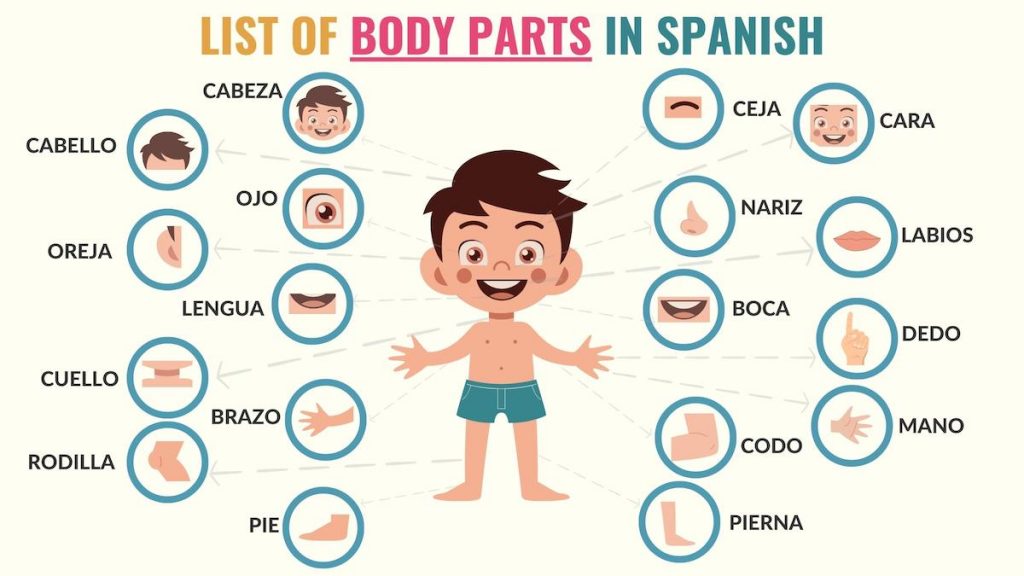 Take Note: In Spanish, we use more specific terms when talking about animal body parts. Some examples of these terms include cola (tail), pata (leg) and hocico (snout).
Advanced Spanish body parts
If you're ready to level up your vocabulary, the following list contains more advanced terms for external and internal Spanish body parts:
Antebrazo: Forearm
Bazo: Spleen
Cadera: Hip
Cerebro: Brain
Columna: Spine / Backbone
Corazón: Heart
Costilla: Rib
Cráneo: Skull
Clavícula: Collarbone
Encía: Gum
Espinilla: Shin
Hígado: Liver
Hueso: Bone
Ingle: Groin
Intestino: Bowels
Lóbulo: Earlobe
Mándibula: Jaw
Músculo: Muscle
Muslo: Thigh
Nudillo: Knuckle
Nuca: Back of the neck
Paladar: Palate
Párpado: Eyelid
Planta del pie: Sole
Pómulo: Cheekbone
Pulmón: Lung
Púpila: Pupil
Riñón: Kidney
Sien: Temple
Vejiga: Bladder
Vena: Vein
Here are some sentences:
Betty se lastimó las encías.
Betty hurt her gums.
Nunca me he quebrado un hueso.
I have never broken a bone.
Miriam está enferma del corazón.
Miriam has heart disease.
Ellas quieren tonificar sus músculos.
They want to tone their muscles.
Body Parts & Spanish Definite Articles
To sound more natural, there is a small grammar rule that you must keep in mind when using these terms.
Unlike English, in Spanish, we rarely use possessive adjectives when talking about body parts. With this set of words, we use definite articles (el, los, la, las) to express possession. Check these sentences:
Incorrect
Me doblé mi tobillo.
I twisted my ankle.

Cynthia se cortó su cabello.
Cynthia cut her hair.

Correct
Me doblé el tobillo.
I twisted my ankle.

Cynthia se cortó el cabello.
Cynthia cut her hair.
In Spanish, using possessives with body parts can be overly-repetitive. The verb conjugation, pronouns, and context are enough to indicate who that body part belongs to.
However, you must use a possessive adjective when:
Using the verb ser to describe body parts
It's unclear who you're talking about
Mi cara es redonda.
My face is round.
¿De qué color son tus ojos?
What color are your eyes?
Brian cayó rendido a sus pies.
Brian fell head over heels for her.
Bonus: Spanish Idioms with Body Parts
The following idiomatic expressions with body parts not only are great to practice these terms, but will also help you sound more natural:
Costar un ojo de la cara: To cost an arm and a leg
Dar la cara: Face the consequences
Dar la espalda: Turn your back on
Echar una mano: Give a hand
Estar hasta las narices / la coronilla: To be fed up
Hacer oídos sordos: Turn a blind eye
Meter la pata: Put your foot in it
No chuparse el dedo: Not be born yesterday
No tener pelos en la lengua: Not mince your words
No tener ni pies ni cabeza: To make no sense
Poner el dedo en la llaga: To hit a raw nerve
Quedarse de brazos cruzados: To sit back and do nothing
Ser uña y mugre: Be joined at the hip
Tener el corazón en un puño: Have your heart in your mouth
Tener entre ceja y ceja: Have it in it for
Tomar el pelo: Play for a fool
Traer algo entre manos: To be up to something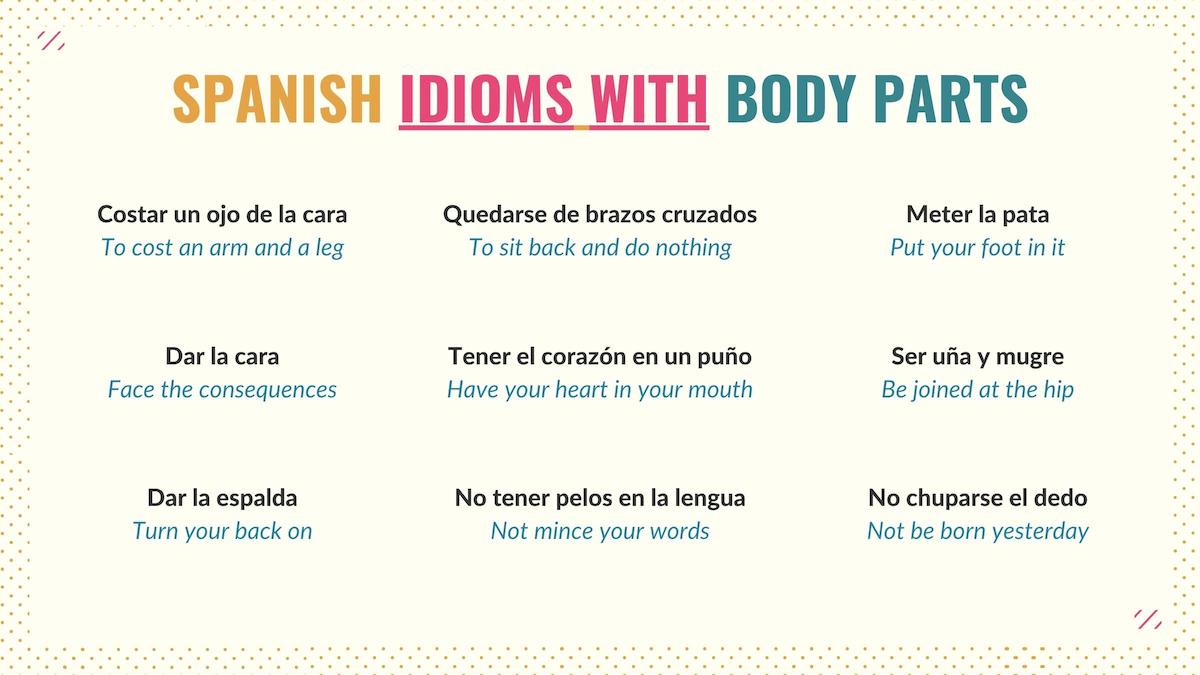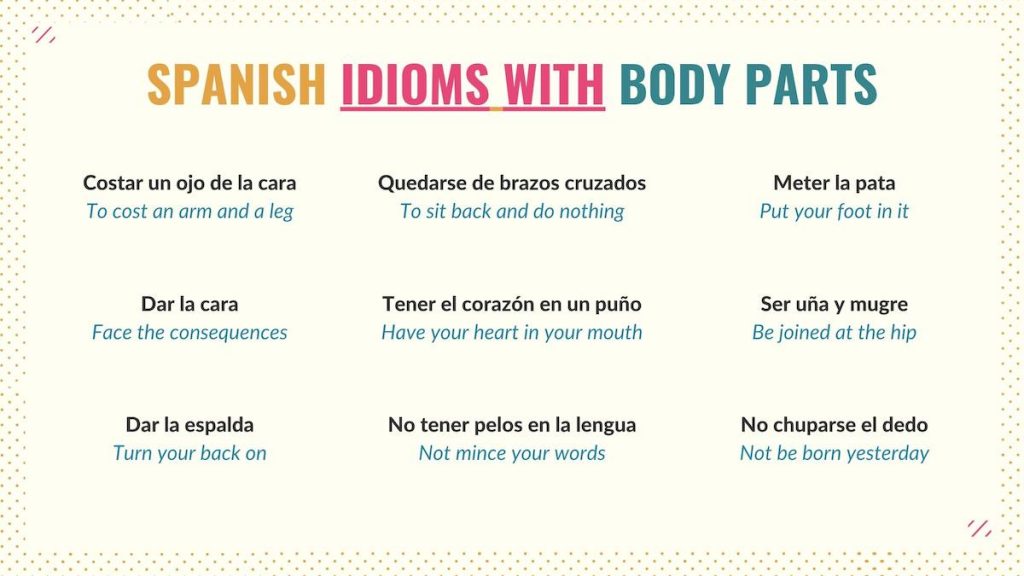 Spanish Body Parts Additional Resources
If you're serious about your Spanish, here are some additional resources to help you master this topic and improve your command of the language.
First, get familiar with the rules to form plural words in Spanish so you can use these terms correctly. Definite articles not only work with body parts, but also with different types of nouns. So, make sure you understand the rules to use these words.
To increase your vocabulary, check this list of basic nouns you must know.
Download the Body Parts in Spanish PDF
Memorizing all of the Spanish words for body parts can take a while. Feel free to download a copy of the PDF for this guide with a complete list of body parts in Spanish along with a visual graphic breakdown you can use to study and add more words to your vocabulary.