No matter your level of proficiency, Spanish greetings are often the very first thing you say when starting a conversation. Since salutations are so crucial in Spanish, in this article, you'll learn some common greetings you can apply to different situations.
Here is a quick overview of what we'll cover:
In addition to these phrases, I've also included some recordings so you know how to pronounce these Spanish greetings and goodbyes correctly.
Greeting People in Spanish
Below you'll find lists of phrases you can use for greeting people in Spanish based on the environment or situation. You'll also find the audio recordings so you can practice your Spanish pronunciation of these words and phrases.
Basic Greetings in Spanish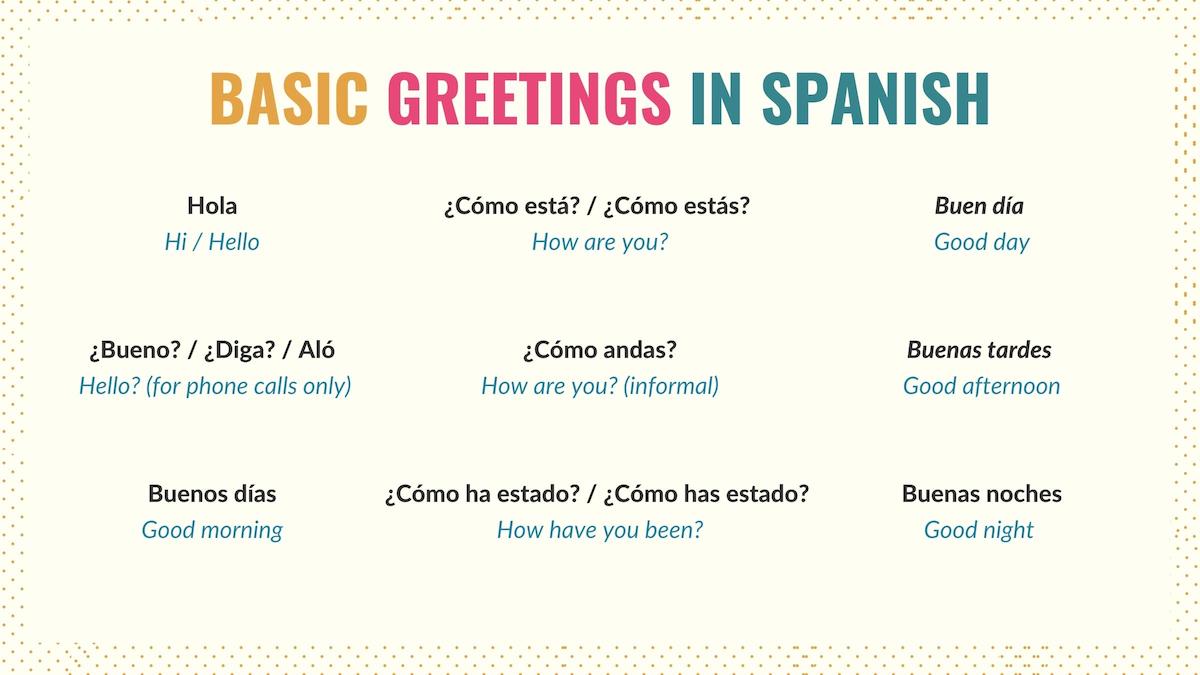 The most basic greetings in Spanish are:
Hola – Hi / Hello
¿Bueno? / ¿Diga? / Aló – Hello? (for phone calls only)
Buenos días – Good morning
Buen día – Good day
Buenas tardes – Good afternoon
Buenas noches – Good night / Good evening
From this list, hola is a slightly more informal greeting. As a result, you should use it in casual situations. You can also add the following basic phrases to your Spanish greeting: 
¿Cómo está? / ¿Cómo estás? – How are you?
¿Cómo andas? – How are you? (informal)
¿Cómo ha estado? / ¿Cómo has estado? – How have you been?
Take Note: Although they share the same English translation, ¿cómo está? and ¿cómo estás? are used to address a person formally or informally. These phrases are an example of what is known as informal and formal Spanish. Also, there are more expressions you can use to say good morning in Spanish.  
Spanish Informal Greetings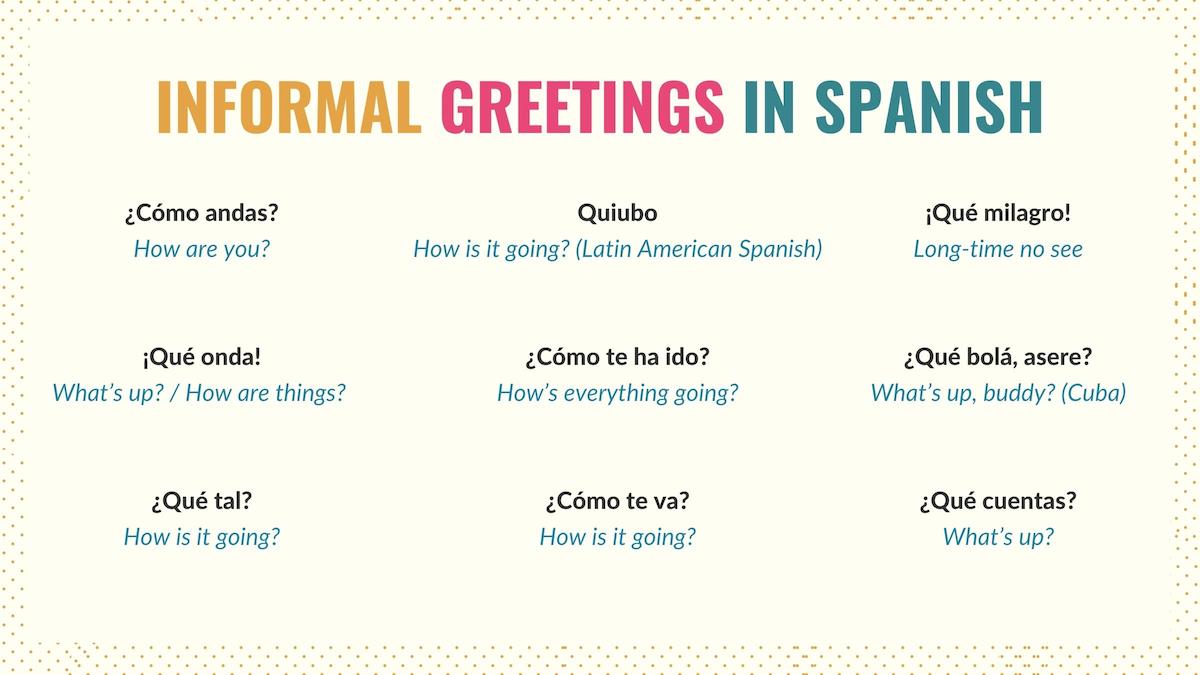 If you are greeting friends, family members, or acquaintances, you can use any of the following Spanish expressions and words: 
¿Cómo andas? – How are you?
¡Qué onda! – What's up? / How are things?
¿Qué tal? – How is it going?
Quiubo – How is it going? (Latin American Spanish)
¿Cómo te ha ido? – How's everything going?
¿Cómo te va? – How is it going?
¡Qué milagro! – Long-time no see
¿Qué bolá, asere? – What's up, buddy? (Cuba)
¿Qué cuentas? – What's up?
Spanish Business Greetings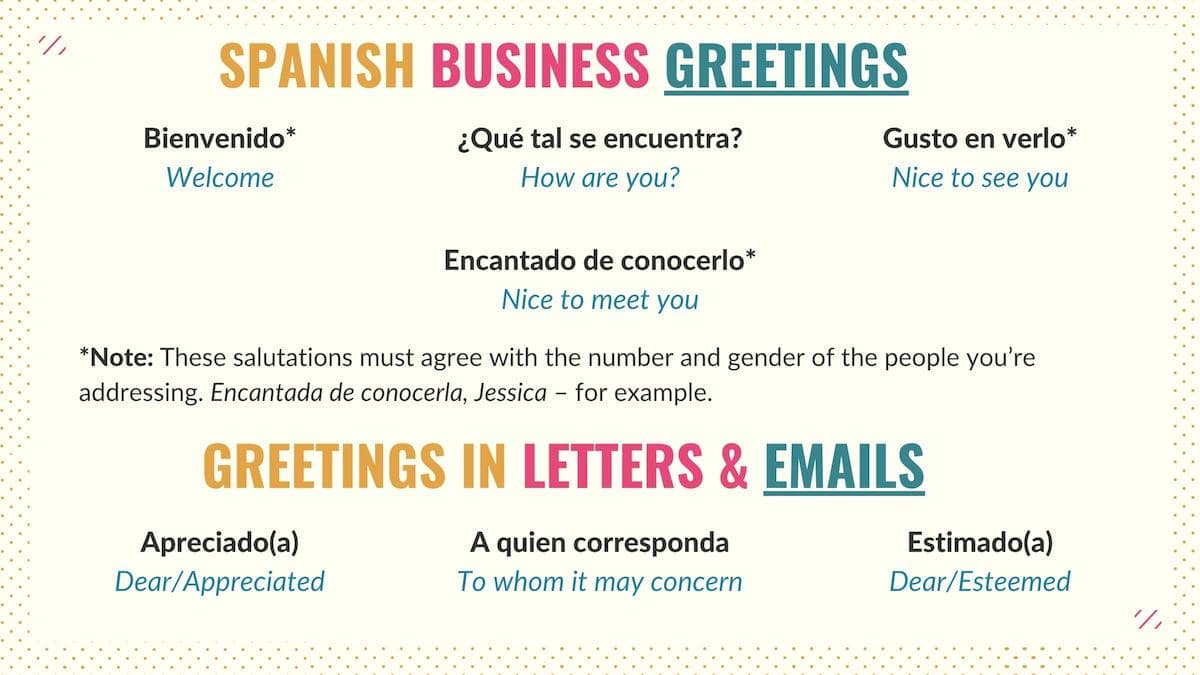 Below are some formal greetings in Spanish that you can use in work environments.
Bienvenido* – Welcome
¿Qué tal se encuentra? – How are you?
Gusto en verlo* – Nice to see you
Encantado de conocerlo* – Nice to meet you
*Note: These salutations must agree with the number and gender of the person you're addressing. Encantada de conocerla, Jessica – for example.
If you must talk to people through a written channel, you can use any of these Spanish greetings for a letter or email:
Apreciado(a): Dear/Appreciated
A quien corresponda: To whom it may concern
Estimado(a): Dear/Esteemed
Tip: On top of a greeting, other basic elements can help you improve your written messages, such as writing the date correctly and using appropriate connecting words. If you want to learn more about writing letters or emails, you can check my article on how to write a letter in Spanish.
Christmas Greetings in Spanish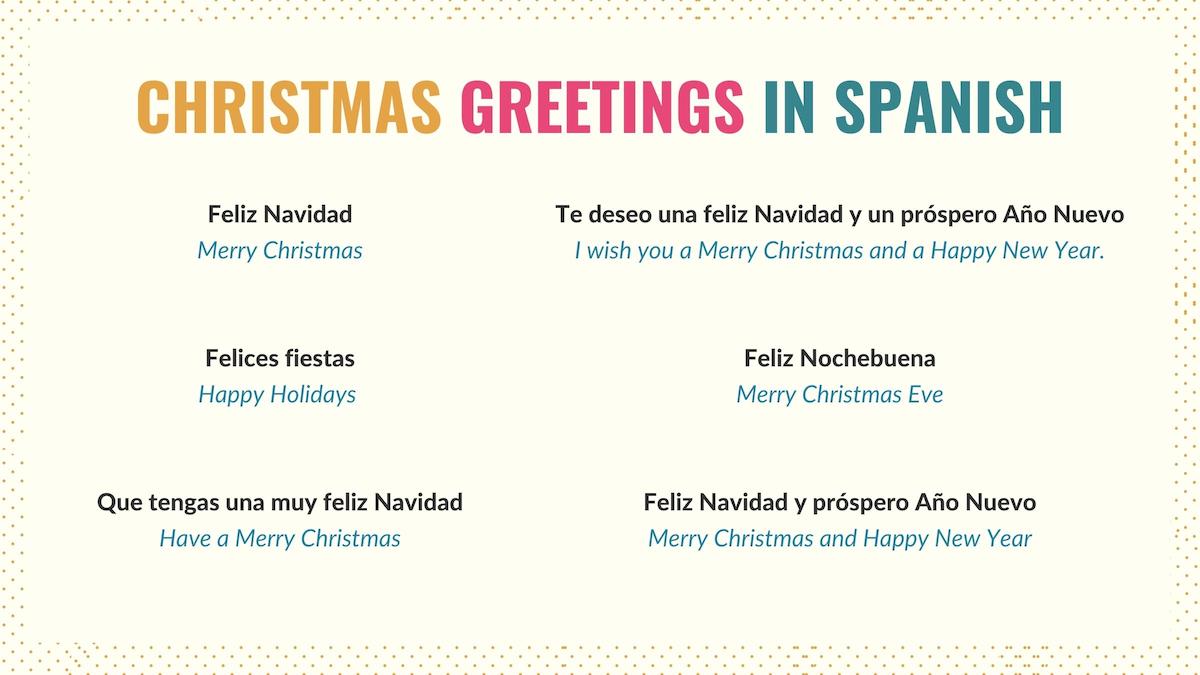 While it's only one calendar day out of the whole year, let's face it… we all love to wish others well throughout the month of December. Here are a few season's salutations you can use in Spanish:
Felices fiestas – Happy Holidays.
Que tengas una muy feliz Navidad – Have a Merry Christmas.
Te deseo una feliz Navidad y un próspero Año Nuevo – I wish you a Merry Christmas and a Happy New Year.
Feliz Nochebuena – Merry Christmas Eve.
Feliz Navidad y próspero Año Nuevo – Merry Christmas and Happy New Year.
Take Note: Feliz and felicidades are basic words to congratulate someone in Spanish.
Spanish Birthday Greetings
Some basic birthday greetings and wishes you can use in Spanish include:
Feliz cumpleaños – Happy birthday
¡Felicidades! – Congratulations
¡Que tengas un feliz cumpleaños! – Have a happy birthday
Espero que te la pases bien – I hope you have a nice time
Te deseo lo mejor – I wish you the best
Feliz cumple – Happy birthday (informal)
¡Muchas felicidades! – Congratulations
Felicidades en tu día – Congratulations on your day
If you have a fellow Spanish speaker's birthday party or celebration to attend in the near future, I've gone into more depth on ways to wish someone a happy birthday. Feel free to check it out.
Common Farewells in Spanish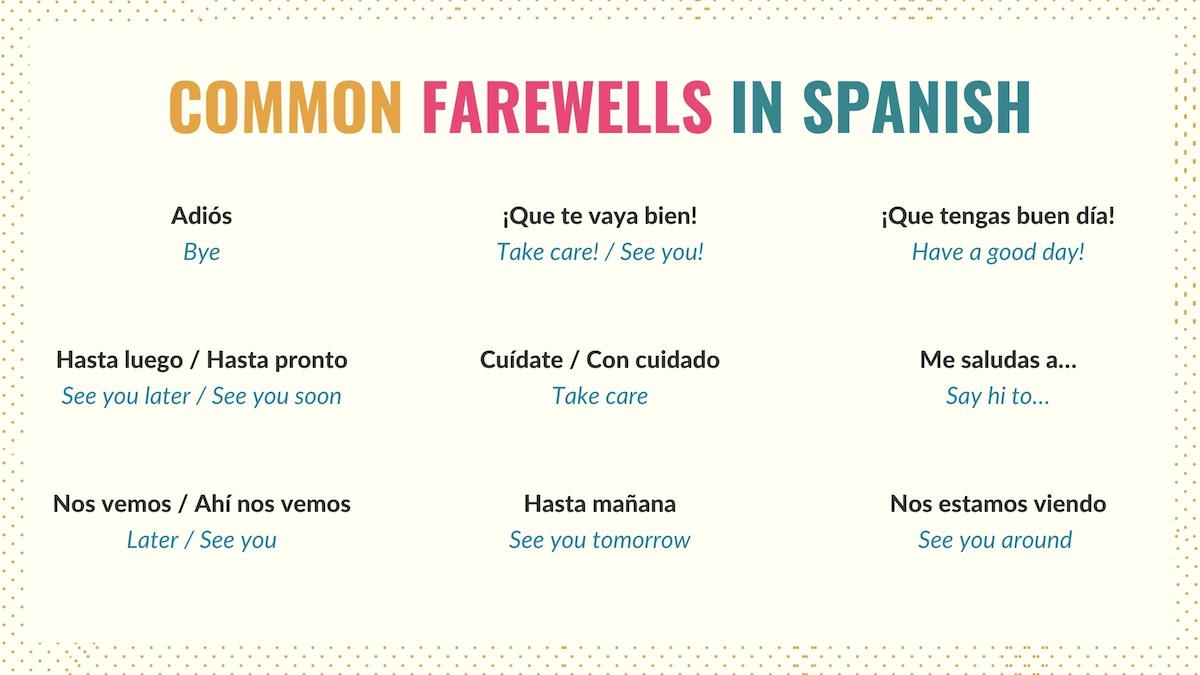 Now that you know how to greet people, here are some different ways to say goodbye in Spanish that will make you sound more natural and expand your vocabulary:
Adiós – Bye
Hasta luego / Hasta pronto – See you later / See you soon
Nos vemos / Ahí nos vemos – Later / See you
¡Que tengas buen día! – Have a good day!
¡Que te vaya bien! – Take care! / See you!
Cuídate / Con cuidado – Take care
Hasta mañana* – See you tomorrow
Me saludas a… – Say hi to…
Nos estamos viendo – See you around
Tip: In the expressions hasta luego or hasta mañana, you can replace 'mañana' and 'luego' with a day of the week or a noun to express when you're seeing that person again. For example, hasta el lunes (see you on Monday) is a common Spanish farewell for coworkers and classmates.
The previous Spanish phrases can also be used to say goodbye informally in a letter or email. Some examples of formal farewells you can use in written communications include:
Atentamente – Sincerely
Quedo a sus órdenes – I remain at your service
Un saludo cordial – Kindest regards
Le agradezco de antemano – Thank you in advance
Bonus: How to Reply to a Greeting in Spanish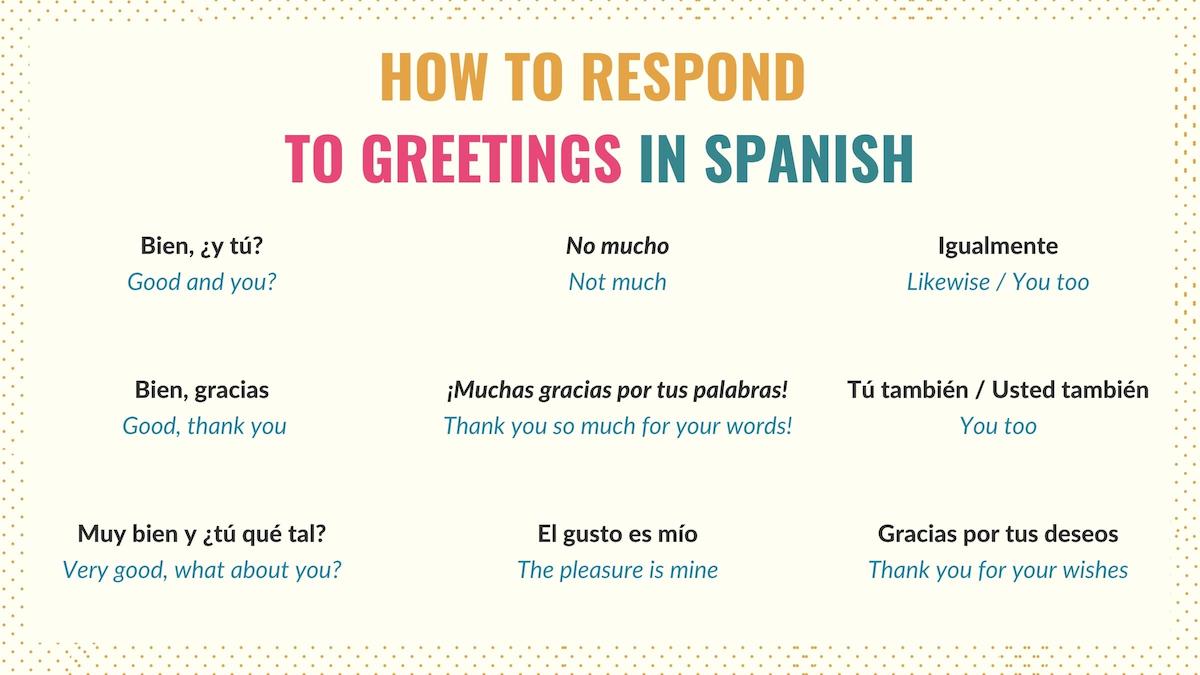 The way you respond to a greeting in Spanish depends very much on the expression the other person uses. With that in mind, here is a list of common responses: 
Bien, ¿y tú? – Good and you?
Bien, gracias – Good, thank you
Muy bien y ¿tú qué tal? – Very good, what about you?
No mucho – Not much
¡Muchas gracias por tus palabras! – Thank you so much for your words!
El gusto es mío – The pleasure is mine
Igualmente – Likewise / You too
Tú también / Usted también – You too
Gracias por tus deseos – Thank you for your wishes
Feliz Navidad para ti también – Merry Christmas to you too
Here are some examples:
| Spanish | English |
| --- | --- |
| Que tenga buen día. | Have a good day. |
| Gracias, usted también. | Thank you, you too! |
In many cases, the easiest way to reply to a greeting or farewell in Spanish is by reciprocating with a salutation.
| Spanish | English |
| --- | --- |
| ¡Hola, chicos! | Hi guys! |
| ¡Qué onda, Debbie! ¿Cómo andas? | What's up, Debbie? How are you? |
Next Steps: Resources to Learn Spanish
Now that you've acquired this basic vocabulary, there are other resources you can check to improve your Spanish. The words we use for a greeting or a farewell can vary depending on the Spanish dialect. For example, if you're focusing on Mexican Spanish, you should learn how Mexicans greet each other. 
Like in English, in Spanish, there are different words or expressions native speakers use to say the same thing. If you're interested to expand your vocabulary, you may want to check:
If you're studying basic vocabulary because you're planning to travel to a Spanish-speaking country, you should check our guide to Spanish travel phrases for tourists.
Download the Spanish Farewells & Greetings PDF
To get the most out of this vocabulary, you'll need to practice them over time. Study at your own pace by downloading the PDF with all the greetings and farewells included above.