Whether you're about to start your learning journey or are an experienced learner, understanding the different levels of Spanish proficiency is essential. So, in this article, we'll explore the six Spanish language levels, from A1 (beginner) to C2 (advanced), and I'll explain what to expect at each stage.
Different Levels of Spanish Proficiency
The Common European Framework of Reference for Languages (CEFR) is a standardized scale for assessing and categorizing language proficiency levels. According to this framework, there are six levels of Spanish:
These Spanish levels can be grouped into three broad categories most people are familiar with –beginner (a1-a2), intermediate (b1-b2), and advanced (c1-c2).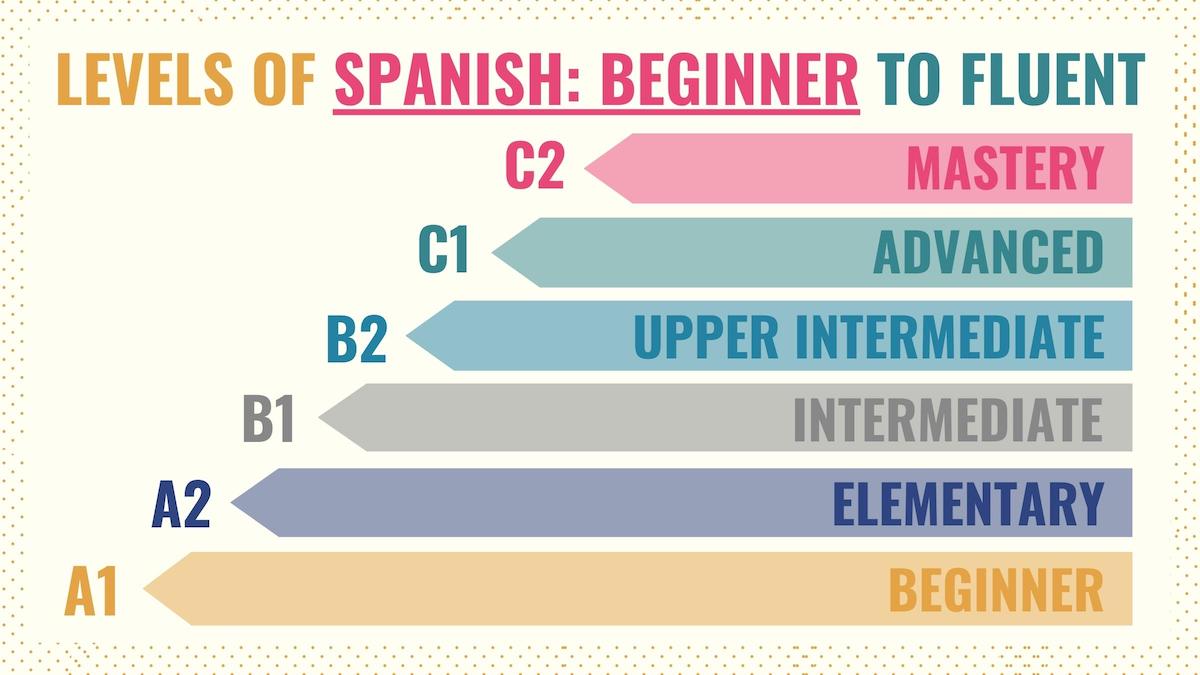 In the following sections, we'll examine each Spanish language level.
Take Note: Online courses and schools may use different frameworks to measure Spanish proficiency. However, El Instituto Cervantes, one of the main organizations that promote and teach Spanish worldwide, aligns its levels with the CEFR since this framework is internationally recognized.
A1 Spanish
Spanish A1 is the level for people just starting to learn Spanish. Students with an A1 level can introduce themselves and others as well as provide personal information about themselves and their daily activities.
This Spanish proficiency level also establishes that learners are able to maintain basic communication in the target language as long as these interactions are slow and clear.
Examples of topics you'll study at this level include: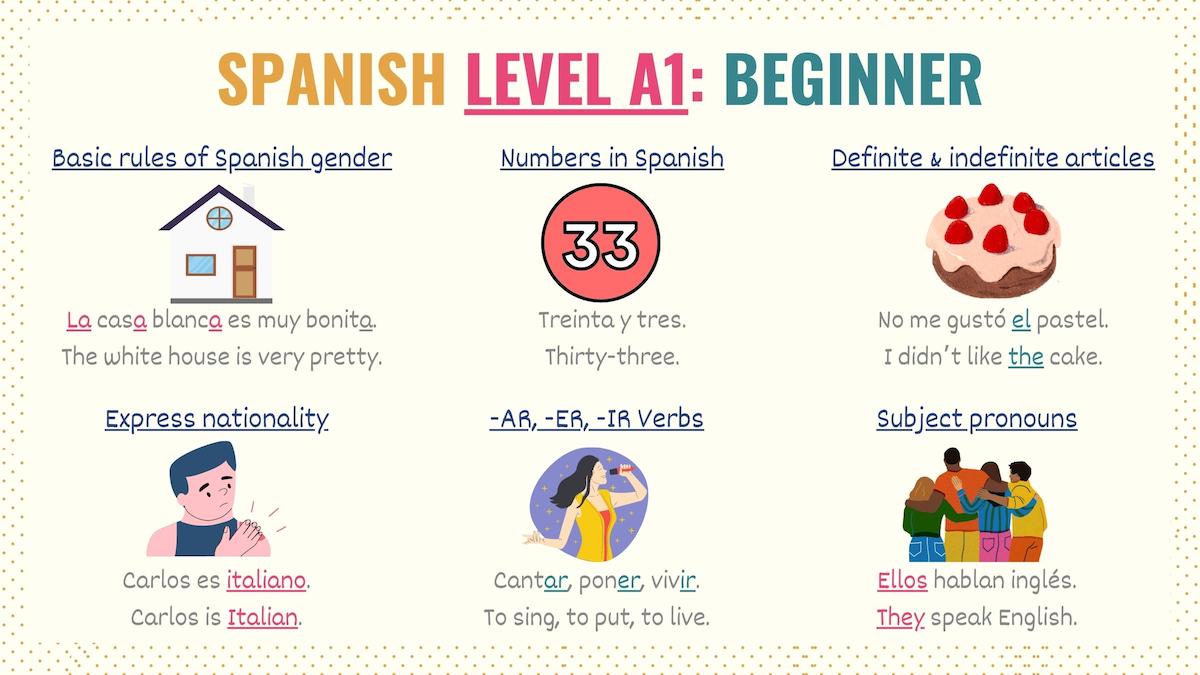 A2 Spanish
A2 Spanish level covers the elementary uses of the language. People with this level of proficiency are able to understand common words and expressions related to personal and family information, shopping, and employment.
A2 also gives you the foundations to read basic texts, talk about daily routines, and describe your background in simple terms. In short, Spanish A2 allows you to engage in areas of immediate need.
Topics you will cover at this stage include:
Talk about routines
Describe feelings and symptoms
Time markers for the past
Express politeness
Talk about likes and dislikes
B1 Spanish
Spanish B1 is a lower intermediate level. At this stage, Spanish learners can understand the main ideas of standard situations they may encounter at work, school, leisure, and other daily life situations. Because they have a solid foundation, they can also deal with most situations that arise when traveling to a Spanish-speaking country.
With this level of Spanish, people can also describe dreams, hopes, ambitions, plans and provide their opinion on different matters.
Here are some topics you'll go through in Spanish B1:
Express prohibition and obligation
Express agreement and disagreement
Placement of reflexive and object pronouns
B2 Spanish
An upper intermediate Spanish level (B2) is reached when you can understand the main ideas of complex texts and engage with native speakers naturally and with a certain degree of fluency. In short, when you're able to interact in a conversation without struggling to understand or be understood.
Give advice
Relative clauses
Express conditional statements and hypothetical situations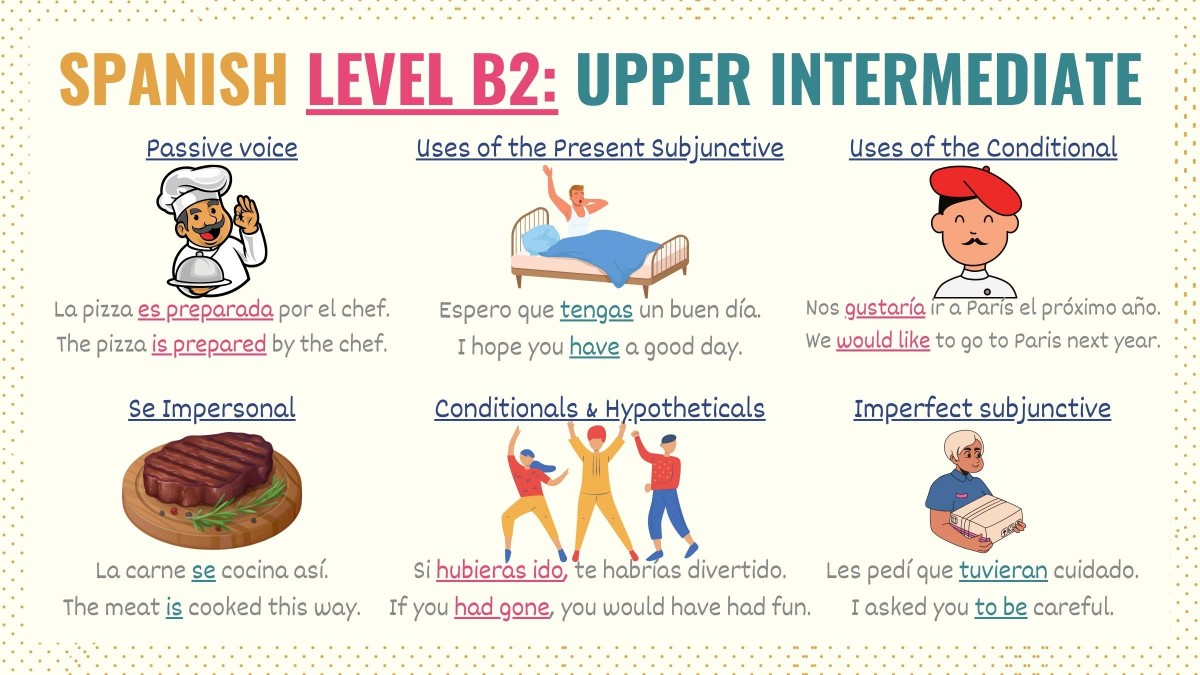 C1 Spanish
Advanced command of Spanish starts with the C1 level. Students with Spanish C1 proficiency can express themselves fluently and effectively in social, professional, and academic situations. They can also understand movies, TV shows, and long complex texts.
Spanish learners at this level have a strong command of these topics:
Form subordinate clauses
Express wishes and hypotheses in the past
Use interjections and expressions to narrate 
C2 Spanish
C2 is the last level of Spanish proficiency. A C2 level of Spanish is essentially a native level. As a result, speakers are able to understand everything they hear or read, and they can communicate with fluency and precision while understanding different shades of meaning.
In short, reaching this Spanish level means that you have a strong command of grammar and know how to use idiomatic expressions and slang.
Key Points
Understanding levels of Spanish allows you to assess your command of the language and identify the milestones you need to achieve to progress. Here is a summary of the Spanish proficiency levels according to the Common European Framework of Reference for Languages: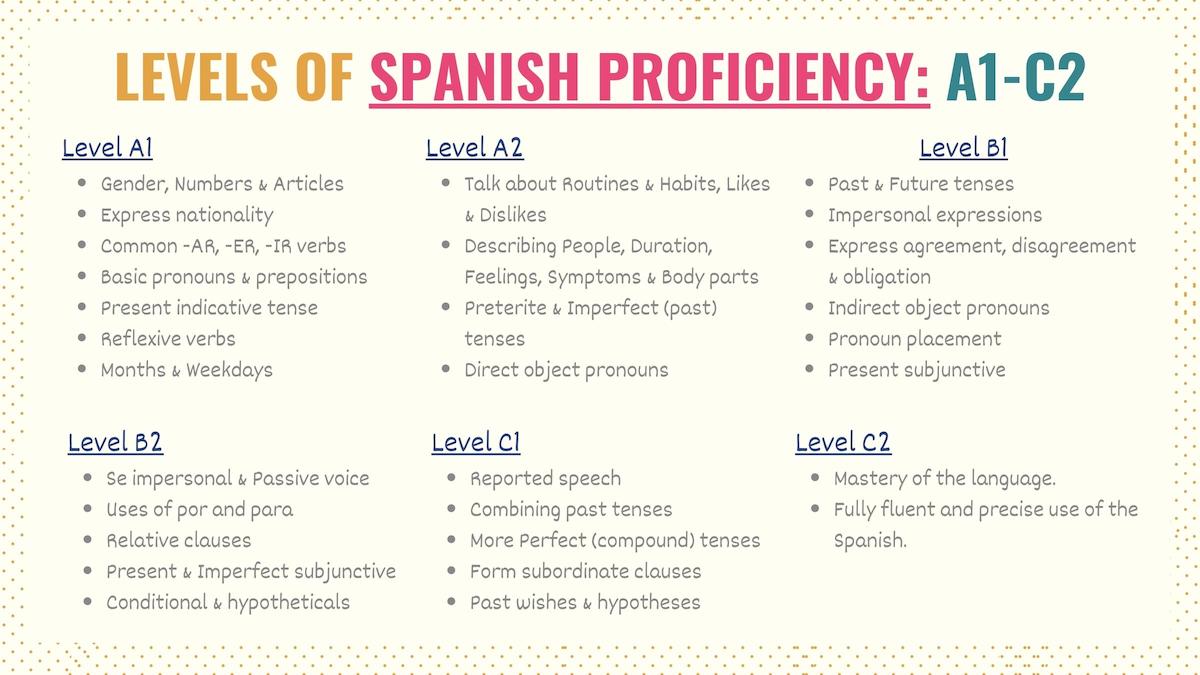 Your Next Steps
Now that you understand more about what to expect in the different levels of Spanish, you can start focusing on the topics that can help you reach the required proficiency level. In each section, I've included links to resources to help you practice and familiarize yourself with specific topics. If you're serious about learning Spanish, you can also join my TMIS community and download a copy of my free Spanish Learning Kit.
In addition to those guides, you should also learn common verbs and common nouns in Spanish. Regardless of your level, you should listen to music or watch movies in Spanish to start practicing your listening comprehension skills.
Download the Guide to Spanish Levels (A1-C2) PDF
Now that you've seen what's involved in learning Spanish at all levels of proficiency, you're ready to start your journey or pick up where you left off! Download a free copy of the PDF for this guide with a breakdown of the contents described for each level. You can use this to know what to study next and as a checklist to track your progress.